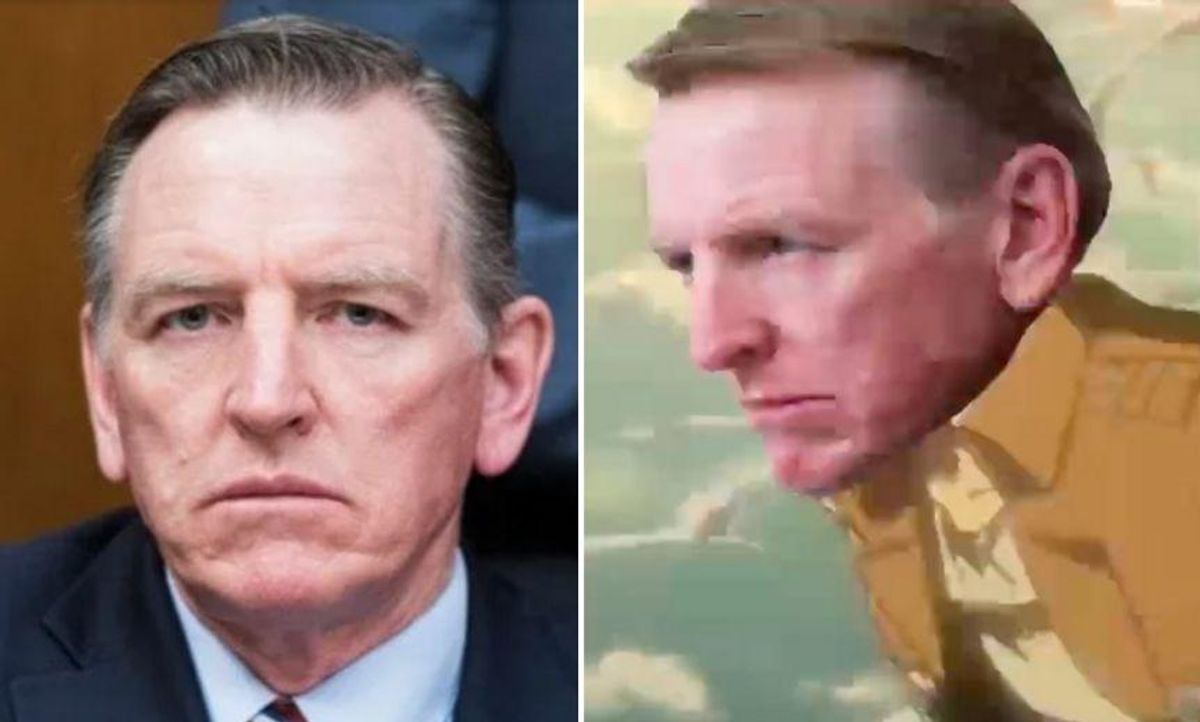 Tom Williams/CQ Roll Call // @RepGosar/Twitter
Far-right Congressman Paul Gosar of Arizona isn't deterred by violence. He's frequently defended the pro-Trump insurrectionists who stormed the United States Capitol in order to overthrow the peaceful transfer of power. "Stop the Steal" organizer Ali Alexander even credited Gosar with helping plan the rally that devolved into the Capitol siege.
On Monday, Gosar tweeted a bizarre anime video of him and other members of his caucus battling President Joe Biden and firebrand progressive Congresswoman Alexandria Ocasio-Cortez of New York, colloquially known as "AOC." The video also favorably painted border patrol officials rounding up refugees at the border.

Watch below.
Captioning the video with "Any anime fans out there?", Gosar tweeted an edited version opening sequence of the Japanese anime Attack on Titan, featuring him and other far-right representatives like Marjorie Taylor Greene of Georgia and Lauren Boebert of Colorado.
Just before the one minute mark, a giant with Ocasio-Cortez's faced superimposed on it is struck a death blow by Gosar. It later shows another character launching toward a giant photo of President Biden, swords drawn. It concludes with pictures of former President Trump and Congressman Matt Gaetz of Florida, both of whom are under criminal investigation.
People were astonished by the unhinged video.
Fans of Attack on Titan were particularly miffed.
Gosar has disabled comments on the video.