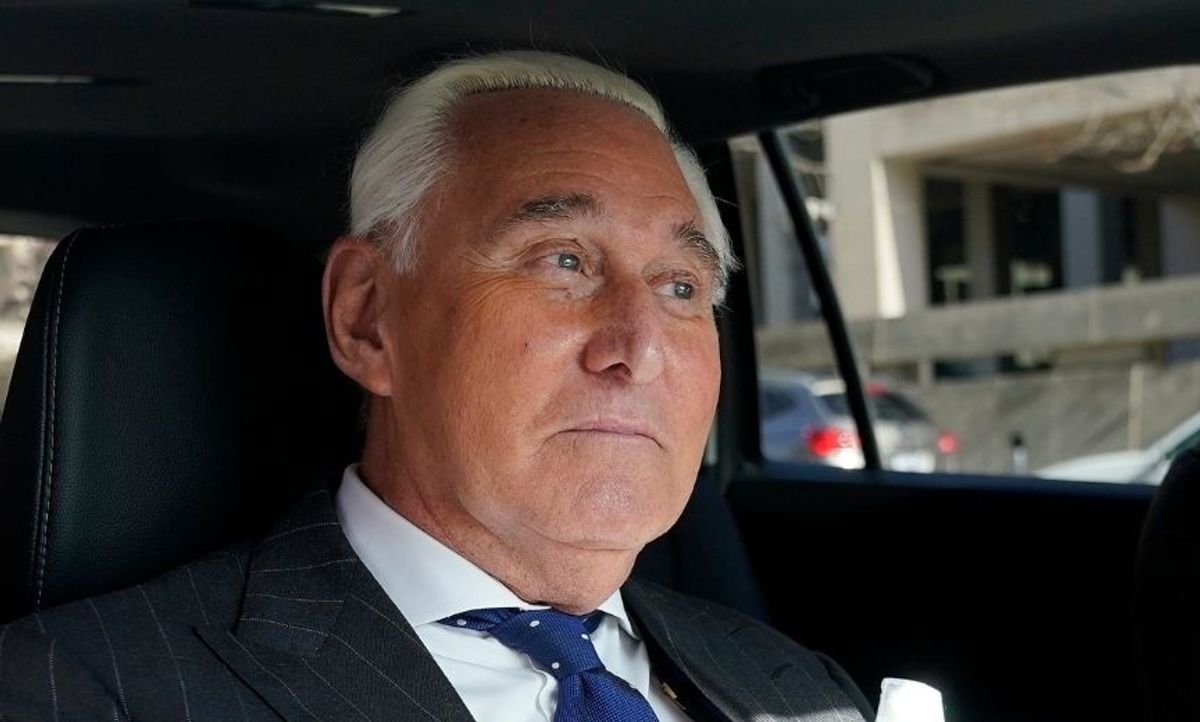 Win McNamee/Getty Images
The latest interview of convicted felon and adviser for President Donald Trump's 2016 campaign—Roger Stone—is a good indication of how repentant he is since his 40 month prison sentence was commuted by Trump earlier this year.
Stone lied to Congress about communications with WikiLeaks founder Julian Assange, whose site disseminated emails stolen by Russian intelligence officials from then-Democratic nominee Hillary Clinton's campaign manager, John Podesta. He was also charged with witness tampering and obstructing an official proceeding.
During his trial, Stone posted a photo on Instagram appearing to call for violence against the Judge overseeing his case, Judge Amy Berman Jackson.
Stone was sentenced to over three years in prison, but avoided time when Trump commuted his sentence days before Stone was scheduled to report.
If an interview with YouTuber Bubba The Love Sponge is any indication, the 68 year old Stone's near brush with incarceration hasn't scaled back his actions.
Watch below.
Stone said:

"We have a broken system here and if the president is not reelected the system will never be fixed.

And if the president is reelected [Former CIA Director] John Brennan, [Former FBI Director] James Comey, [Former Director of National Intelligence] James Clapper, [FBI Deputy Director] Andrew McCabe, [Former Deputy AG] Rod Rosenstein, these people must be tried and convicted of treason, for which as you know, Bubba, the penalty is capital punishment. They must be hung by the neck until dead."
Stone's calls for the executions of these intelligence officials is even more alarming when contextualized by his connections to the Proud Boys—a far-right domestic terrorist group whom Trump infamously refused to condemn in the first presidential debate this September.
Stone employed the Proud Boys as private security in 2018 and members of the group joined him on the steps of the Miami federal courthouse, declaring his innocence following his arrest the that year. Stone remains close to the group's current president, Enrique Tarrio.
People were alarmed by Stone's calls for violence.
Others mocked him.

The founder of Proud Boys, Gavin McInnes, said Stone was one of only three "media figures" allowed to confer with his group.