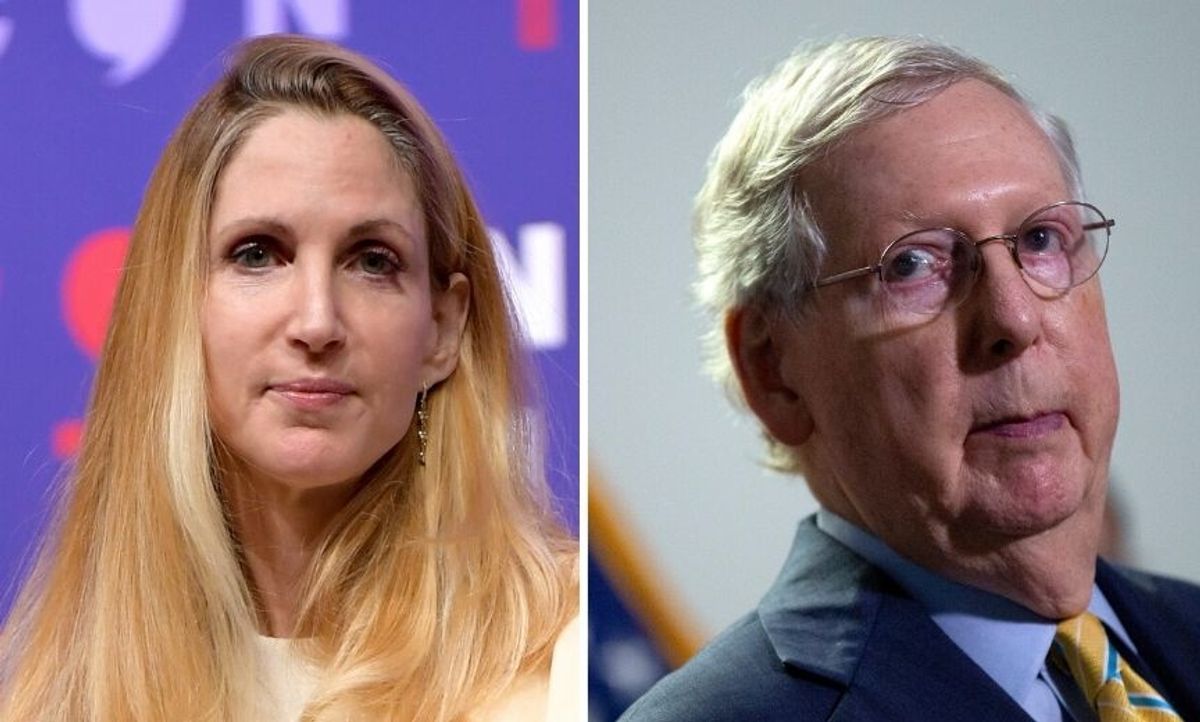 Jason Kempin/Getty Images for Politicon // Stefani Reynolds/Getty Images
Longtime Republican commentator and author Ann Coulter has been a stalwart conservative for decades, often evoking disgust for her irreverence and bigotry.
While she still holds those views, Coulter has broken away with mainstream Republicans, most notably with President Donald Trump. Coulter frequently chastises Trump on Twitter for not following through with his campaign promises, especially when it comes to his wall at the southern border. Unlike most Americans, Coulter calls for even stronger immigration measures—a position in line with her past nationalist rhetoric.
Now, Coulter is setting her sights on another prominent Republican: Senate Majority Leader Mitch McConnell (R-KY).

McConnell has been a source of Democrat frustrations for years. Perhaps most famously, McConnell played a key role in preventing the Senate confirmation of former President Barack Obama's Supreme Court nominee—and leaving a vacant seat on the Court for nearly a year, until Trump's election.
He did this with dozens of Obama judiciary nominees for lower courts as well, which paved the way for Trump to nominate a record number of judges, all the while criticizing his predecessor for leaving the seats open.
McConnell faces a competitive reelection campaign against former Marine pilot Amy McGrath, who recently—and narrowly—defeated progressive state Representative Charles Booker in a run-off election for Kentucky's Democratic Senate nomination.

Coulter's beef with McConnell appears to be rooted in his opposition to the heavily anti-immigrant former Kansas Secretary of State Kris Kobach, who's currently campaigning for the state's Senate seat. Republican groups—with Mitch McConnell's blessing—are dropping an onslaught of negative ads against Kobach in hopes of bolstering his most formidable opponent, Congressman Roger Marshall.
Coulter didn't only shame McConnell on Twitter in a relentless tweet thread.
Sen. Mitch McConnell is spending millions of dollars on ads in Kansas to defeat the greatest living Republican -- b… https://t.co/pdsKZZY1nH

— Ann Coulter (@Ann Coulter) 1594412765.0
The latest National Republican Senatorial Committee shows the MAGA candidate, Kris Kobach, beating the open borders… https://t.co/MeyPXnAEak

— Ann Coulter (@Ann Coulter) 1594413281.0
She appeared to endorse McGrath before pleading for Kentucky Republicans to abstain from voting if they couldn't vote for a Democrat.

The lovely Amy McGrath is a Marine Corps veteran. The average donation to her campaign is $36. Mitch McConnell i… https://t.co/wu6R5XViqg

— Ann Coulter (@Ann Coulter) 1594413439.0
Mitch McConnell is running this year in a CLOSE ELECTION. If we do not teach these betraying RINOs a lesson, we… https://t.co/ECzR96HpMZ

— Ann Coulter (@Ann Coulter) 1594414416.0
McGrath, a moderate, still faces an uphill battle in beating the longtime incumbent, but her ability to generate funds is making her more formidable an opponent that McConnell's faced in the past.

People were surprised to see Coulter seemingly endorse a Democratic candidate.
@AnnCoulter What is happening. https://t.co/7BhiNTLICr

— The Lincoln Project (@The Lincoln Project) 1594413742.0
The year is 2020. It is raining milk. Dinosaurs have returned. Tamagotchi are popular again. My feet have been replaced with moon shoes. Pokémon are real. I agree with Ann Coulter?
— Chris (@Drspaceman400) July 10, 2020
This wasn't on my 2020 bingo card.
— y- #BlackLivesMatter Golden Knights Fans (@VGK_Fans) July 10, 2020
Wow we are definitely in the Upsidedown 🤯
— Mistress Matisse (@mistressmatisse) July 10, 2020
It's worth noting that Coulter's opposition to McConnell is because of his opposition to a nationalist conservative candidate.
People assured she wasn't deserving of a redemption arc.
Ann Coulter is a terrible person who occasionally has a correct take. She is supporting Amy McGrath over #MoscowMitch. Moving on.
— Wajahat "Wears a Mask Because of a Pandemic" Ali (@WajahatAli) July 10, 2020
Horrible Ann Coulter is still horrible Ann Coulter.

And everyone should remember this - ALL of these Republicans that are now against Trump will be against the next Democratic candidate when Trump is defeated.

This is temporary.

Don't kid yourself.
— Don Winslow (@donwinslow) July 10, 2020
ann coulter is a horrible racist homophobic monster.
— Oliver Willis (@owillis) July 10, 2020
Kentucky will vote on November 3, along with the rest of the nation.