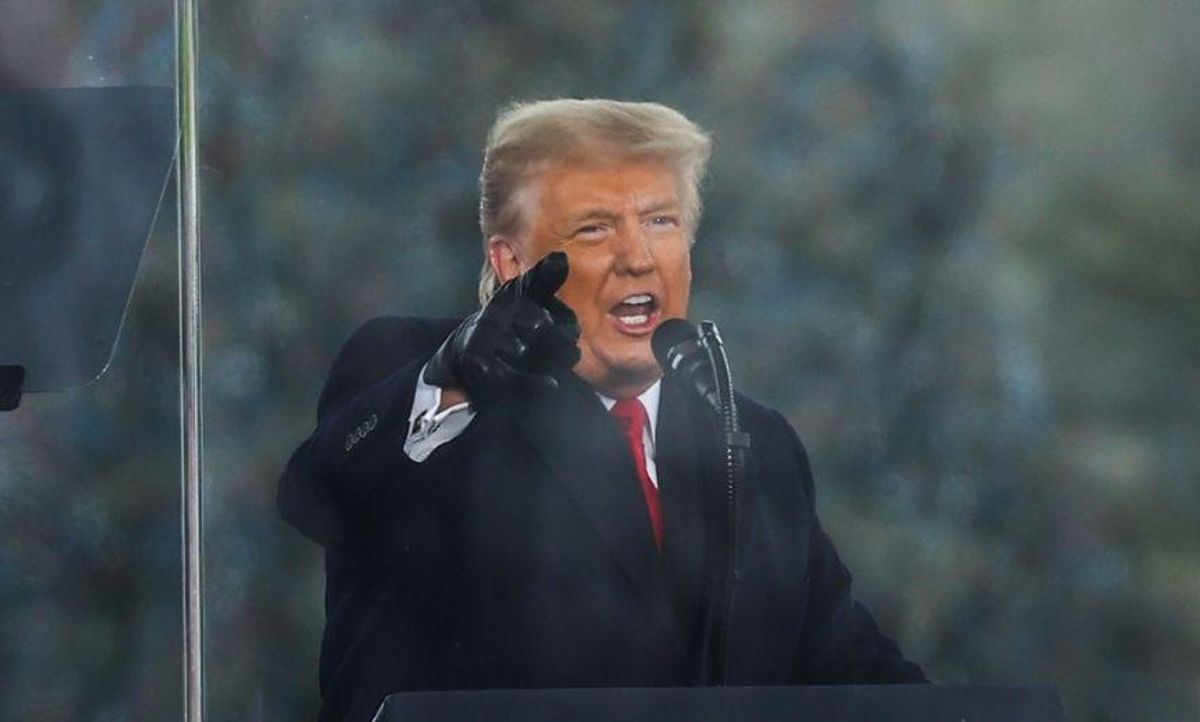 Tayfun Coskun/Anadolu Agency via Getty Images
There's something that's been bothering me as news reports continue to trickle out from sources within the planning group for the January 6 rally at the Ellipse that preceded the attack on the Capitol.
The witnesses to that planning tell a similar tale that is fast becoming an accepted narrative. It goes something like this: The "Save America Rally" at the Ellipse organized by the Trump Campaign and its allies, including Women for America First, was wholly lawful and peaceful, put together by people who earnestly believed that the election was illegitimate and whose voices needed to be heard. It would a kind of "oral argument" against what Congress was doing. By contrast, the "Stop the Steal" march on the Capitol that became a violent and deadly insurrection was organized under false pretenses using a bogus permit name and was backed by radical extremists such as Ali Alexander and Alex Jones who weren't welcome at the Ellipse because of their ties to dangerous militias and white nationalists. The former president and his allies want the public and investigators to believe they were only involved with the peaceful rally at the Ellipse and not the violent attack on the Capitol.
This take, however, doesn't square with what we now know was going on furiously behind the scenes in a desperate effort to keep Trump in power. A key question then is, what exactly would have happened if the only protest that day had been at the Ellipse? There was no viable procedural path forward for Trump in Congress, even with most of the GOP House members willing to object to the results from certain states. Several GOP senators had already acknowledged Biden's win, so there was no realistic way the objections would be sustained by a majority vote in both chambers. In short, a peaceful rally would have changed no minds in Congress at all. Vice President Pence would have certified the Electoral College count and declared Joe Biden the winner. End of story.
We now see, based on memos and communications circulating inside the White House, that there actually was a serious effort underway to cause Vice President Pence to throw a monkey wrench into the proceedings, producing chaos and a critical delay in certification. Attorney John Eastman even wrote that this, at least in theory, could buy enough time for Trump's allies to work on state legislatures in the swing states to undo their certifications.
Trump had already tried pressuring Georgia Secretary of State Raffensperger in his now-infamous phone call asking him to find 11,780 votes for him. He had also recently tried but failed to replace Acting Attorney General Jeffrey Rosen with a loyalist, Jeffrey Clark, who was willing to use the Department of Justice to support bogus claims of fraud. And now, Pence had made it clear that he would not go along with their unconstitutional scheme of upending the electoral count. That meant something else would have had to happen.
So was that something the Ellipse rally? That is highly unlikely. It makes little sense to hold a rally one and a half miles away from the action if your goal is to pull the brakes on the electoral count. All the angry speeches in the world near the White House would not change anything inside the Capitol. And this is what's been bothering me.
There's now increasing evidence that the rally was never the only plan, and that a disruptive event at the Capitol was also in the works all along with the full knowledge of the White House and perhaps some of the Ellipse Rally organizers. The WFAF leaders reportedly met dozens of times with White House staff and a cabal of Congressmembers including Paul Gosar, Mo Brooks, Lauren Boebert, Andy Biggs, Louie Gohmert, Madison Cawthorn and Marjorie Taylor Greene. Quite tellingly, Gosar reportedly even acted as a go-between with the White House in seeking to negotiate a "blanket pardon" for the rally organizers, though what it would cover remains unclear.
Several of these Congressmembers involved with the rally planning, including Biggs, Brooks and Gosar, were also closely tied to Ali Alexander's Stop the Steal movement. Alexander boasted in a now-deleted video that the three Congressmembers actually helped him plan his alternative protest at the Capitol. "We four schemed up of putting maximum pressure on Congress while they were voting," Alexander said in a since-deleted video. The plan, Alexander claimed, was to "change the hearts and the minds of Republicans who were in that body, hearing our loud roar from outside." But wouldn't Alexander, like Trump, understand that nothing they did from the outside of the building was ever going to change the outcome? And if they only intended a peaceful rally, why was Mo Brooks wearing body armor that day?
ProPublica reported back in June, based on scores of interviews with sources and its reviews of months of correspondence including text messages, that WFAF organizers had been warning members of the Trump administration, including White House Chief of Staff Mark Meadows and Katrina Pierson (a former Trump Campaign official who was put in charge of rally planning) about the potential for chaos should an unpermitted march on the Capitol take place just as the electoral count certification was to begin. In particular, they reportedly pushed back hard against allowing radicals such as Alexander and Jones to speak at the Ellipse rally. Alexander had been openly advocating for alliances with far-right white nationalist militias such as the Proud Boys, the Oathkeepers, and the 1st Amendment Praetorian, all of which received subpoenas on Tuesday from the January 6 Committee.
The White House eventually agreed to accommodate Alexander and Jones by having them speak at a smaller rally on the night of January 5. Alexander fired up the crowd of far-right protestors and agitators with a cry of "Victory or Death!" Despite warnings from their own rally organizers, the White House did nothing to try and stop the march or to warn law enforcement about what it knew.
As the facts become clearer and the case for criminal charges against the January 6 organizers grows, the distance the White House has tried to put between itself and the radical extremists now feels far closer to a wink and a nod—or even an active conspiracy. We know that close Trump ally Steve Bannon was saying openly on January 5 that "all hell will break loose tomorrow." We also know that a host on Alex Jones's show on December 31 was openly promoting the idea of an attack upon the Capitol by the angry mob.
And just yesterday, reporting by Rolling Stone, based on sources inside WFAF, provided further strong evidence of consciousness of culpability, at least by some of its leaders. Kylie Kremer, the daughter of WFAF founder Amy Kremer (who is also a longtime associate of Mark Meadows) reportedly instructed an aide to purchase three "burner" phones using cash just prior to January 6. These phones were reportedly used to communicate with top White House and Trump Campaign officials, including Mark Meadows, Katrina Pierson, and Lara Trump, who is Eric Trump's wife and who served as an outspoken Trump Campaign consultant. Burner phones are used only temporarily and cannot be traced easily.
To my mind, none of this suggests any of the rally organizers or the administration believed the day would end peaceably and without any violence or criminality. The White House, through Meadows and Pierson, were fully aware of the threat. They attended meetings with far-right Congressmembers whose violent views and rhetoric were well known. Trump's loyalist lieutenants, including Steve Bannon and Alex Jones, were in the know about the impending chaos and delighting in it publicly. And they reportedly hid their communications using untraceable cell phones. Why do all that for a peaceful rally?
And where was Trump through all of this? It's now clear that Trump at least understood that his only chance to stay in power was to somehow get Pence to come on board. But if that was never going to happen, perhaps his ground troops could do the dirty work for him. Trump tweeted the very afternoon of the attack, just two minutes before Pence was whisked to safety from the mob, that Pence "didn't have the courage to do what should have been done" by "giving States a chance to certify a corrected set of facts."
Was Trump actually broadcasting what he wanted the attackers to do? The former president is slippery enough to be able to deny this, and unless someone turns on him, he can always claim he did not know in advance about the attack, even though he asked his followers to march on the Capitol just as the barricades were being breached, shocking some in WFAF who had been adamant against such a move.
Perhaps Trump's call logs and notes, which he is currently fighting to keep from the Committee, will tell us more. But for now, there is only circumstantial evidence—meaning inferences are still needed to connect Trump to an actual conspiracy against the United States. But that evidence is starting to pile up, and with enough of it, a case against the former president may still lie.
For more political analysis, check out the Status Kuo newsletter.