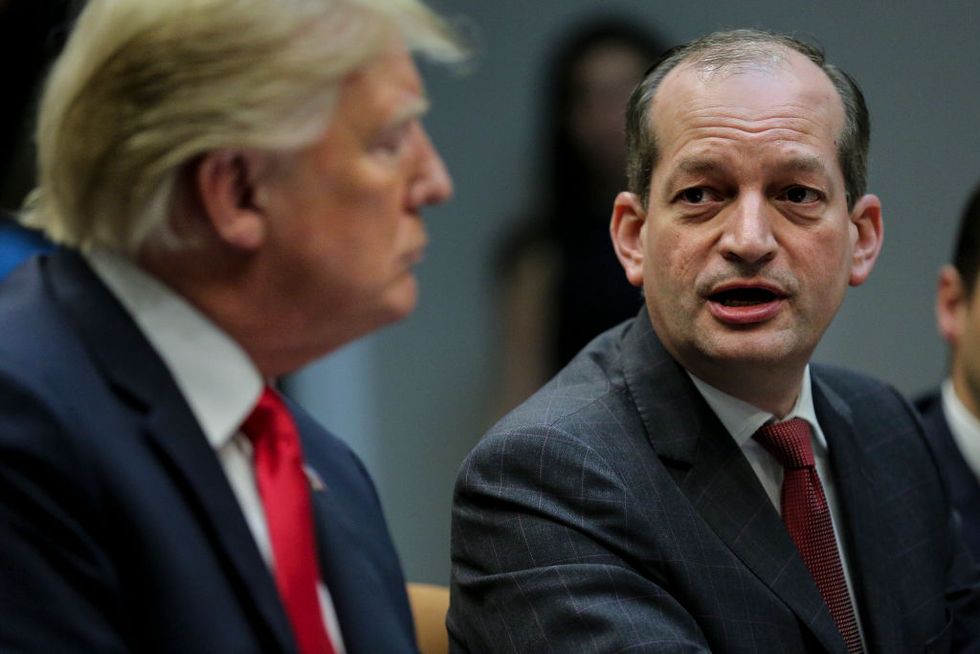 WASHINGTON, DC - SEPTEMBER 17: Secretary of Labor Alex Acosta, (R) speaks as U.S. President Donald Trump listens during the inaugural meeting of the Presidents National Council for the American Worker in the Roosevelt Room of the White House on September 17, 2018 in Washington, DC. (Photo by Oliver Contreras - Pool/Getty Images)
New York hedge fund manager and sex offender Jeffrey Epstein used his wealth and influence to build a network of underage girls whom he had sex with multiple times a day, touted at sex parties, and allegedly trafficked across the world. Some were as young as 13 years old.
In 2007, Epstein cut a deal with federal prosecutors that would shield him and his accomplices from federal prosecution, while Epstein would only plead guilty to state prostitution charges, serving a year in a private wing of a Palm Beach prison with ample time for work release.
Because of its leniency, the deal was deliberately concealed from Epstein's victims. The head prosecutor, who met with Epstein's attorney to secure the deal, would join President Donald Trump's administration a decade later: Labor Secretary Alexander Acosta.
Now, Federal Judge Kenneth A. Marra has determined that Acosta and other prosecutors broke the law by deliberately concealing the agreement from Epstein's 30+ victims. While Judge Marra didn't issue a punishment, he gave the prosecutors 15 days to reach a settlement with Epstein's victims. He did not, however, strike down Epstein's plea deal.
Many are disgusted that Acosta—who was instrumental in securing mercy for a sex offender of Epstein's scale—continues to remain serving in the President's cabinet in a position that deals closely with human trafficking and child labor issues.
Acosta, as Sec'y of Labor, has significant authority over human trafficking enforcement. He needs to be removed now. https://t.co/fxNclDnpHJ

— Joyce Alene (@Joyce Alene) 1550844231.0
This was serious professional misconduct in federal office. Secretary Acosta should resign. Judge: DOJ violated la… https://t.co/fOkxIrUeuq

— Richard W. Painter (@Richard W. Painter) 1550808245.0
Bottom line is Acosta, who heads an agency with oversight over human trafficking and child labor — has never explai… https://t.co/GqqcgWhVjs

— julie k. brown (@julie k. brown) 1550807682.0
Why hasn't Alex Acosta resigned?

— Amy Siskind 🏳️‍🌈 (@Amy Siskind 🏳️‍🌈) 1550847889.0
Sec. Acosta should resign immediately! It's disgusting that he gave a slap on the wrist, and kept it secret from th… https://t.co/rHEhXGg9Jo

— Chris Taylor (@Chris Taylor) 1550845899.0
What's more, Acosta isn't the only official within the Trump administration with ties to Epstein.
President Trump was a longtime friend of Epstein's as well.
Trump said of Epstein in 2002:
"I've known Jeff for fifteen years. Terrific guy. He's a lot of fun to be with. It is even said that he likes beautiful women as much as I do, and many of them are on the younger side."
Trump came up in Epstein's deposition as well.
Here is an image from Jeffrey Epstein's phone book. Epstein had 16 ways to contact Donald Trump, and had contact in… https://t.co/cFhKGBd44H

— Scott Dworkin (@Scott Dworkin) 1550845655.0
Convicted pedophile Jeffrey Epstein deposition: Epstein was asked if he socialized with Donald Trump. He responded… https://t.co/RL82dTX4Ib

— Scott Dworkin (@Scott Dworkin) 1550816922.0
@funder Remember when trump denied ever knowing #Epstein ? https://t.co/3Y4uBGXqxg

— Diane Williams (@Diane Williams) 1550834759.0
President Trump regularly, and misleadingly, cites sex trafficking as a reason to build his wall. And then he appoi… https://t.co/Y8xr5LMPWY

— Nicholas Kristof (@Nicholas Kristof) 1550837662.0
White House Press Secretary Sarah Huckabee Sanders told reporters that the administration is "looking into" Acosta's involvement, saying it was a "very complicated" case.
It remains to be seen if Epstein will ever face actual justice.
Keep reading...Show less