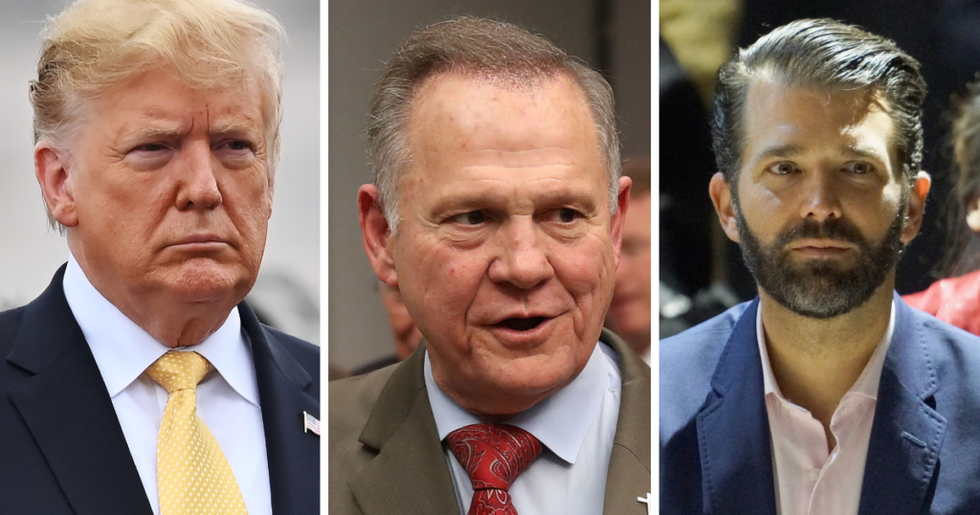 Charly Triballeau - Pool/Getty Images, Joe Raedle/Getty Images, Manny Carabel/Getty Images
Former Republican Alabama judge Roy Moore, whose 2017 US Senate bid ended in defeat against Democrat Doug Jones, is teasing a possible 2020 rematch, The Hill reported on Tuesday.
According to Bradley Byrne, who announced his own bid for the GOP Senate nomination in February, Moore intends on announcing his candidacy next month.
"People who I believe know what they're talking about say that Judge Moore intends to announce his candidacy for the U.S. Senate in June. I welcome him to the race," Byrne said in an interview with The Hill's Scott Wong.
Byrne believes that Moore simply has too much baggage to win.
"I think people are very concerned that we Republicans lost a U.S. Senate seat because he was our nominee in 2017 and we don't need to do that again," Byrne said.
"There are some serious pieces of litigation that have come out of all that. I personally don't want to talk about any of that; I want to talk about how we're going to beat Doug Jones," Byrne continued. "But I think it's inevitable it's going to come up in the primary campaign, and if he was the nominee, it certainly would come up in the general election."
In response, Moore, an accused pedophile who was removed twice as chief justice of the Alabama Supreme Court for refusing to uphold federal court rulings, tweeted Tuesday afternoon that he "will beat Doug Jones" if he decides to once again throw his hat into the race.
But Moore is already facing intense headwinds from people who fought for him the last time around - most notably, the Trumps.
Donald Trump Jr. tore into Moore for failing to win in deep-red Alabama.
"If Alabama does not elect a Republican to the Senate in 2020, many of the incredible gains that we have made during my Presidency may be lost, including our Pro-Life victories," Trump added. "Roy Moore cannot win, and the consequences will be devastating....Judges and Supreme Court Justices!"
Hold up, Trump has "nothing against Moore?"
Twitter noticed that for Trump, losing to a Democrat is far worse than being accused of serially sexually assaulting teenage girls.
Recall that in 2017, Trump was gung-ho for Moore, calling him a "really great guy" after his primary victory over Luther Strange.
In the weeks leading up to the special election, Trump wholeheartedly endorsed Moore several more times.
When Moore lost, Trump pretended he was had really been gunning for Strange.
We remember, and this is fantastic fodder for Democrats in 2020.
Oy vey.
Keep reading...Show less