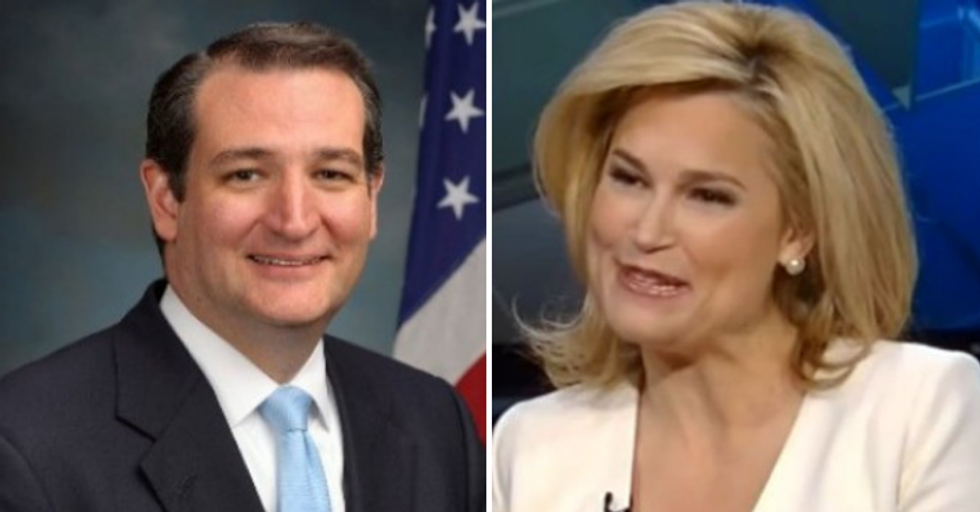 (National Archives and Fox News)
In a state where the average household income was $56,565 according to the latest statistics, a complaint about your spouse's $174,000 income plus full benefits would not go over well. But Texas Senator Ted Cruz's wife Heidi Cruz stated as such in an interview with The Atlantic.
The Senator's wife complained that her hefty salary and benefits as managing director of Goldman Sachs in Houston combined with the $174,000 her husband makes as a United States Senator was insufficient. Mrs. Cruz is the family breadwinner according to The Atlantic article.
And although the article does not specify her full salary and benefits package, it is more than $174,000 per year. That puts their household income at a minimum at $350,000 or over six times more than the average Texan.
But why is Senator Cruz's salary not good enough according to his breadwinner wife?
In her interview with The Atlantic, Heidi Cruz stated:
"...it does take some supportiveness, you know. Six to seven years in it, with me being the primary breadwinner...Yeah, we're seven years into this, and we're not buying a second home anytime soon."
Cruz—who lives in a home described as "palatial" by The Atlantic—drew heavy criticism for her comment. For many of her husband's constituents in Texas, even a first home is well beyond their reach.
Heidi Cruz insists that "we won't be buying a second home any time soon" on husband Ted's 174K salary, pinpointing… https://t.co/Gal8eC8Bl7

— Paul Rudnick (@Paul Rudnick) 1539877634.0
wow poor Heidi Cruz, enduring the unimaginable indignity of only owning one home while her husband is away in Washi… https://t.co/rw46MSlqkN

— Erin 🦃 Ryan (@Erin 🦃 Ryan) 1539883103.0
Poor Heidi Cruz is whining about being the "primary breadwinner" when her husband makes $174K as a US Senator: "We'… https://t.co/FYifAKLde4

— Joan Walsh (@Joan Walsh) 1539871130.0
People called out the article as propaganda for Cruz in his bid for reelection against the more charismatic Representative Beto O'Rourke.
@AynRandPaulRyan Heidi Cruz didn't plan for this either. https://t.co/rKDCsREF4s

— Tuxedo Mask (@Tuxedo Mask) 1539870732.0
I couldn't continue. It's just such an obvious attempt at humanizing Cruz through his wife, Heidi. The only thing I… https://t.co/wG4HWn7zDS

— Holly Figueroa O'Reilly (@Holly Figueroa O'Reilly) 1539877437.0
@AynRandPaulRyan @moderate2severe This takes "puff piece" to a whole new level."

— Langdon (@Langdon) 1539872436.0
@StillLangdon @AynRandPaulRyan @moderate2severe Indeed, sad when you need a bong hit to get through an article.

— The Oranges of Species (@The Oranges of Species) 1539878761.0
@AynRandPaulRyan Mind-boggling that trumpublicans think they'll look sympathetic cos they can't afford a SECOND hom… https://t.co/nvc346ZTIh

— AmyJ (@AmyJ) 1539876714.0
People criticized Cruz for what they deemed her entitled attitude.
The phrase "White privilege" came up over and over.
Hey thanks @TheAtlantic for writing this story about the white privilege of Heidi Cruz and how hard she has it bein… https://t.co/DQMEWYLtBV

— Corey 🌹 (@Corey 🌹) 1539863005.0
Hi my name is white privilege, but most people know me as Heidi Cruz. And today I'm going to complain about the fac… https://t.co/QI8zncLxS8

— Ryan Knight 🏳️‍🌈🗽 (@Ryan Knight 🏳️‍🌈🗽) 1539932203.0
People had a hard time feeling sorry for Heidi and Ted Cruz.
@joanwalsh Heidi Cruz is so brave and by brave I mean self pity is the only tenet of modern day conservatism

— Molly Jong-Fast (@Molly Jong-Fast) 1539871727.0
Wait, I'm supposed to feel sorry for Heidi Cruz? Are you kidding me?

— Helen Kennedy (@Helen Kennedy) 1539872485.0
Heidi Cruz complains about not having a second home while more than half a million homeless Americans live and die… https://t.co/wsCNQ7Mnjk

— Eugene Gu, MD (@Eugene Gu, MD) 1539872725.0
Holy crap, somehow Heidi Cruz manages to be as unrelatable and unlikeable as her husband. https://t.co/l14sZoeZU5

— Matthew Chapman (@Matthew Chapman) 1539872870.0
Republican Senator Ted Cruz squares off against Democratic challenger Beto O'Rourke in the 2018 midterms. Midterm elections are slated for Tuesday, November 6, 2018.
Keep reading...Show less