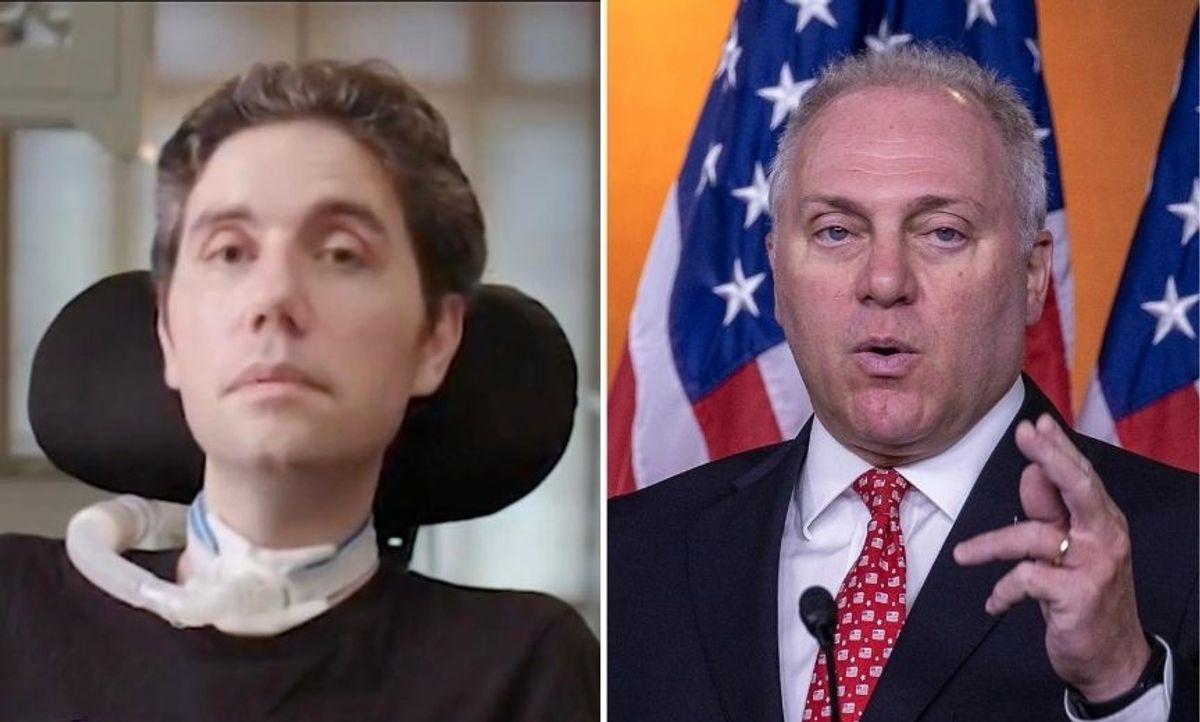 Handout/DNCC via Getty Images // Tasos Katopodis/Getty Images
With the 2020 election only months away, President Donald Trump and his allies continue to put forth the false claim that Democratic nominee Joe Biden wants to defund the police.
Activist Ady Barkan tells top Republican to apologise over doctored video https://t.co/CrzQ4mF92m

— The Guardian (@The Guardian) 1598884547.0
Judging from a video posted by House Minority Whip Steve Scalise (R-LA), they're willing to falsify media in order to prop up the narrative.

Scalise posted a clip of Biden speaking with Ady Barkan, a notable activist for disabled rights and healthcare access.
Barkan lives with the neurodegenerative disease ALS, and is unable to speak using his own voice, so he relies on Augmentative and Alternative Communication (AAC), which in his case is a computerized voice.
Scalise took advantage of that with the video, in which Barkan appears to ask Biden:
"But do we agree that we can redirect some of the funding for police?"
Biden responds:
"Exactly."
But Barkan never said the words "for police" at all.
Watch a comparison of the original video and the GOP's version below.
Barkan called out Scalise directly for posting the video, which was later flagged by Twitter and subsequently deleted.
.@SteveScalise,

These are not my words.

I have lost my ability to speak, but not my agency or my thoughts.

You and your team have doctored my words for your own political gain.

Please remove this video immediately. You owe the entire disability community an apology. https://t.co/N6G5RgMXlO
— Ady Barkan (@AdyBarkan) August 30, 2020
Scalise responded on Twitter, conceding to remove the video but insisting that its premise was right.
While Joe Biden clearly said "yes," twice, to the question of his support to redirect money away from police, we will honor the request of @AdyBarkan and remove the portion of his interview from our video.
— Steve Scalise (@SteveScalise) August 31, 2020
In reality, Biden's plan actually offers expanded budgets to local police forces and seeks to pump more resources into the availability of social workers and other deescalation specialists to work within these departments.
Scalise was asked about the doctored video on Fox and Friends.
On F&F, Scalise addresses manipulating the video of Ady Barkan ... by trying to justify it

Doocy: "You were accused of manipulating a video, what do you have to say about that?"

Scalise: "Well, you know look, it shouldn't have been edited, BUT" pic.twitter.com/ONKwgsScId
— Lis Power (@LisPower1) August 31, 2020
When asked about manipulating the video, Scalise said:

"Well, you know look, it shouldn't have been edited, but at the same time the comments were always about—in fact twice in that interview he asks Joe Biden if he was for redirecting money away from police and in both times Joe Biden said yes."
This isn't entirely accurate either.
In the interview, Barkan asks Biden if he'd be open to redirecting resources for some interactions that don't require militarized police officers, lessening the likelihood of potentially deadly interactions between armed police officers and unarmed Black Americans disproportionately targeted with police violence.
Watch below.
Joe Biden and Ady Barkan Discuss Police Reform and Mental Health Care | NowThis www.youtube.com
Scalise was widely shamed for the deceptive tactic.
I don't know who doesn't know this, but Steve Scalise is an awful person.
— Mark Schweitzer (@MarkSchweitzer) August 31, 2020
Good morning friends! Happy Monday!

What are you having for breakfast? Seems a lot of you are having Steve Scalise for breakfast. Let me know how your coffee washes that filth down. #ScaliseResign
— Bex (@beckyadenton) August 31, 2020
Are you mad about @SteveScalise altering the computer voice of an ALS patient?

Here's his congressional number: (202) 225-3015
— The Hardy Report Podcast (@EdwardTHardy) August 31, 2020
There were several who called for the Congressman to resign.
.@SteveScalise thinks it's okay to alter the words of a disabled man for his own political purposes.

People like Scalise lack the dignity or basic moral compass to serve.

He should resign. https://t.co/WxYYcehhoD
— Abdul El-Sayed (@AbdulElSayed) August 31, 2020
Rep.Steve Scalise should Resign. that video editing was despicable
— PoliticsVideoChannel (@politvidchannel) August 31, 2020
Steve Scalise is a disgrace to America, a blight on our government, and a traitor to our democracy.

Using lies, manipulation, & fake news at the expense of a disabled person is purely despicable.

What an absolutely horrendous, pathetic excuse for a human being.#ScaliseResign
— The USA Singers (@TheUSASingers) August 31, 2020
BREAKING: Coward Steve Scalise deleted his doctored video of American hero @AdyBarkan after massive public outrage and Twitter flagging it as manipulated media. Scalise should resign immediately.
— Scott Dworkin (@funder) August 31, 2020