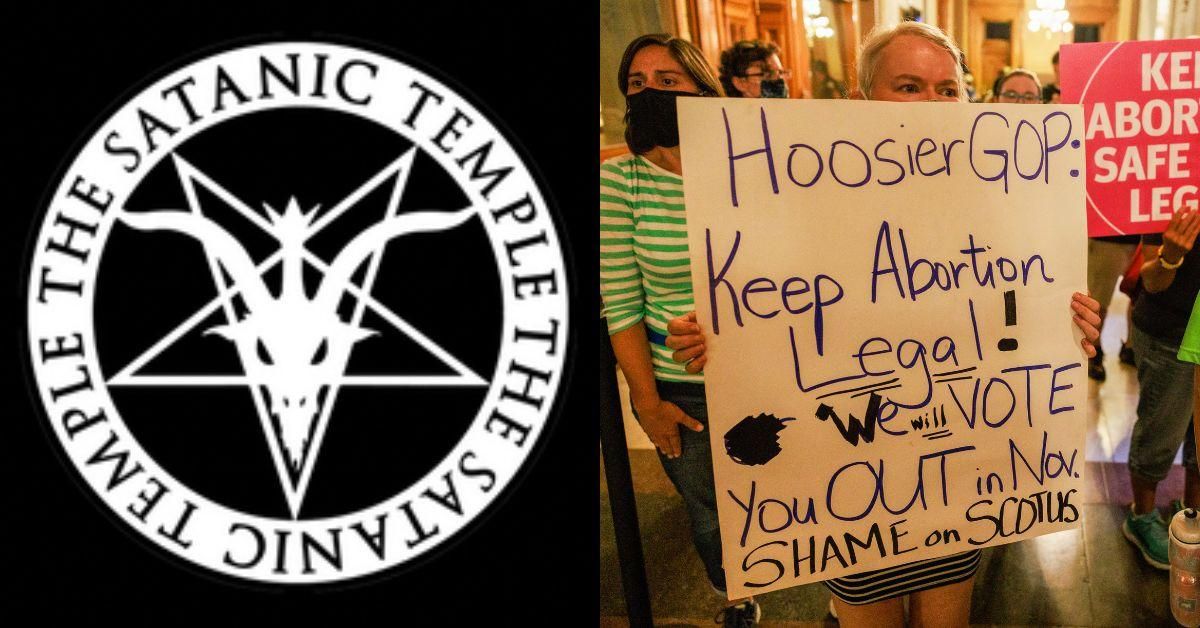 The Satanic Temple; Jeremy Hogan/SOPA Images/LightRocket via Getty Images
The Satanic Temple is at it again and this time they're attacking anti-abortion laws.
The Temple is suing the states of Indiana and Idaho after strict abortion bans went into effect in both states in recent months following the overturn of Roe v. Wade by the Supreme Court in June.
The Temple's suit, filed in federal court, argues both states' abortion bans are a violation of its members' "religious liberty"—a claim that has actual legal standing because the Temple created an "abortion ritual" last year to protects its members' reproductive freedom.

Often confused with the Church of Satan, which it disavows, the Satanic Temple is an organization which does not believe in the Christian Satan but rather "the allegorical Satan described in the epic poem Paradise Lost—the defender of personal sovereignty against the dictates of religious authority."

The "Satanic Abortion Ritual" created in 2020 makes support for people who obtain abortions one of the Temple's religious tenets.
As they describe it on their website:
"The Satanic abortion ritual provides spiritual comfort and affirms bodily autonomy, self-worth, and freedom from coercive forces with the affirmation of TST's Seven Tenets."
"The ritual is not intended to convince a person to have an abortion."
"Instead, it sanctifies the abortion process by instilling confidence and protecting bodily rights when undergoing the safe and scientific procedure."
In its lawsuits, the Temple argues Indiana's and Idaho's bans violate these religious rights by denying an "involuntarily pregnant woman" the right to engage in the "Satanic Abortion Ritual."
Notably, the Temple bases its lawsuit in violations of three constitutional amendments, including the 13th, which abolished slavery.
The Temple argues the Idaho ban subjects pregnant women to involuntary servitude by forcing them to provide for an embryo or fetus with oxygen, nutrients and other resources during gestation without their consent.

Noting surrogacy is an option for which people are routinely paid thousands of dollars, the Temple also argues the states' bans constitute unconstitutionally "taking the property of involuntarily pregnant women"—meaning their uteruses and bodily functions—without monetary compensation.
Whether it will work remains to be seen, but the brilliance of the Temple's logic was undeniable.
The Satanic Temple has filed numerous political actions and lawsuits over the separation of church and state over the years, including two lawsuits over abortion in Texas.
They were also instrumental in a 2015 court order that a monument to the Ten Commandments be removed from the Oklahoma State Capitol.