Jason Selvig of The Good Liars left a Christian anti-abortion activist speechless after citing the Old Testament.
14 September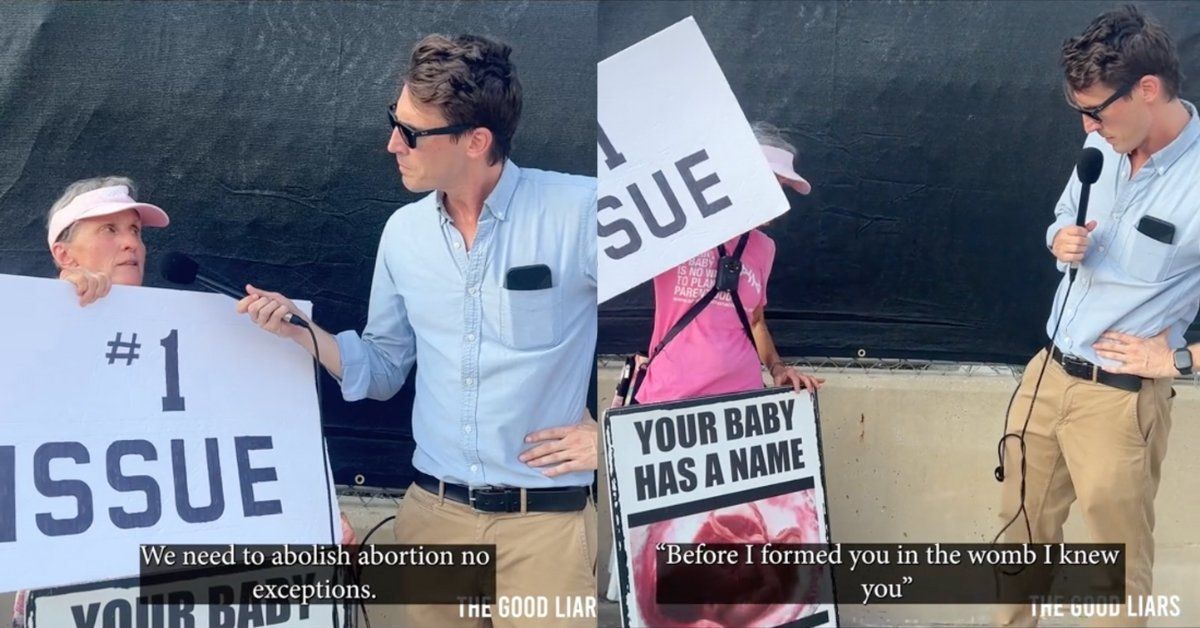 @TheGoodLiars/X
The Good Liars, a comedy duo known for lampooning American politics, went viral once again after they shared a clip of their encounter with a Christian anti-abortion activist who was left speechless after interviewer Jason Selvig cited the Old Testament back to her.
After the activist declared the country should "abolish abortion, no exceptions," Selvig noted that one of her signs included the verse, "Before I formed you in the womb I knew you," from the Book of Jeremiah.
The woman said "God knows these babies in the womb," adding:

"He has a purpose and destiny for each child. They shouldn't be killed."
At this point, Selvig proceeded to cite the Old Testament himself, asking:
"Didn't he kill all the first born sons in Egypt?"
After a stunned pause, the woman just said "I think I'm done" and was otherwise left speechless by Selvig's remark, which referred to one of God's decrees in the Book of Exodus.
You can watch what happened in the video below.

After The Good Liars shared footage of the moment on X, formerly Twitter, people were quick to call out the woman's hypocrisy.
The Good Liars' encounter with the anti-abortion activist underscores the polarization of an issue that has had enormous political costs for the GOP since the Supreme Court overturned Roe v. Wade in June 2022.

Members of the GOP have been warned about the potential consequences of their rigid positions on reproductive rights. As recently as last week, South Carolina Republican Representative Nancy Mace called out her own party, pointing out that Republicans who don't moderate their positions are essentially "walking the plank" and hurting their electability.
Despite the unpopularity of their strict stance on abortion, Republicans have continued to take steps to restrict access to the procedure. Recent developments, such as Alabama Attorney General Steve Marshall's efforts to prosecute those assisting women in obtaining abortions, underscore the ongoing battle over reproductive rights.