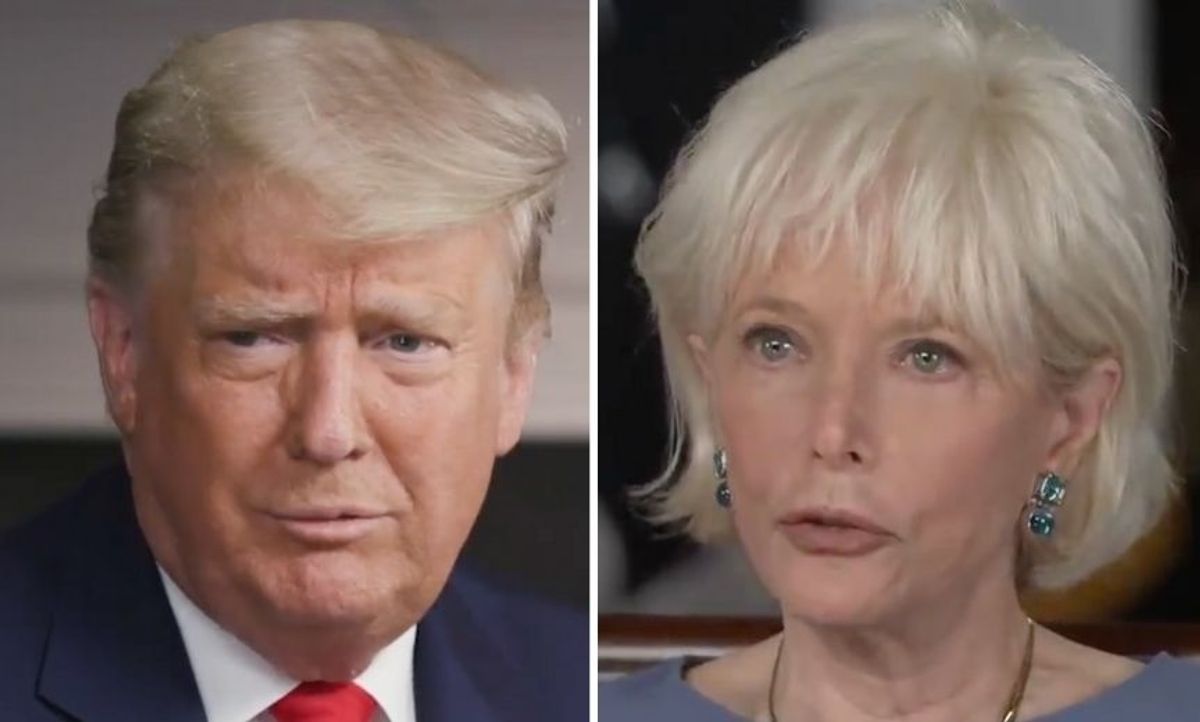 The White House // CBS
Hours after news broke on Tuesday that President Donald Trump stormed out of a 60 Minutes interview with veteran journalist Leslie Stahl, Trump erupted at Stahl in a string of tweets.
The President posted a six second video of Stahl speaking to producers without a mask immediately after the interview. He then threatened to post the White House's footage of the interview before it was set to air on CBS this Sunday.
On Thursday, Trump acted on that threat, posting the interview with a caption admonishing what he called Stahl's "bias, hatred and rudeness."
In the same post, he once again attacked NBC journalist Kristen Welker, the moderator of the final presidential debate Thursday night.

Trump signaled that posting the White House's footage would unfetter him from the so-called partisan bias he's railed against for years. He highlighted that Stahl began the interview asking if he was ready for some tough questions, at which Trump balked.
Watch below.

Trump urged Stahl to "be fair," prompting her to reassure him she would.
Trump attempted to defend the size of his rallies against the pandemic that's killed over 200 thousand Americans.
During the interview the President said he hoped that the Supreme Court would "end" the Affordable Care Act, which insured millions of Americans with its passage.

He then, once again, claimed that the replacement plan he's long sworn exists will be released "soon."
The footage released by Trump also showed the moment he walked out, in which he once again accused Stahl of bias for asking if he was ready for "tough questions."
Trump said:

"You brought up a lot of subjects that were inappropriately brought up. They were inappropriately brought up right from the beginning. Your first question was, 'this is gonna be tough questions.' ... When you set up the interview, you didn't say that."
Trump then attempted to accuse her of hypocrisy, claiming that he saw her interview with Joe Biden.
Stahl pointed out that she'd never interviewed Joe Biden.
People were amazed that Trump thought posting this interview to his Twitter account was a good idea.
Some defended Lesley Stahl.
CBS said of the President's decision to post the footage:

"The White House's unprecedented decision to disregard their agreement with CBS News and release their footage will not deter 60 MINUTES from providing its full, fair and contextual reporting which presidents have participated in for decades. 60 MINUTES, the most-watched news program on television, is widely respected for bringing its hallmark fairness, deep reporting and informative context to viewers each week.

Few journalists have the presidential interview experience Lesley Stahl has delivered over her decades as one of the premier correspondents in America and we look forward to audiences seeing her third interview with President Trump and subsequent interview with Vice President Pence this weekend."
Trump's demeanor is expected to be similarly combative during the final debate, tonight at 9pm Eastern time.