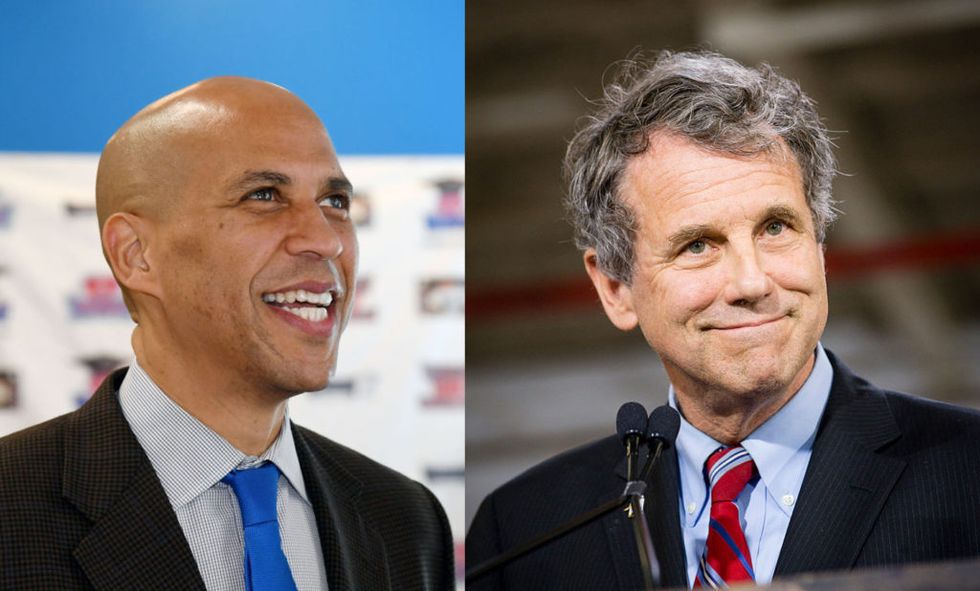 Credit: Ethan Miller / Staff, Angelo Merendino / Stringer, Getty Images
Not everything is about rivalry: two Democrats with intentions to run for president just tweeted each other messages of support and respect, reminding us that there's still some good in the world of politics.
Senator Sherrod Brown (D-OH) sent a slightly tongue-in-cheek message to Senator Cory Booker (D-NJ) on Sunday, saying "It's one thing for you to talk about the dignity of work, but to be willing to lose your voice to sound like me while doing it, that shows real commitment," adding "Fighting for the dignity of work is how we should govern and it's how we win in 2020."
Brown is known for his hoarse voice, was poking fun at his fellow Senator's recent speech in Iowa. Booker responded "They say imitation is the sincerest form of flattery, my friend."
Twitter immediately fell in love.
Both Brown and Booker have spoken of dignity in their recent public appearances.
Brown is launching a "Dignity of Work Tour," saying "Dignity of work means hard work should pay off for everyone, no matter who you are or what kind of work you do."
Booker has voiced a similar sentiment, saying "there is a dignity in all work and career professions." The emphasis from Democrats on bolstering working-class Americans—many of whom voted for Trump—could have a significant payoff.
For now, people are basking in the lack of animosity between Democratic candidates.
While Sherrod Brown hasn't officially announced his intention to run for president in 2020, he and Cory Booker may find themselves campaigning for the same office. I'd say "may the best man win," but they both seem pretty great.
Keep reading...Show less