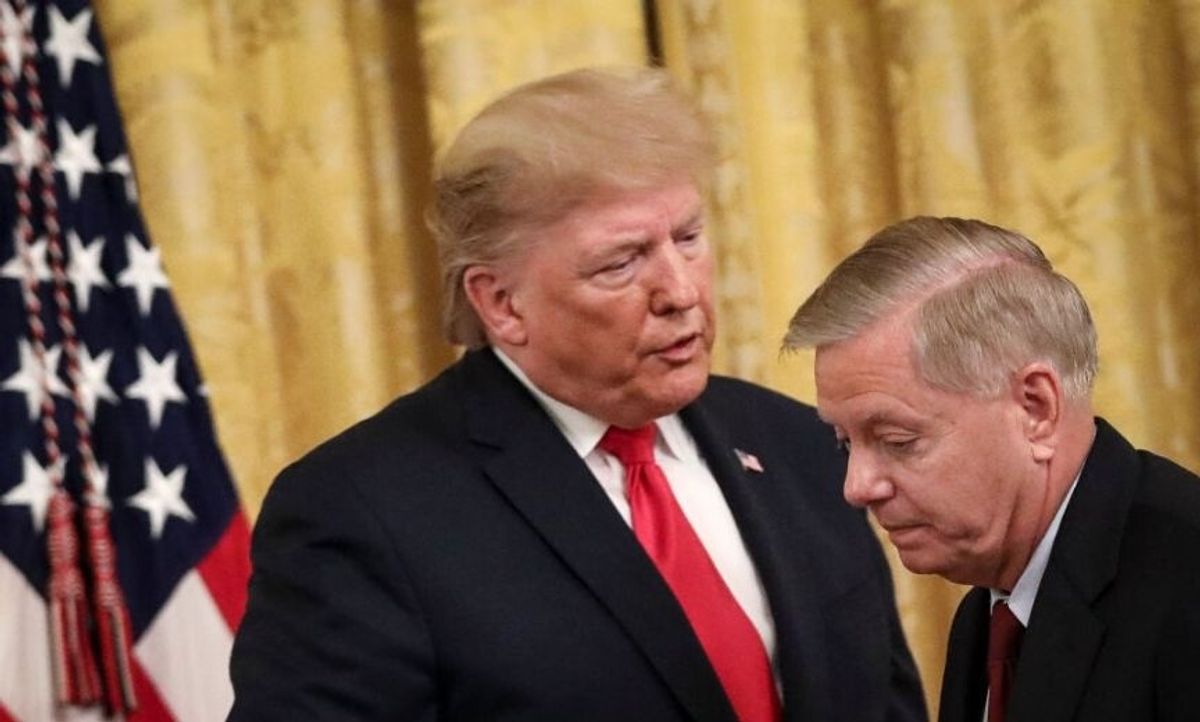 Drew Angerer/Getty Images
President Donald Trump addressed the nation on Wednesday morning after Iran launched retaliatory strikes against two Iraqi military bases where U.S. troops were stationed.
During the speech, the President sniffled nearly 60 times, slurring his words as well. By the end of the address, "adderall" was trending on Twitter due to the amount of people speculating that Trump was on drugs.
Nevertheless, Trump's allies fell in line to praise him—particularly Senator Lindsey Graham (R-SC).
Graham heaped praise upon the President in a Fox News interview, absurdly stating that the speech was as good as Ronald Reagan's famous "tear down this wall" address, and that Trump's speech singlehandedly reset the relationship between the world and Iran.
Watch below.
Lindsey Graham says Trump's speech from this morning will be remembered long after his second term. He also says it… https://t.co/aYGcvcZPu0

— Acyn Torabi (@Acyn Torabi) 1578537405.0
One Republican recently compared Graham to a "pilot fish"—a fish who follows a larger, predatory fish for food scraps and protection.

Republican strategist and Trump critic Rick Wilson used Graham's subservience to establish the rules for loyalty to Trump.
2/ - Never be the first guy to stop clapping when Trump speaks. - It is always the Year Zero; memory and consist… https://t.co/NuDMOhYl4n

— Rick Wilson (@Rick Wilson) 1578543026.0
3/ - Your humiliation in his service will asymptotically approach infinity, with the pain and shame mounting but ne… https://t.co/cI5Jb1V5DG

— Rick Wilson (@Rick Wilson) 1578543220.0
4/ - Even when he's wrong (and he's almost always wrong), race for the TV cameras to proclaim that you and everyone… https://t.co/aQGOzDE8LK

— Rick Wilson (@Rick Wilson) 1578543369.0
5/ - If he wants to mount your spouse, let him. You let him screw your reputation, honor, dignity, principles, and… https://t.co/tuxDPXtznH

— Rick Wilson (@Rick Wilson) 1578543518.0
6/ - Never forget that if you don't suck the chrome off the metaphorical trailer hitch, someone else in Washington… https://t.co/SW7uinEq1n

— Rick Wilson (@Rick Wilson) 1578543631.0
7/ - Snitch of get snitched on. Trust no one. Lie constantly. Don't sleep in the same place more than two nights. Moscow rules.

— Rick Wilson (@Rick Wilson) 1578543691.0
After years of seeing ceaseless praise for even Trump's most indefensible actions, many thought Wilson's thread to be spot-on.
BOW DOWN TO YOUR NEW FALSE GOD! https://t.co/J4YarwcZmS

— TheIllusTratedMan (@TheIllusTratedMan) 1578576285.0
@TheRickWilson Spot on. The @GOP as we knew it, has died It has become The Donald Trump Neofascist Pseudo Populist… https://t.co/zP3myb1OnD

— Yor Karma (@Yor Karma) 1578550147.0
@TheRickWilson Deny, deflect, project. The new #RussiapublicanParty https://t.co/kTePF4JbBQ

— TIM ⚽️ (@TIM ⚽️) 1578543446.0
@TheRickWilson Trump kills Soleimani: "Bold decisive move" Iran retaliates and Trump backs down: "Bold decisive mo… https://t.co/NZcifocCma

— Karl Darrin Devlet (@Karl Darrin Devlet) 1578544183.0
@TheRickWilson Brilliant! You've nailed it. May I suggest another rule for Republicans, a la Kim Jong Un: When you… https://t.co/UxBIm7TZva

— Carol Vernon ☮ 💙 (@Carol Vernon ☮ 💙) 1578574335.0
@TheRickWilson -Do not stare at or mention his GIGANTIC hands. https://t.co/TWBJd6veok

— Adrian Wapcaplet (@Adrian Wapcaplet) 1578543430.0
@TheRickWilson @lotsofuss Apparently the new rules are keep lowering the bar until there is no bar.

— 🗽🌊Jayne Marie Lake🌏🏛🇺🇸🐕🐘 (@🗽🌊Jayne Marie Lake🌏🏛🇺🇸🐕🐘) 1578544079.0
Rick Wilson is one of the founders of the Lincoln Project, a Republican political action committee working to prevent Trump's reelection.
Keep reading...Show less