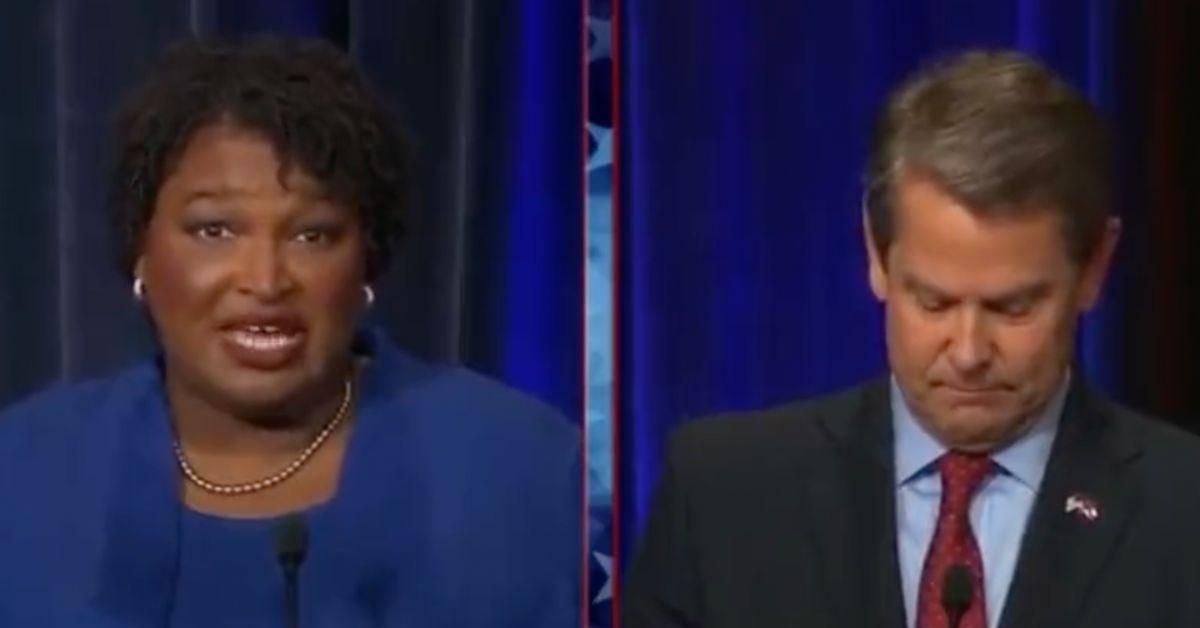 @mrbenwexler/Twitter
As voting rights activist Stacey Abrams and Republican Georgia Governor Brian Kemp prepare to face-off again in November for the Georgia governor's mansion, a clip from a debate in their 2018 race is once again going viral.
In the clip, Abrams effortlessly shut down Kemp's absurd attempt to accuse her of encouraging voter fraud by pointing out his long history of voter suppression--including court cases over the issue in which he lost.

The clip has many excited about the forthcoming rematch between Abrams and Kemp, the latter of whom narrowly won in 2018 in a victory many attributed to the very voter suppression Abrams challenged him on.
They're hoping Abrams' effortless talent for shutting Kemp down will translate into a win this fall.
See the 2018 clip below.
In the clip, Kemp, who was at the time Georgia's Secretary of State and in charge of the state's elections, demanded to know why Abrams was "encouraging people to break the law" by pushing for ineligible voters to be allowed to vote in the 2018 election.

As usual with Republican accusations, there was no merit to Kemp's question, which Abrams made clear in her response:
"Mr. Kemp you are very aware that I know the laws of Georgia when it comes to voting..."
"I have never in my life asked for anyone who is not legally eligible to vote to be able to cast a ballot."
Kemp, on the other hand, has a rich history of voter suppression and conflicts of interest when it comes to elections.
Georgia is widely regarded as one of the most voter-suppressed states in the nation and has long been notorious for hours-long waits at polling places in Black and heavily Democratic districts, including in the hotly contested 2016 and 2018 elections.
Kemp was still serving as Secretary of State during his own run for governor in 2018--a clear conflict of interest. But he also implemented so-called "exact match" voting laws which required voter registrations to match government identification exactly.
This meant that even a missing hyphen or middle initial would invalidate a voter's registration and require them to prove their identity--a process often impossible to complete in time for Election Day.
Such measures disproportionately impact demographics more likely to vote for Democrats, especially voters of color.

Abrams made a pointed reference to this law in her response to Kemp, previous iterations of which she and her voting rights organization successfully sued him over in 2016.
She said:
"What I've asked for is that you allow those who are legally eligible to vote, to allow them to cast their ballots."
"And in fact we took you to court in 2016 and a federal judge said that you illegally canceled 34,000 registrations."
"You used the exact same system, the 'exact match system,' that is under dispute right now."
"...Your tendency is to blame everyone else for the mistakes that you make. My responsibility as a leader is to see a problem and try to solve it."
Abrams went on to do just that in 2020--her organizations' extensive voter registration and "get out the vote" efforts are widely credited with helping Democratic President Joe Biden win the state of Georgia that year--the first Democrat to do so since 1992.
On Twitter, Abrams' smackdown of Kemp left people cheering and hoping that she can duplicate 2020's successes this fall.

Kemp's "exact match" schemes were thrown out by the courts three days before Election Day in 2018, but as an early voting state, polls had already been open for weeks by that time.
Kemp is widely believed to have "stolen" the 2018 race via voter suppression, and Abrams filed suit after the election. The ensuing trial concluded last month, with the verdict still pending.

Polls show Kemp is currently leading Abrams in the Georgia governor's race by an average of five points. They will face off in their first debate of the 2022 election on October 17.