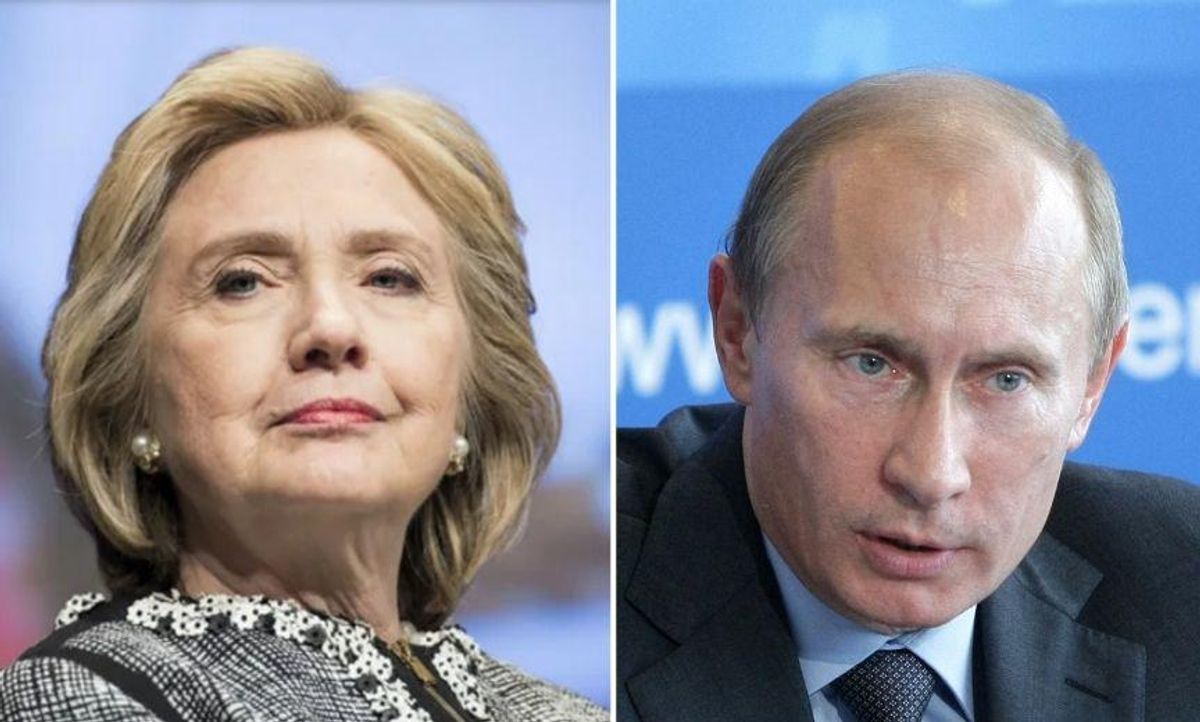 BRENDAN SMIALOWSKI/AFP/Getty Images // ALEXEY NIKOLSKY/RIA NOVOSTI/AFP via Getty Images
After Russian President Vladimir Putin's recent invasion of Ukraine, western countries including the United States universally condemned the uptick in aggression that upended global diplomatic efforts.
President Joe Biden lobbed some of the harshest sanctions in American history targeting the Russian government, Russian financial institutions, the Russian oil market, and Russian oligarchs, and further played a key role in talks with European Union and North Atlantic Treaty Organization (NATO) countries to do the same.
Now, the Kremlin has issued some sanctions of its own, targeting a laundry list of American officials including Biden himself, as well as Secretary of State Anthony Blinken, Secretary of Defense Lloyd Austin, Joint Chiefs of Staff Chairman General Mark Milley, and others, banning them from setting foot in Russia.
There's another notable name on the list: former Secretary of State and 2016 Democratic presidential nominee Hillary Rodham Clinton.
Throughout the 2016 campaign, ahead of her defeat at the hands of then-candidate Donald Trump, Clinton warned that Trump would be a "puppet" for Russian interests. That year, the Kremlin hacked the personal email of Clinton's campaign chair, John Podesta, in a move Clinton said was due to Putin's "personal beef" against her for claiming in 2011, as Secretary of State, that Russia's parliamentary elections were rigged.
For her part, Clinton didn't seem bothered by the sanctions, and even thanked Russia for what she called a "lifetime achievement award."
Social media users cackled at her retort.
Others noticed a glaring omission from the list.
Interestingly enough, in responding to the sanctions, White House press secretary Jen Psaki noted that Biden's full name is actually "Joseph Robinette Biden Jr.," joking that the sanctions omitted the "Jr." and had technically sanctioned his father, who died in 2002.