Getting through Christmas Day without a healthy dose of caffeinated beverages isn't easy. From children waking the household up before the crack of dawn to the many hours spent throwing together a nice holiday feast, it's not uncommon to need a Christmas "pick-me-up."
The issue comes in when trying to find a coffee shop that is open to deliver that shot of caffeine. Many local coffee shop owners may opt to close on Christmas Day, but there's at least one company that can help. While some Starbucks locations may be closed for the holiday, generally, the company remains open to serve early morning to late evening customers.
---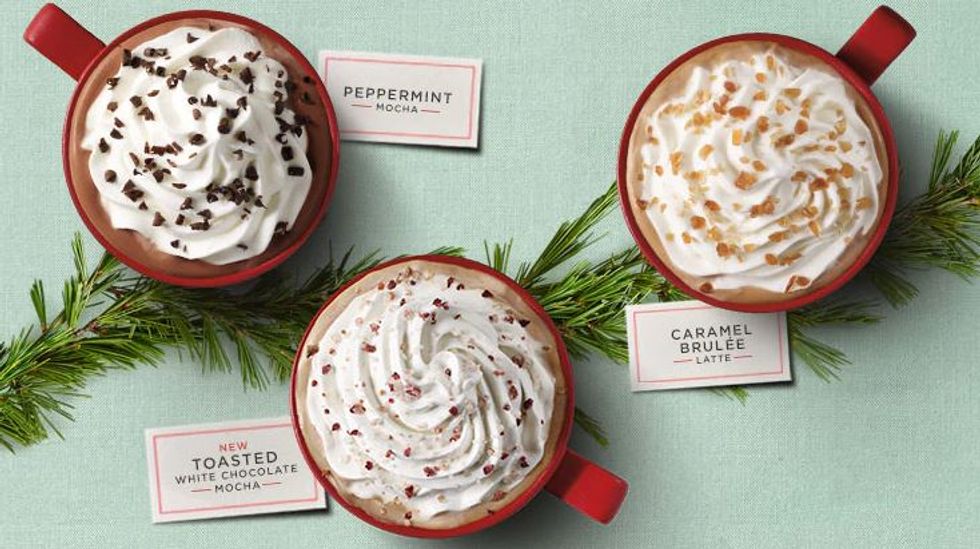 Source: Starbucks
Starbucks locations will offer a full menu on Christmas Day featuring holiday favorite pastries like the cranberry bliss bar, snowman cake pop, reindeer gingerbread cookie, and snowman cookie. Seasonal beverages like the toasted white chocolate mocha, caramel brulee, and peppermint mocha will also be available. Classics like the eggnog latte and gingerbread latte made a come back for the 2017 holiday season. As with any other business day, drink orders can be placed through the Starbucks app.
Even after Christmas, Starbuck's holiday cheer doesn't quite subside. Though holiday-themed beverages are slated for removal after Jan. 3, Kahmarl O'Gordon from Shop Insider claims the seasonal beverages can still be ordered into the new year. According to O'Gordon, "You can actually get your favorite Christmas drinks at Starbucks right up until the syrup stock runs out." He followed up by advising that the syrup supply could run out as late as February. While they may be pulled from the menu, baristas may still be able to brew up these festive blends if asked nicely.
Christmas Day hours will vary from store to store, but stores are expected to open as early as 4:30 a.m. and close as late as 8 p.m. To determine hours at a local store, use the Starbucks.com store locator.