[Digest: Forbes; Box Office Mojo; The Guardian]
As expected, Star Wars: The Force Awakens blasted its way past its box office competition at hyperspeed, holding the top spot with an estimated $238 million in weekend ticket sales.
---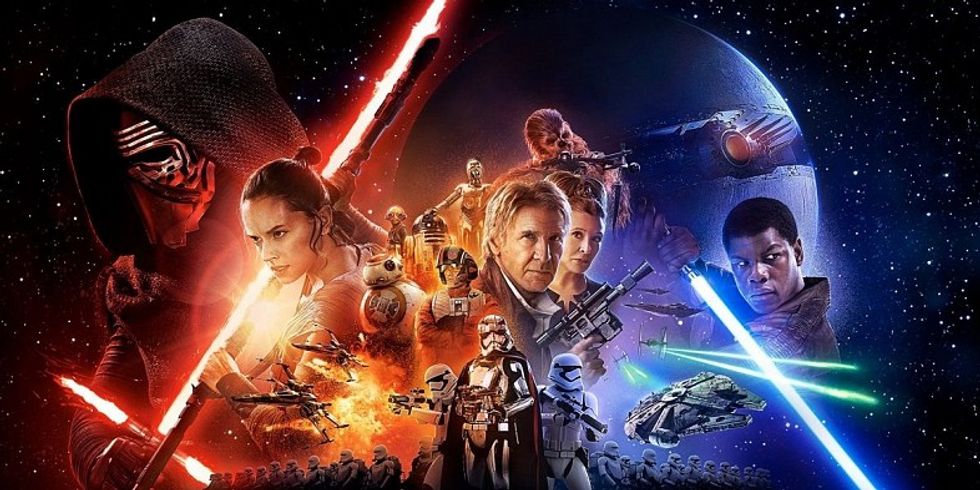 Credit: Source.
The film vaporized a multitude of records set by previous box office juggernauts, including Harry Potter and the Deathly Hallows - Part 2, Jurassic World, and The Hobbit: An Unexpected Journey.
Though it appears Jurassic World will hold on to its "Largest Saturday" title, The Force Awakenscrushed records for ticket sales in December on a single day and December opening weekend sales. The Force Awakens also easily snatched the title of fastest film to earn $100 million -- what took Jurassic World two days, Star Wars did in just one.
It is likely that the latest Star Wars installment will unseat Avatar as the largest all-time grossing film; 
Avatar's record is currently $2.8 billion worldwide. The Force Awakens is poised to capture that title, thanks in no small part to the increased power of China's box office. James Cameron's science fiction epic took in about $204 million in China; J.J. Abrams' Star Wars has the potential to double that figure.
A massive effort is underway to help The Force Awakens achieve its goals abroad, and a great deal of that effort is being focused in China. All six Star Wars films have recently been made available for online streaming there, and Disney sent an actual First Order batallion to the Great Wall. Five hundred white-armored stormtroopers heralded the highly anticipated global release of a trailer for the film in October by posing for a stunning far-East photo-op.
In a first-ever event of its kind, 500 stormtroopers were stationed on the Great Wall to celebrate #TheForceAwakens! https://t.co/E27fUNxdAo

— Star Wars (@Star Wars) 1445466481.0
One unanticipated result of The Force Awakens' success has been an increase in ticket sales for other films. 20th Century Fox took a chance and actually moved up the release of its Alvin and the Chipmunks sequel, The Road Chip, to align with opening weekend for The Force Awakens. The movie came in second this weekend, with domestic sales totalling about $14.4 million.
Tina Fey and Amy Poehler's newest collaboration, came in third. Sisters, might not have done as well as Baby Mama, but they did manage to pull in a respectable $4.92 million on Friday and finished out the weekend at $13.4 million.