The next chapter of the Star Wars saga, Star Wars: The Last Jedi, releases in theaters on Friday, December 15th. Fans of the sci-fi films have been waiting for this installment since Star Wars: The Force Awakens was released in 2015. While this film will feature more time with actor Mark Hamill (who portrays Jedi Master Luke Skywalker), it will be the last film featuring Princess Leia Organa after Carrie Fisher's untimely death last year.
To get you ready for Star Wars: The Last Jedi, here are 10 of the best Star Wars memes:
1. Even worse is when someone says that they prefer Star Trek over the Star Wars films.
---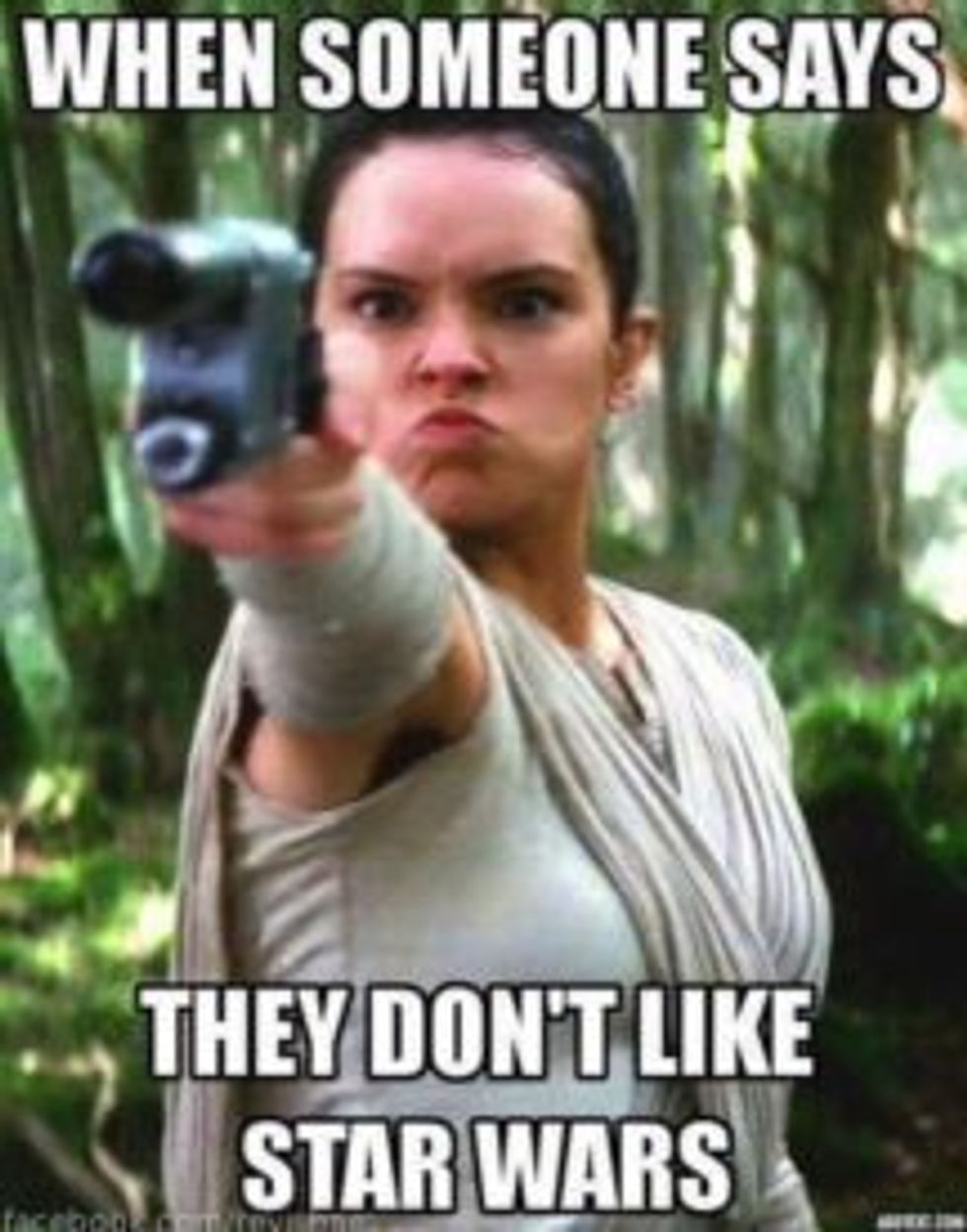 www.facebook.com/starwarsmeme
2. Seriously, the next installment of the franchise really should clear up this plot hole. The last time Luke Skywalker saw his father's lightsaber was when Darth Vader sliced his arm off.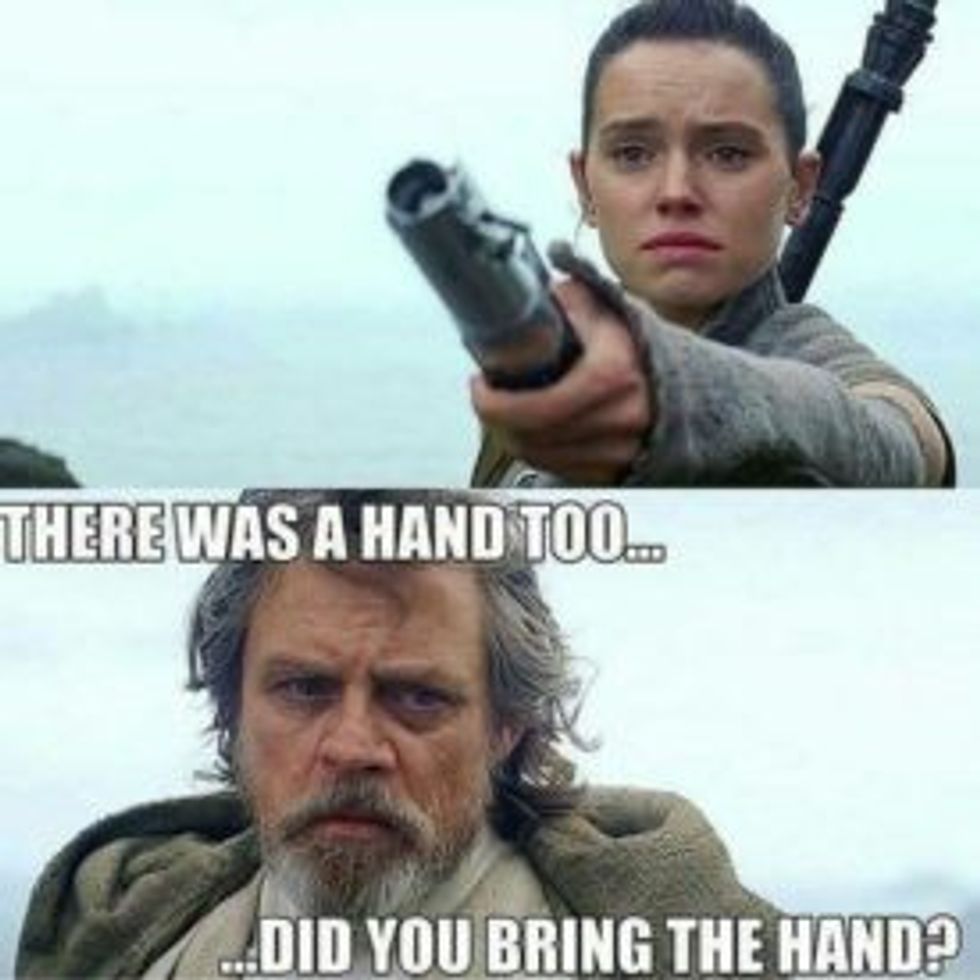 https://imgur.com/gallery/dPwcB
3. Good lucking getting this song out of your head now.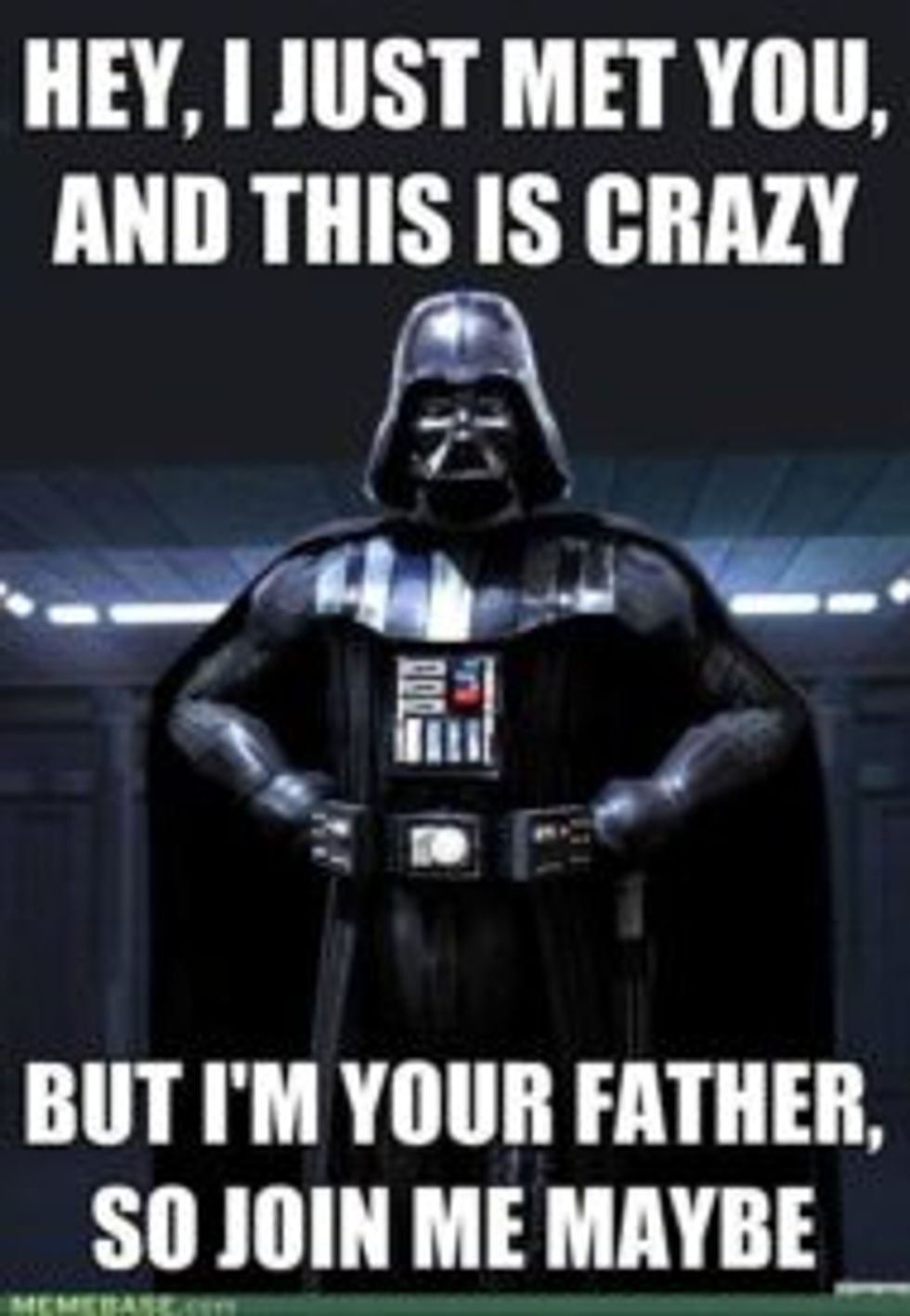 http://jrosmith.tumblr.com/post/22391570223
4. Just think about James Earl Jones's basso voice the next time your boss pops by your cubicle.
lol just imagine #Memes #StarWars https://t.co/lFtmjmOaNx

— Anthony. Jenkins (@Anthony. Jenkins)1505705680.0
5. Maybe this Star Wars meme mixes up famous Harrison Ford characters. But these Kylo Ren memes will still make you laugh.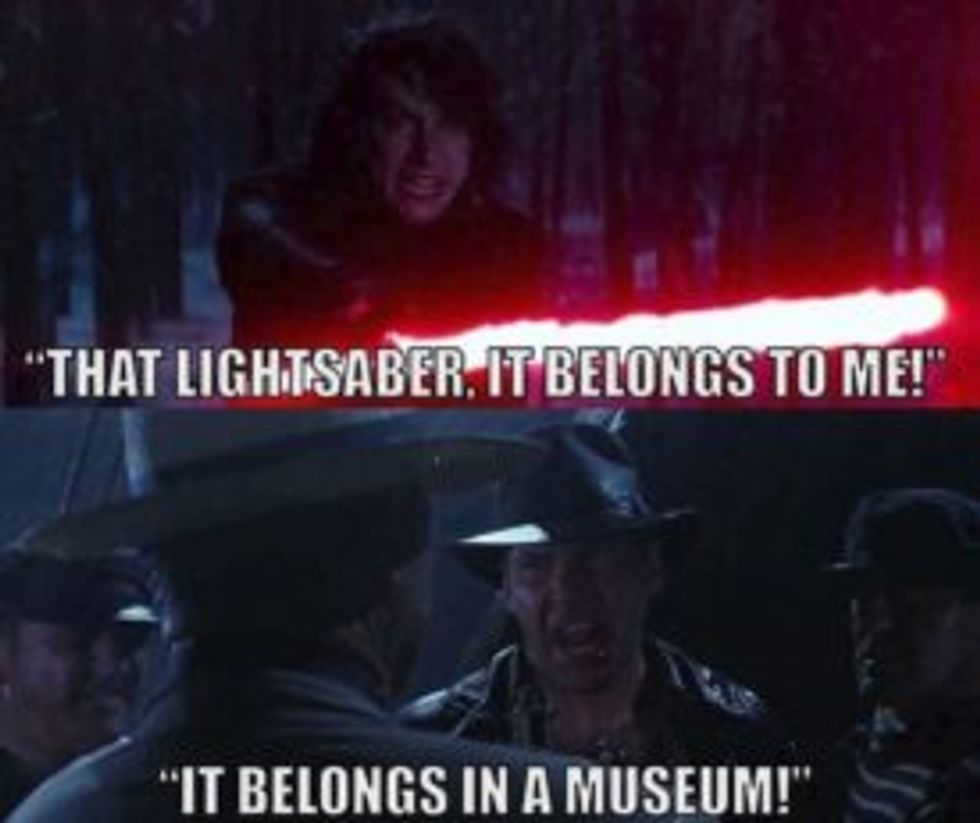 www.facebook.com/starwarsmeme
6. Star Wars memes are so popular that even Grumpy Cat wants in on the franchise.
One week to the new Star Wars film! Even Grumpy Cat is in on the action… #StarWars #StarWarsTheLastJedi #Christmas… https://t.co/LXd2773pbJ

— TripCenter (@TripCenter)1512730920.0
7. Watching The Golden Girls will never be the same again. It is really creepy how much Maz Kanata looks like Estelle Getty.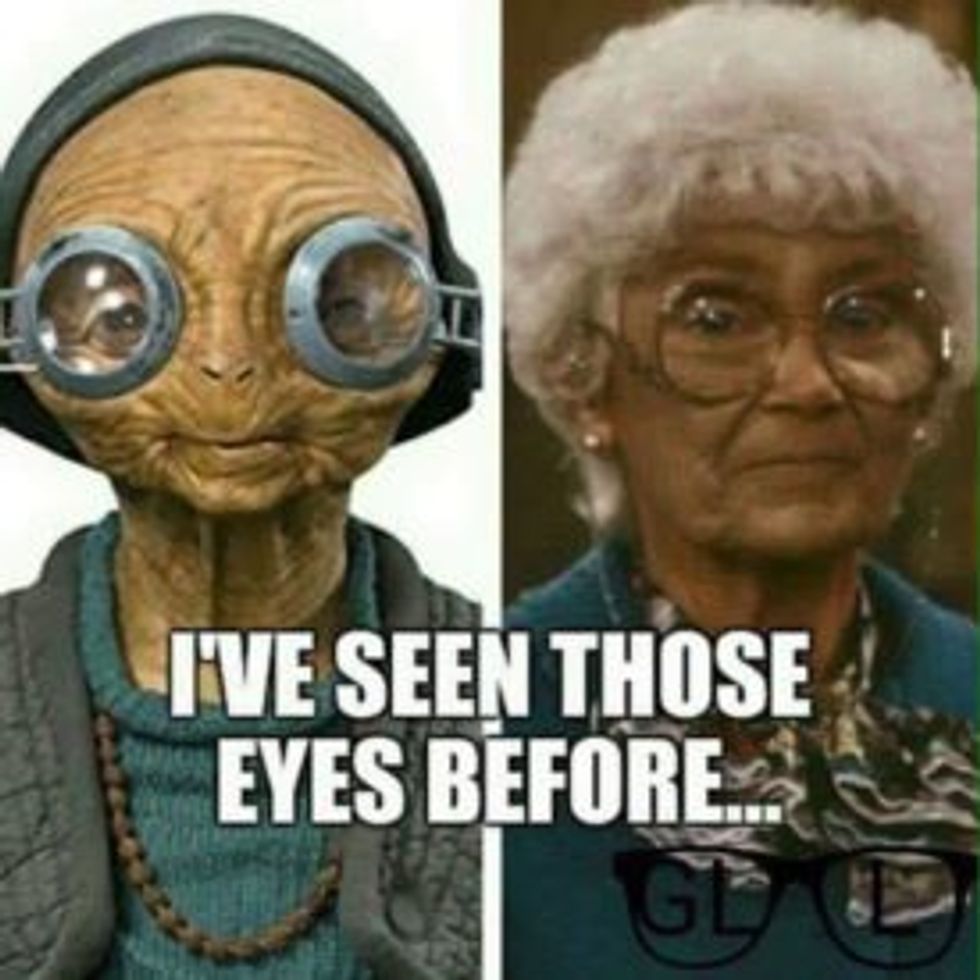 www.facebook.com/starwarsmeme
8. This song will get stuck in your head too. And then you'll start picturing the AT-ATs dancing which will make you laugh out loud at inappropriate times.
I'm feeling very stressed so here's a thread of Star Wars memes #gradschoolproblems #aproposofnothing… https://t.co/9anB3AaVBj

— Prof Chris Agent of G.I.R.L (@Prof Chris Agent of G.I.R.L)1511321747.0
9. Who's willing to take the bet that Rey loses an arm in Star Wars: The Last Jedi?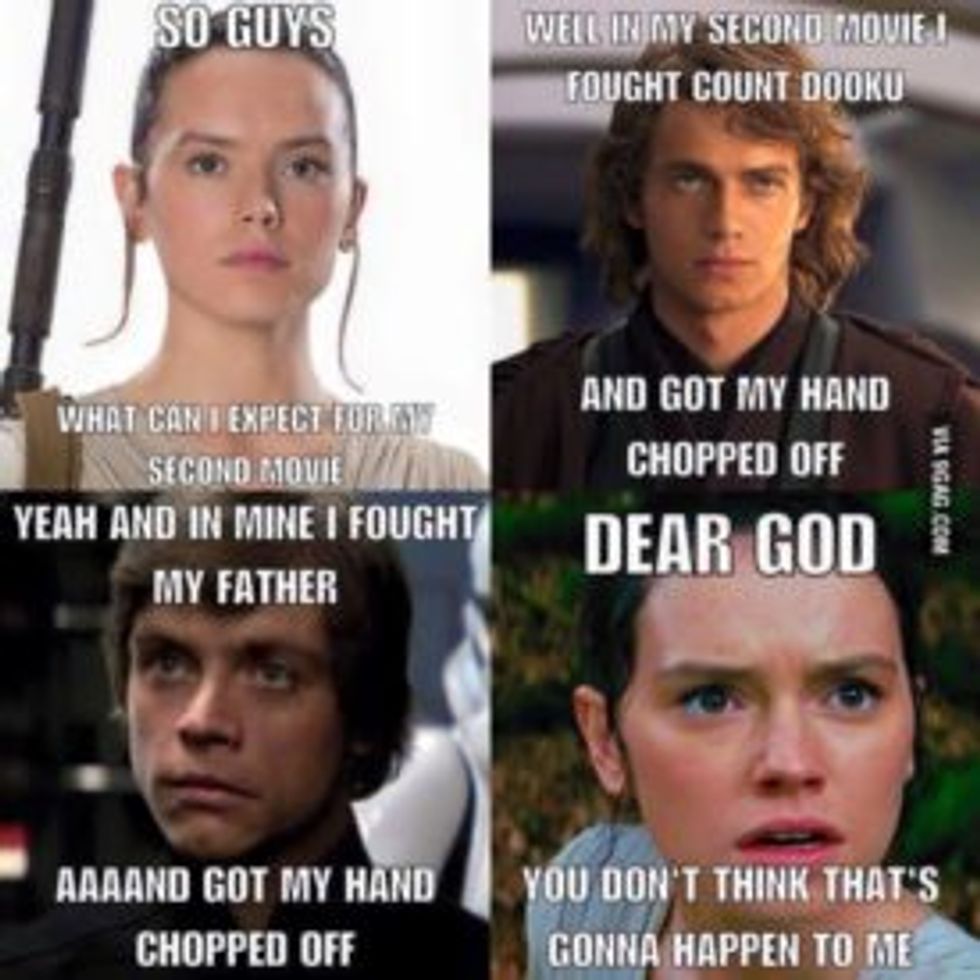 www.facebook.com/starwarsmeme
10. Some of these Kylo Ren memes are kind of sad. Here's hoping that the next Star Wars movie explains his obsession with Darth Vader a little more.
👍👍👍 #StarWarsDay #DarthVader #kyloren #memes 😜 https://t.co/lQlnR6xvhL

— Mark Austin (@Mark Austin)1465019312.0
Star Wars: The Last Jedi opens in theaters nationwide on December 15, 2017.