When The Elder Scrolls: Skyrim was announced for the Nintendo Switch, it was met with a range of responses, from excited to confused. Ultimately, regardless of consumer reaction, it allowed Bethesda to retool the sixth release of its widely popular fifth entry in the The Elder Scrolls series. For Nintendo, it proved that, while not as powerful as the PlayStation 4 and Xbox One, the Switch could run taxing games while also providing the chance for exclusive features.
With the release of Skyrim on the Switch, the role-playing adventure title received several exclusive features to separate it from its prior editions. Released with all prior add-ons and the following gameplay elements, the Switch edition of Skyrim is the most robust iteration of the game to date.
---
Amiibo Support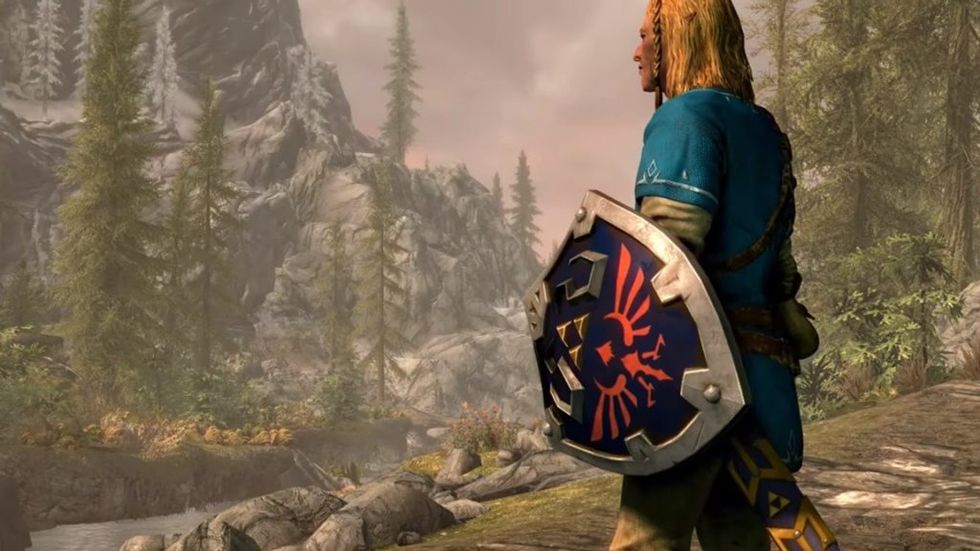 Skyrim may be rated "Mature," but that didn't stop Nintendo and Bethesda from considering amiibo figure support. The detailed figurines were launched with the Wii U and, depending on the game, either unlocked in-game content or recorded character stats.
For Skyrim, Nintendo's figurines can be used to unlock exclusive gear or loot chests. All The Legend of Zelda-themed amiibos will unlock a trio of armor and weaponry pulled right off the back of series' protagonist, Link.
A list of over 100 amiibos can be used to spawn loot chests, though each figure can only be used once in a 24-hour period.
Motion Control
[youtube https://www.youtube.com/watch?v=gsE-LnvzBI8&t= expand=1]
A staple of Nintendo gaming since the Wii, motion controls will be available in the Switch version of Skyrim. When not in handheld mode, players can use the two Joy-Cons independently to wield melee weapons, draw arrows, and pick locks.
Whether in first- or third-person mode, gamers can fully immerse themselves in the vast world by swinging the right Joy-Con for melee attacks or using both to aim ranged attacks. The game can still be played traditionally with the pro controller or supplied comfort grip.
On-the-Go Gaming
One of the more exciting features exclusive to the Switch version of Skyrim is the ability to take the game on the go. While in handheld mode, players can enjoy the full Skyrim experience on the console's 6.2" display.
With an estimated battery life of 2.5 to three hours, the Switch will provide ample opportunity for progress to be made in the vast world of Skyrim before needing to be recharged.