At the end of last night's season premiere of The Simpsons, the animated characters reappeared on screen in a serious, silent tag about the real-world crisis unfolding in Puerto Rico. A five-second still image depicted the Springfield cast holding up the Puerto Rican flag in support of the Hurricane-ravaged island, while the mother Marge held up a sign that read "UNIDO," which is Spanish for "united."
This comes after criticism of President Trump's delayed and unsympathetic responses to the crisis occurring on American soil. Carmen Yulin Cruz, mayor of Puerto Rico's capital city of San Juan, made a public plea over the weekend for federal aid, while blasting Trump and his administration for a lack of response.
---
"We are dying, and you are killing us with the inefficiency and the bureaucracy," said Mayor Cruz. "I am done being polite. I am done being politically correct. I am mad as hell."
Trump went on the defensive on Twitter:
Soon after, Trump proceeded to have a multiple-tweet meltdown, attacking the media as "fake news."
Mayor Cruz brought the focus back to the people of Puerto Rico. "The goal is one: saving lives. This is the time to show our 'true colors.' We cannot be distracted by anything else," she tweeted.
After the show aired last night, The Simpsonstweeted the same image as the tag seen at the end of the premiere, which included the social handles of charities like Unicef, Save the Children, and One America Appeal that are helping with disaster relief.
Aside from a health and food crisis, Puerto Rico faces at least the next few months without power.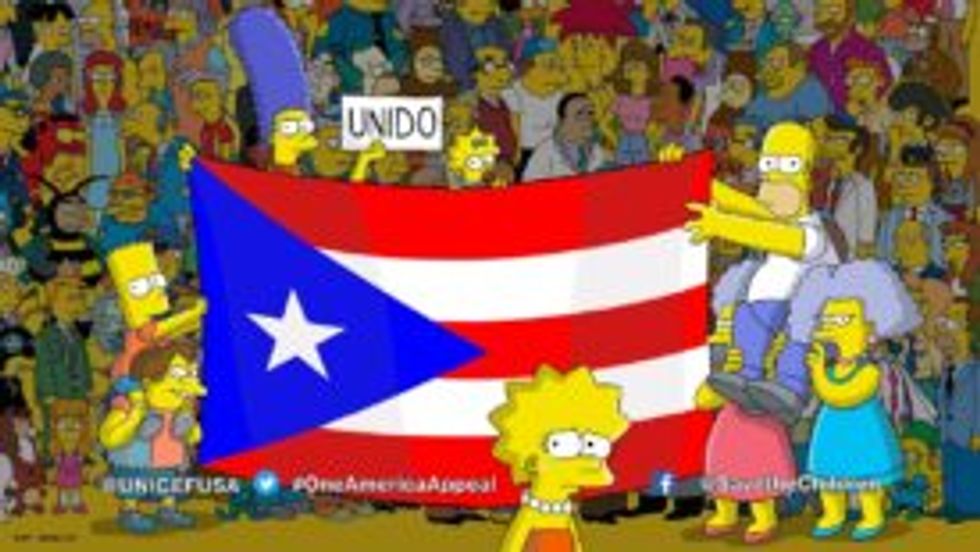 Credit: The Simpsons