With days remaining before Election Day, we are about where we were months ago when it comes to the Senate.
The races in 10 or so states are very close and within what activists call the "margin of effort"—meaning early voting over this week and turnout on Election Day will be determinative of which party controls the chamber.

Today, I'm pulling together some data I previewed yesterday on my Facebook page from three battleground states: Pennsylvania, Nevada and Georgia, or what I have dubbed the "good, the bad, and the likely to drive us all nuts."
I will refer not just to the polls, which might again be off due to low response rates from Trump voters, but to the early voting data, which I find more helpful in understanding strengths, weaknesses, and areas Democrats should focus on in the final days of the election.
The Good: Pennsylvania
Lt. Gov. John Fetterman came through the debate last week without the polls shifting noticeably. The race remains something like a low to high single digit spread in his favor over Dr. Mehmet Oz, according to the latest polls.
The NYT/Siena College poll has him up by five, while others have him up by two. In fact, even at the right-leaning RealClearPolitics site, every poll but one has Fetterman with the lead, which counts for at least something (but honestly at this point, not much).
More interesting to me is that the early voting data support enthusiasm for the Democratic Party in the state. As of the end of October, 780,546 mail-in ballots have been submitted.
Pennsylvania tracks votes by party affiliation, and the news is fairly good for Democrats: They comprise a whopping 72 percent of the early votes, compared to 19.9 for the GOP and 8.1 for no party or minor party voters.
How does this stack up against prior years? Again, pretty decently for Democrats. In 2018, according to election analysis company TargetSmart, the party breakdown by this point was nearly exactly even at 45.7 / 45.8 / 8.6.
These numbers were tabulated back before they passed no-excuse mail-in voting in 2019 and the GOP didn't demonize mail-in ballots the way they did starting in 2020.
During the presidential election, which also saw a surge in interest for mail-in voting due to the pandemic, the numbers shifted dramatically toward the Democrats with a spread of 69.2 / 21.0 / 8.8.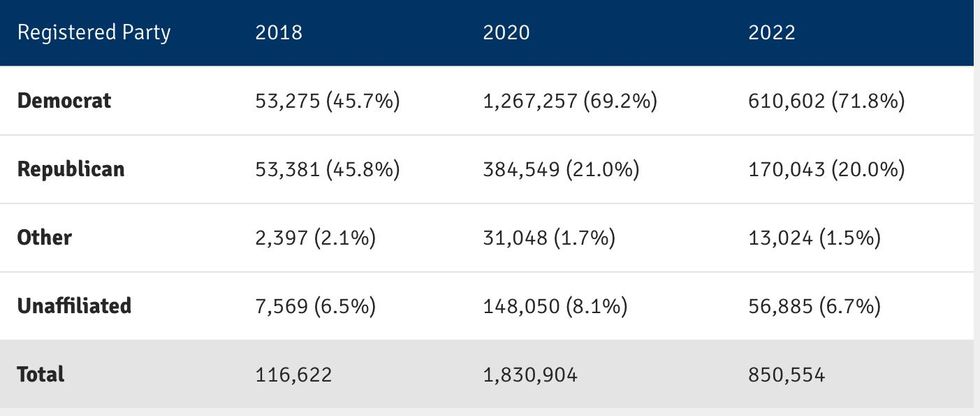 Pennsylvania Early Voting Breakdown by Party RegistrationTargetSmart
In other words, a greater percentage of Democrats are voting earlier than they did even in the 2020 election, which saw Biden defeat Trump by some 81,000 votes.
You can also see in this summary provided by the United States Elections Project that the number of mail ballots actually returned by the parties' voters in Pennsylvania shows a slight edge for the Democrats as of a few days ago, a spread that has held consistent.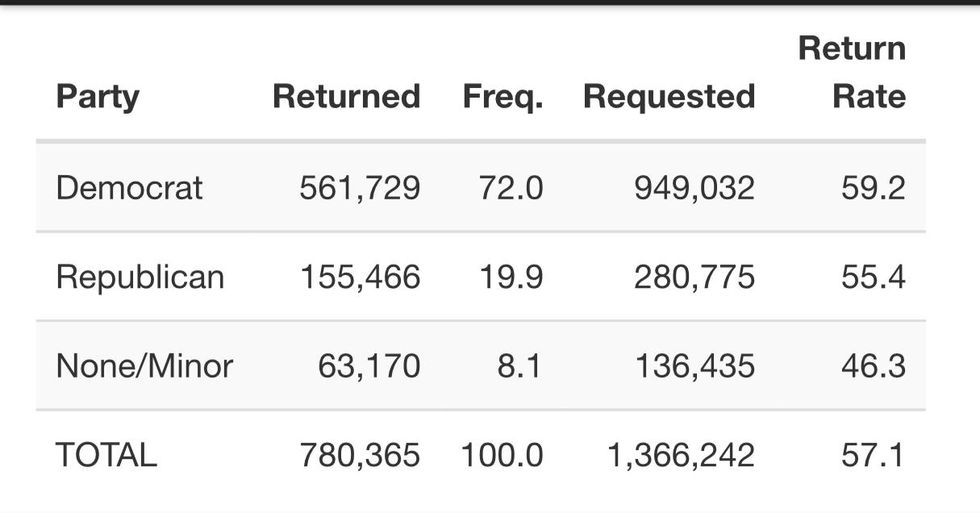 Pennsylvania mail-in return figures by party registrationUnited States Elections Project
This suggests Democratic enthusiasm for vote by mail remains higher than Republican enthusiasm by a few percentage points.

Because of the high number of banked votes that the Democrats will have, the GOP will have to make up the expected difference on Election Day. That is of course very possible, and they will do their best.
But waiting in the wings on Election Day is also the under-40 vote, which only comprises 13 percent of the mail-in votes cast so far, demonstrating again how younger voters prefer to cast their ballots on Election Tuesday. Because these voters skew heavily Democratic, if they show up in force on November 8 this will blunt the red surge of votes, and Fetterman will win as nearly all the polls presently predict.
This means very clearly that Democrats should focus their messaging on getting remaining mail-in ballots in and on young voter turnout on Election Day. This may be why national Democratic leaders are coming to Pennsylvania in the remaining days for big rallies for John Fetterman filled with younger voters who need to be mobilized to vote.
A win by Fetterman would mean that the GOP needs to flip at least two Democratic senate seats without losing any of the ones they are defending. Their best hope for a flip? Let's take a look.
The Bad: Nevada
The polls in Nevada have shown a very tight race between incumbent Democrat Catherine Cortez Masto and her challenger, former Nevada Attorney General Adam Laxalt. The most recent NYT/Siena poll puts them dead even at 47/47.
The early voting numbers aren't painting as optimistic a picture in Nevada as they are in Pennsylvania. In Nevada, there are both in-person and mail-in early voting options.
The Democrats are outpacing Republicans by around 3.0 to 4.5 percentage points, depending on which tabulator and dataset you look at. Compared to prior elections at this same point, that spread is pretty much on par.
The problem, however, lies in overall voter turnout, which is lagging 2018 significantly by this same point.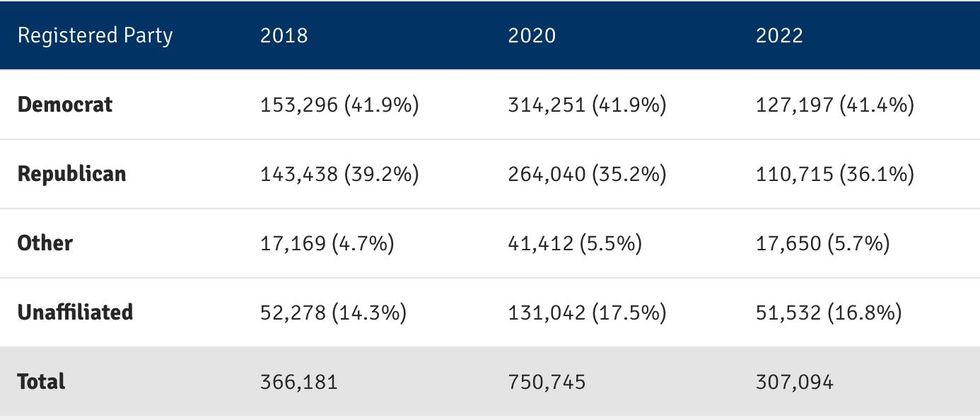 Nevada Early Voting Breakdown by Party RegistrationTargetSmart
Democratic voters in Nevada just don't seem as enthusiastic about voting as they were in the previous midterm.
Then again, neither do Republicans, but that has also to do with the shift of Republicans toward in-person voting after 2020. Democrats took Nevada by a slim 2.4 points in the last presidential election, so there isn't a lot of room for Democrats to backslide on their efforts to get their constituents out to vote.

So what is going on in Nevada? Why the apparent lower interest?
The Democratic base, largely within Clark County, are lower income and working class voters who have been hit hard by inflation. While they may not blame Sen. Cortez Masto or even Joe Biden for this, it appears to be translating into decreased enthusiasm.
At the same time, as a state that currently broadly protects the right to an abortion before 24 weeks, there is less urgency at the state level to protect that right and thus less enthusiasm to turn out for abortion rights post-Dobbs.
One final note: The much-vaunted loss of support for Democrats among Latinos does not appear to be bearing out in Nevada, where those voters continue to break overwhelmingly for Senator Masto according to the latest Univision poll, which had her with 60 percent of their vote compared to Laxalt's 27 percent.
The real question is whether the base, and especially younger minority voters, will turn out on Election Day. We can be pretty certain that the Republican base in the rural counties will.
The Likely To Drive Us All Nuts: Georgia
Most non-partisan polls out recently give a slight advantage to Sen. Raphael Warnock over his challenger, Herschel Walker in Georgia. The NYT / Siena College poll gives him a three point lead. But other, more politically-skewed polls say Walker is ahead by the same amount.
The upshot is that these polls likely are telling us what we already know: It's a very close race.
Georgia stands out because early voter enthusiasm is smashing records, setting an all-time high for a midterm election. So far in the Peach State, there have been 1.8 million votes cast, with the vast majority being in-person votes, even by Democrats.
Voter suppression efforts including increased ID requirements and the risk of voter roll purges have driven many Democrats to secure their votes in person.
How does this turnout compare to earlier years?
Unlike Pennsylvania and Nevada, Georgia does not break down votes by party affiliation, but it does provide information on the voter race, gender and age. Those tell us a good deal about how the vote so far is shaking out.
Based on a "modeled party" breakdown, the early vote so far is outpacing 2018 by around 22 percent. And while high enthusiasm doesn't mean the Democrats are necessarily going to win, low overall turnout would almost certainly have meant defeat.

Georgia Early Voting Breakdown by Modeled PartyTargetSmart
The gender and race numbers for the early vote look about the same as they did in both 2018 and 2020, which means once again that Election Day turnout, when more conservative, White male voters likely will show up in big numbers, will be determinative.
Once again, that likely means Decmorats will need a high youth vote turnout, particularly among minorities, on Election Day to blunt the expected red surge.

The reason we are all going to be driven a bit nuts is this: Unless one of the candidates receives over 50 percent of the vote, the election will go into a run-off to be held December 6.
With a libertarian candidate playing spoiler and polling at around 4 percent, it is likely that neither Warnock nor Walker will clear the bar in this round.
And that would mean a repeat of 2020–where a run-off election in Georgia could decide the fate of the entire Senate majority.