[DIGEST: Science Alert, EurekAlert, Sciencetimes, AAAS, Scientific American, UNOS]
Organ donation often fails because organs are viable for a small window of time after removal, typically only a few hours. A cryopreservation procedure—and new thawing technique, in particular—could lengthen that period up to several years, potentially solving the organ match problem and saving millions of lives.
Cryogenics Attempt to Solve the Organ Viability Problem
Each day, 22 people die while waiting to receive an organ transplant in the United States. More than 60 percent of heart and lungs donated annually must be discarded because they do not reach patients soon enough for transplant.
For decades, scientists have been working to extend the viability of organs with cryopreservation. Under current hospital transplant techniques, organs are only sustainable on ice for a few hours. Using a popular cryopreservation technique known as vitrification, however, they can be preserved for years–freezing organs at temperatures as low as -256 Fahrenheit or -160 degrees Celsius.
The thawing process remains more problematic. With the traditional heating methods of convection, tissue samples are slowly warmed over ice. The process works fairly well with smaller tissue samples, up to a volume of one milliliter (mL), but not larger items such as entire organs–where convection creates ice crystals and cracking in the tissue.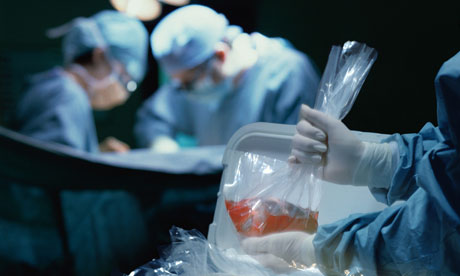 How Nanowarming Protects Fragile Tissue
A new technique has been developed for warming human and pig tissue samples, without damage, using nanoparticles. These nanoparticles, the diameter of which are 150 times smaller than red blood cells, avoid cracking the frozen tissue by warming the entire sample all at once. Scientists magnetize the nanoparticles by mixing them with a silica-coated iron oxide, surround the tissue sample with the mixture, and then apply radio waves to the system to create a reaction.
"We're using the nanoparticles as little warmers," according to John Bischof, lead researcher from the University of Minnesota. "We're controlling where the heat is."
In addition, the tissue can be thawed quickly, in approximately 60 seconds. After thawing, scientists can wash away nanoparticles from the tissue. Bischof's nanowarming technique has been tested on tissue samples up to 50 mL.
"Typically ice crystals form, nucleate, in larger systems," Bischof explains. "During warming, rapid rates are needed to outstrip the growth of these ice crystals or the system will fail."
To read more, please continue to page 2.