Move over college, there's a new school to budget for: preschool. A recent study by the Economic Policy Institute (EPI), a worker advocacy group, showed what many families already know: the cost of preschool is high. In many places, it is higher than college tuition, and higher even than rent. For many families, it is too high to sustain, resulting in one parent—usually the mother—having to stay home to care for the children.
The Unaffordability Problem
According to the U.S. Department of Health and Human Services, the official affordability threshold for childcare costs is ten percent or less of a family's income. EPI's study, which analyzed average basic family budget thresholds in 618 communities across the country, found that only a few communities came close to this ten percent threshold – and all were in Louisiana. In some communities, the cost of childcare was more than 30 percent of the family's budget.
---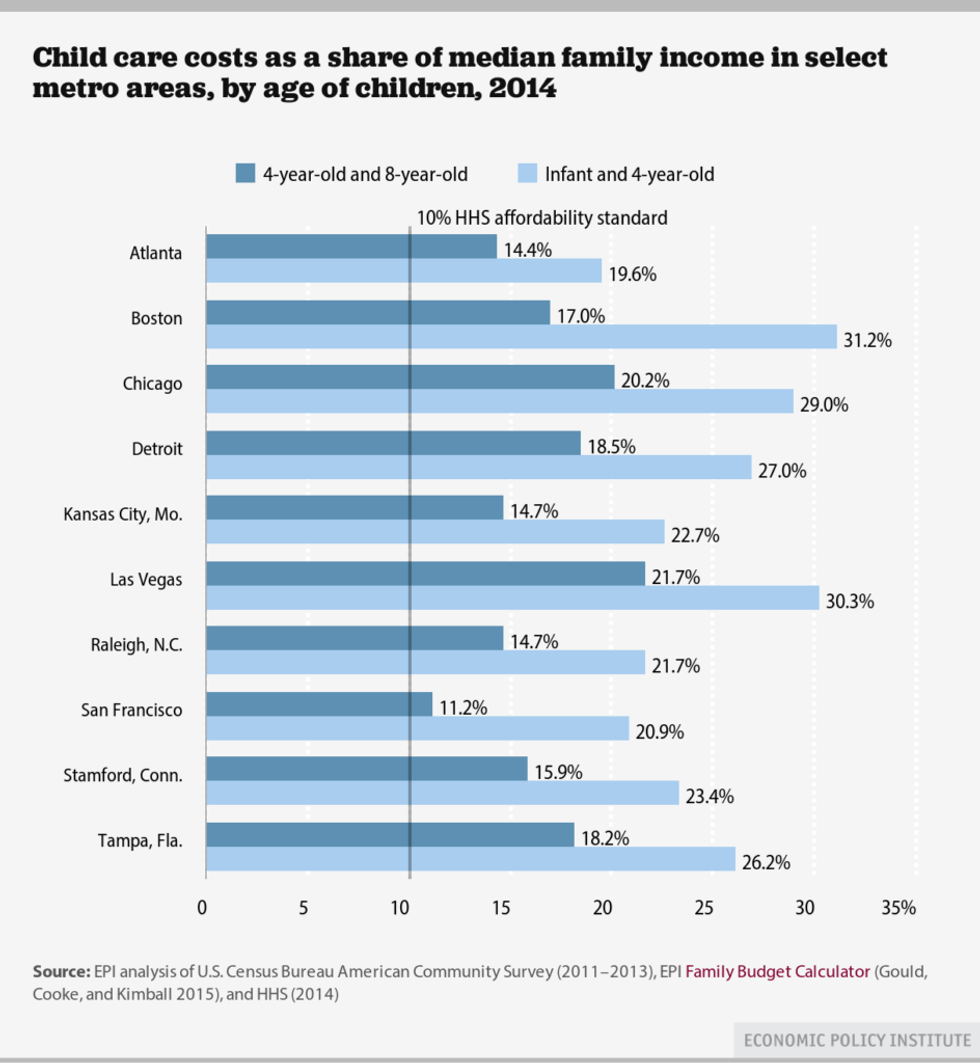 To put this in perspective, in 500 of 618 areas, the price of childcare among families with two children exceeds the cost of rent—in some areas as much as three times higher. (The study assumes the children are ages four and eight. If one assumes the children are four and an infant, the cost is even higher.)
The situation is similar with college tuition. "The high and rising cost of college tuition is well known," said Tanyell Cook, one of the study's co-authors. "But surprisingly, child care is an equally if not more onerous expense."  The study found that in 33 states and the District of Columbia, infant care costs exceed the average cost of in-state college tuition at public 4-year institutions.
"Parents of an infant are going to be, on average, younger than the parents of a college kid so they're going to be earlier in their careers and it's going to be even harder for them to
make these kinds of payments," said Elise Gould, EPI senior economist and co-author of the report.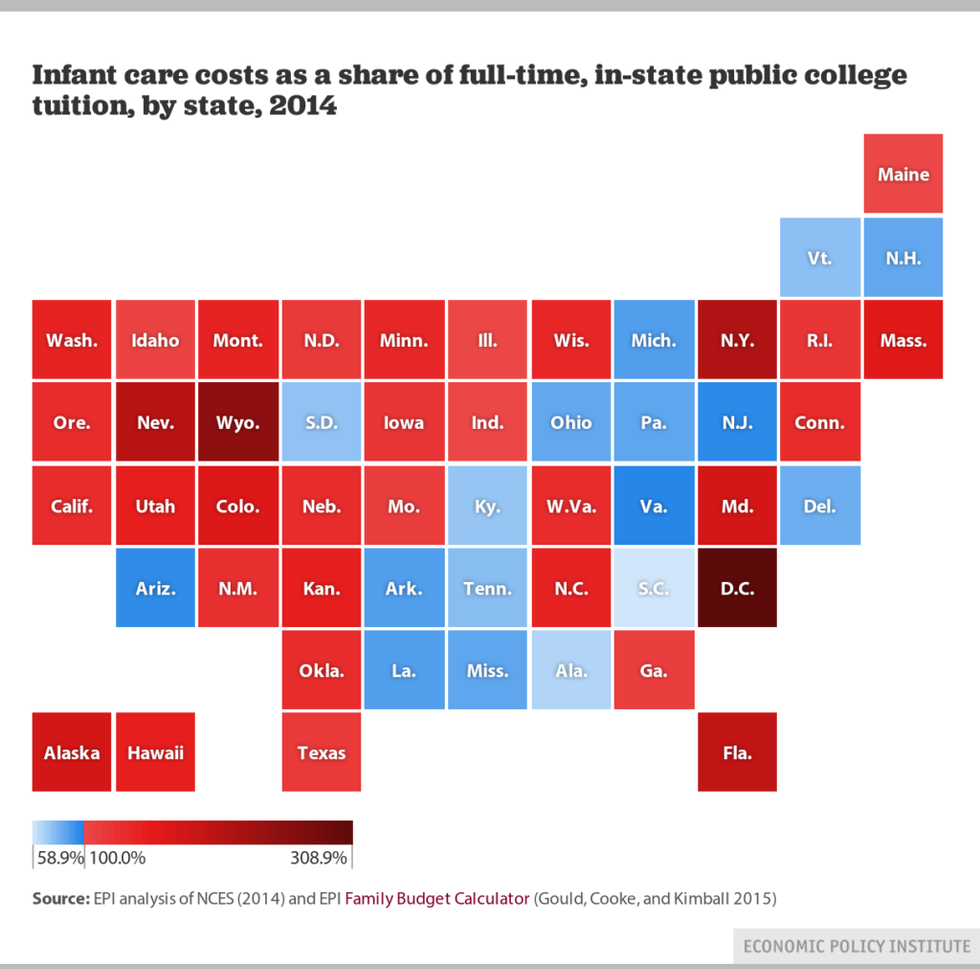 Daycare Costs Hit Minimum-Wage Workers Hardest
The problem is particularly acute for minimum-wage workers. Using Hawaii as an example, where the median state minimum wage is $7.75 an hour, annual costs for four-year old care equals 55.8 percent of minimum-wage earnings over the course of a year.
For infant care costs, that percentage goes up to 74.4 percent. That means that a minimum-wage worker making $7.75 an hour would have to put all earnings aside for child care from January through September in order to pay for it. In D.C., it is 102.6 percent.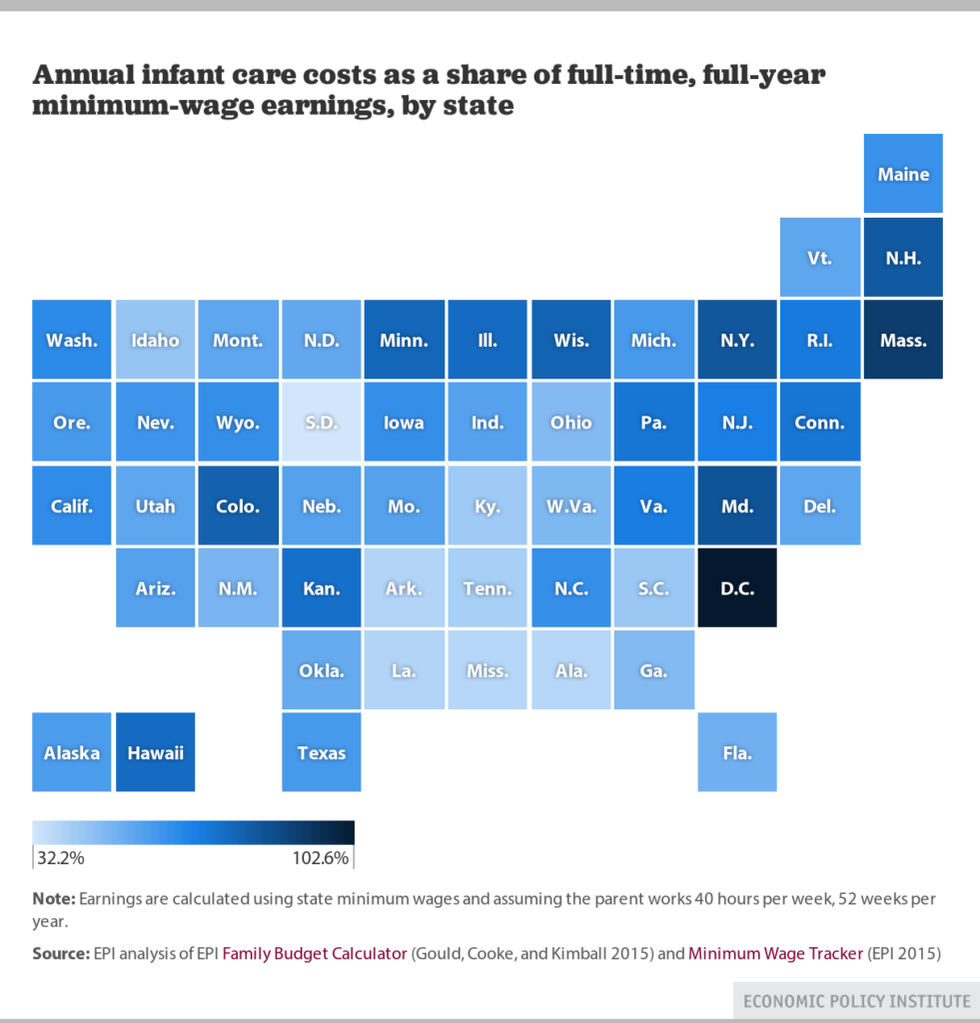 The "Choice" To Stay At Home
The high cost of childcare is a relatively recent phenomenon. The cost of childcare and nursery school has risen 168 percent since the end of 1990. In comparison, consumer prices have risen only 76 percent. Some economists speculate that the booming population of millennials now entering childbearing years may push those childcare costs up even faster, as demand outpaces supply.
All this has troubling implications for the workforce, particularly women in the workforce with young children.
Since 1993, the percentage of mothers who stay at home with their children has steadily increased. While a number of factors may play into that, cost is certainly one. "Obviously, if
you have an infant, child care costs will be different for that of a five year old, which is mostly after-school care," said Gould. "When you have an infant earlier in your career, it can be even harder. That's why you can see women dropping out of the labor force."
When working full time at minimum wage doesn't even cover childcare costs, as in D.C., it is little wonder that some are making the difficult decision to stay home. Yet this decision turns conventional wisdom that only the rich have the privilege to stay home to raise their children on its head.
[post_ads]
Indeed, a recent Pew Study noted that "less educated workers in particular may weigh the cost of child care against wages and decide it makes more economic sense to stay home."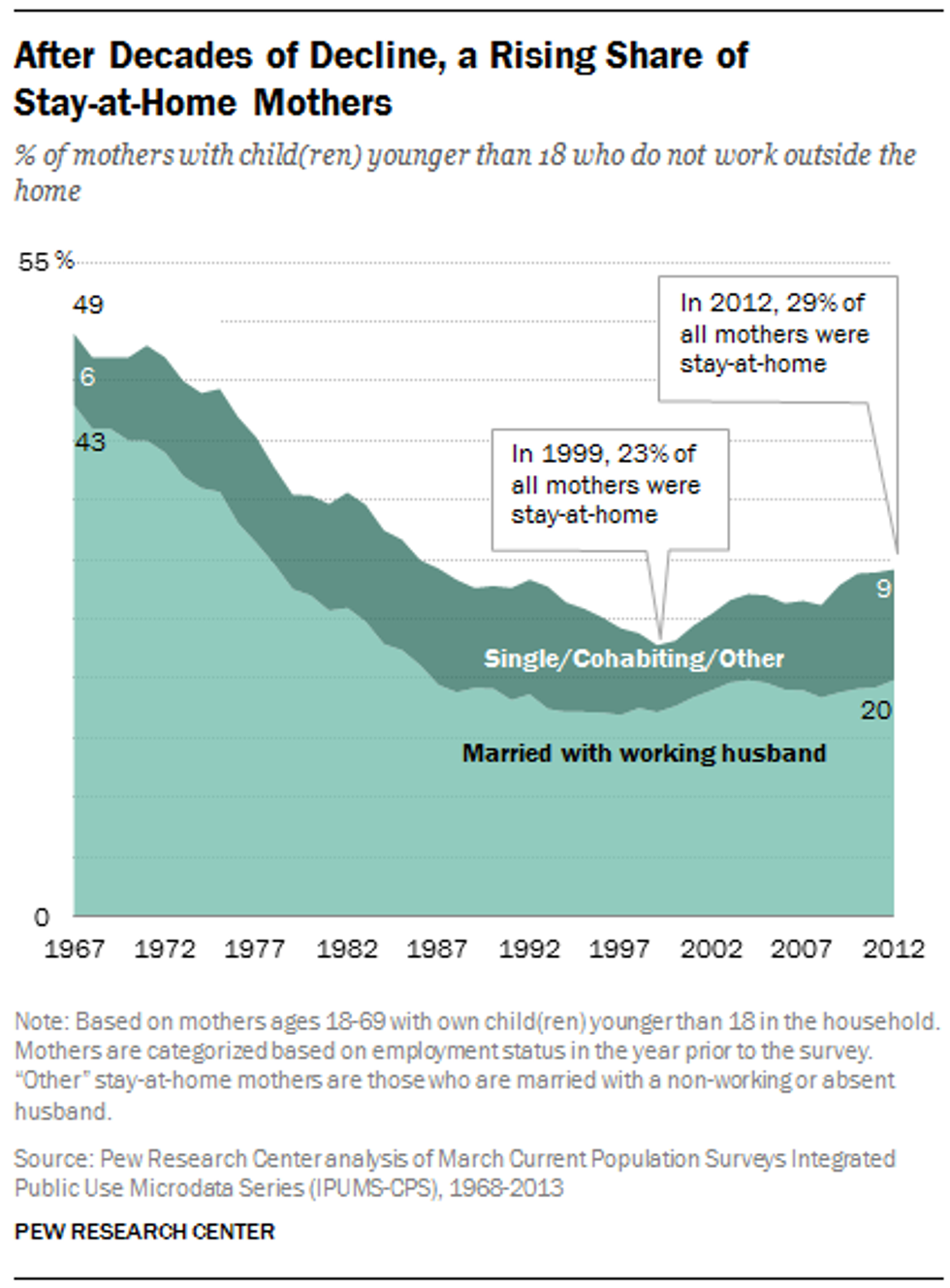 The decision to leave the workforce – whether by choice or by necessity – has long-lasting implications. Studies have found that for every two years a woman is out of work, her earnings fall by ten percent.
The Government's Response
The high cost of childcare has received attention from government policymakers. In President Obama's 2015 State of the Union address, he forcefully stated "In today's
economy, when having both parents in the workforce is an economic necessity for many families, we need affordable, high-quality childcare more than ever. It's not a nice-to-have—it's a must-have. So it's time we stop treating childcare as a side issue, or as a women's issue, and treat it like the national priority that it is for all of us."
Yet in the year since, no action has been taken on Obama's plan to triple the maximum allowable childcare tax credit.
The authors of the study hoped that it would help spur action. Said Gould: "One of the things we're trying to point out is that the scale of the problem is enormous, and if I wanted policymakers to be thinking about how to address the child care process, they should be coming up with solutions at the scale of the problem."
Those solutions remain to be seen.