[DIGEST: CNN , New York Times ]
Swimmer Ryan Lochte issued a formal apology for the controversy surrounding an incident at Rio's Olympics this week, but for many, especially in the host city of Rio de Janeiro stung by the allegations, it fell far short. In a message posted on Twitter, Lochte stated that he wanted to apologize "for not being more careful and candid in how he described the events" but failed to mention that he apparently fabricated much of his story. The apology made no mention, for example, that Lochte initially had claimed he was robbed at gunpoint––something that apparently never happened.
---
Early responses to Lochte's statement have been scathing. Fox News commentator Chris Chase remarked , " Even for Lochte and even for a situation that's been predictable from the get-go... this was something. I'd say he just signed off on what his publicist emailed him without reading it but I don't think a publicist could ever put together something this bad."
Lochte first made headlines after he alleged that he––and fellow Olympic swimmers Jack Conger, Gunnar Bentz and Jimmy Feigen––were the victims of a violent robbery after leaving a party on August 14. In an interview with NBC, Lochte described getting pulled over in a taxi by men who presented a police badge.
"They pulled out their guns, they told the other swimmers to get down on the ground––they got down on the ground. I refused, I was like we didn't do anything wrong, so––I'm not getting down on the ground," he said at the time. Most dramatically, Lochte recalled being threatened at gunpoint: "And then the guy pulled out his gun, he cocked it, put it to my forehead and he said, 'Get down,' and I put my hands up, I was like 'whatever.' He took our money, he took my wallet -- he left my cell phone, he left my credentials."
Brazilian law enforcement officials launched an investigation on the alleged crime after noticing inconsistencies between Lochte's account and those of the other swimmers. The swimmers were unable to provide key details in interviews with police, who could not locate their taxi driver or their witnesses. When asked to address these inconsistencies, Lochte ascribed them to "traumatic mischaracterization." However, security footage of the four men returning to Olympic Village indicates they not only still had their valuables in their possession, but that none of them appeared shaken by the alleged crime at all.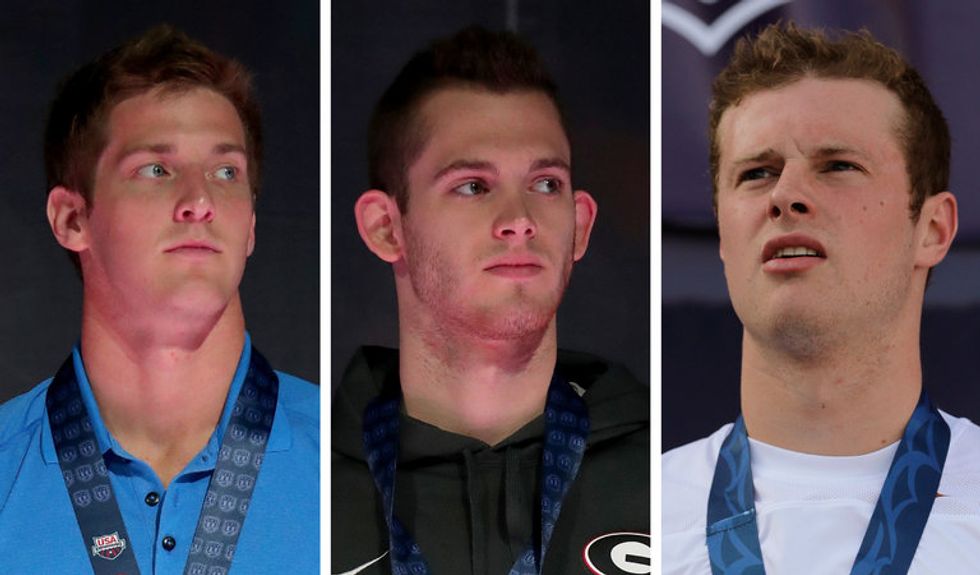 From left to right: Jimmy Feigen, Gunnar Bentz, and Jack Conger. (Credit: Source .)
On Wednesday, Judge Keyla Blanc De Cnop ordered the seizure of Lochte and Feigen's passports. However, Lochte had already left the country for the United States before the edict. Later that evening, authorities pulled Bentz and Conger from their flight back to the States. Patrick Sandusky, a spokesman for the United States Olympic Committee, declined comment when asked why Olympic officials allowed the two men to board a flight while under investigation. Bentz and Conger have since returned to the United States, landing earlier this morning. In a statement, Scott Blackmun, the Olympic Committee's CEO, said Feigen provided "a revised statement" to authorities with the hope of "securing the release of his passport as soon as possible."
A Brazilian official with direct knowledge of the investigation who spoke to the Associated Press on condition of anonymity said authorities have determined no armed assault ever took place. According to the official, security footage shows
Lochte and his teammates went to a gas station around 6 AM on August 14. While there, they broke down a bathroom door when they couldn't get in. An armed security guard approached the men, but he never drew his weapon. The gas station manager told Globo that Lochte and the other swimmers urinated on the walls of the station before attempting to leave. Gas station security stopped the men as they tried to leave in a taxi cab. The video then shows them sitting on the curb as they speak with security. Reportedly, they offered the manager "100 Brazilian real and $20" to cover the cost of damages.
Jeff Ostrow, Lochte's lawyer, denied claims that Lochte and the other swimmers fabricated their account, and suggested that the investigation is an attempt by Brazilian officials to avert attention from criticism of the living conditions within Olympic Village. "The country has a dark cloud over it for a million and one reasons, from their economy to their crime to their management of the Olympics," Ostrow said. "My client has cooperated thoroughly with the Brazilian authorities and stands behind his statement." Regarding his client's departure for the United States, Ostrow said that Lochte "left for the United States as he was planning to after he completed his events. He was not asked by the Brazilian authorities to remain in Brazil for further investigation. Had they asked, he would have stayed and assisted."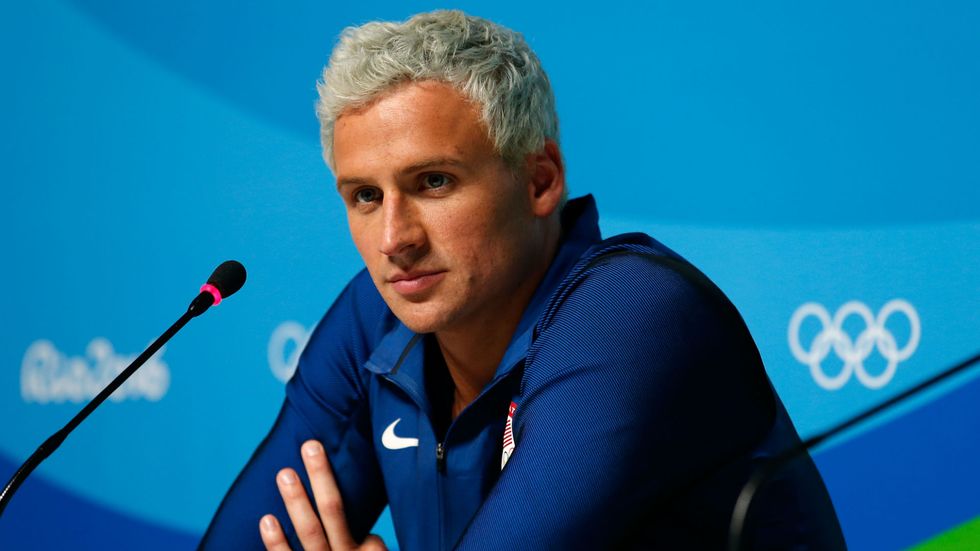 Credit: Source .
Public reaction in Brazil shifted from embarrassment to anger as the story developed. Mariana Godoy, a local television announcer, implied Lochte and his fellow swimmers are trying to hide something. "So the American swimmer lied about the robbery? He left one party and went to 'another party' and didn't want to tell Mommy about it?"
This is not the first time during the course of Rio's Olympics that an Olympic sportsman has implicated the police in an armed assault. Last month, New Zealand jujitsu champion Jason Lee claimed officers detained him at gunpoint before forcing him to withdraw $800 from his bank account.