[DIGEST: BBC, Metro, Time, Daily Mail, Guardian]
In France, models deemed too thin to be healthy are now banned from advertising campaigns and on the runway. The law, which legislators approved in 2015, went into effect in May 2017, and aims to minimize the promotion of unrealistic body standards as part of the ongoing fight against eating disorders.
---
"Exposing young people to normative and unrealistic images of bodies leads to a sense of self-depreciation and poor self-esteem that can impact health-related behavior," said France's Minister of Social Affairs and Health, Marisol Touraine.
"[This law aims] to act on body image in society to avoid the promotion of inaccessible beauty ideals and to prevent anorexia in young people. The objective is also to protect the health of a sector of the population particularly at risk – models."
Models will be required to provide a doctor's certificate attesting to their overall physical health, with special regard given to their body mass index (BMI), a measure of weight in relation to height, as weight alone doesn't provide an accurate assessment of health, especially among very tall models. Digitally altered photos will also need to labeled photographie retouchée ("retouched photograph") so that viewers will understand that some images are not just unrealistic, but unreal. Employers breaking the law could face fines of up to $82,000 and up to six months in jail.
Marisol Touraine. (Credit: Source.)
Not everyone supports the legislation. Some critics point out that not all extremely thin people suffer from disease.
"When you look at the criteria behind anorexia, you can't look only at the body mass index when other criteria are also involved: psychological, a history of hair loss, dental problems," Isabelle Saint-Felix, the head of France's National Union of Modeling Agencies, said. "It's important that the models are healthy, but it's a little simplistic to think there won't be any more anorexics if we get rid of very thin models."
France is known for its strict standards of chic, and culture-based lifestyle programs such as the "French Women Don't Get Fat" diet or the Parisian diet which promote high quality food — a treasured part of French culture —but in very small quantities. As many as 40,000 French people suffer from anorexia, 90 percent of whom are women. Yet the country is regarded as the world's fashion capital, so its influence extends beyond its own borders and culture. (In the U.S., 20 million women and 10 million men will suffer from an eating disorder at some point in their lives.) Unrealistic beauty ideals are a hallmark of the fashion industry — even store mannequins fail to present a healthy or normal body image.
A new British study found that female store mannequins presented an extremely underweight physique, although male mannequins generally presented a healthy physique. "The body size of mannequins used to advertise female fashion is unrealistic and would be considered medically unhealthy in humans," the researchers concluded.
"Because ultra-thin ideals encourage the development of body image problems in young people, we need to change the environment to reduce emphasis on the value of extreme thinness," said study leader Eric Robinson, with the Institute of Psychology, Health and Society at the University of Liverpool.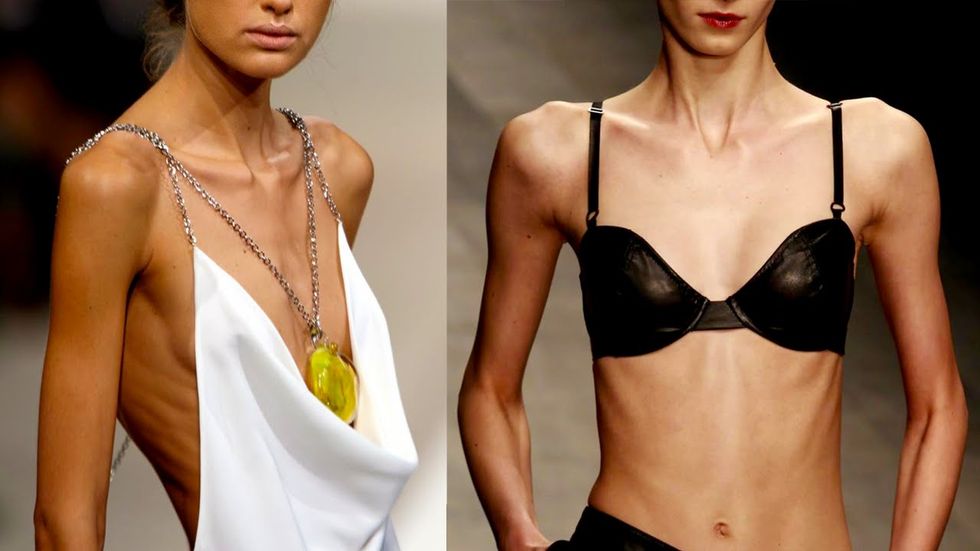 Credit: Source.
In 2013, designer Giorgio Armani said that the fashion industry had a duty to "work together against anorexia." "The industry has to recognize the link between its preference for abnormally thin models and the growth in eating disorders among young women."
While France joins Italy, Spain, and Israel in banning extremely thin models, not every country is in the thrall of the "size zero culture." In India, for example, designers say they celebrate a diverse and healthy range of body types.
"This French law is path-breaking and will help aspiring models in France to be aware of the consequences of being too skinny. This will also reduce the pressure of being skinny in their country," said designer Nikhil Mehra. "As for India, our models have never been the skinny type, and it's not in our culture or our body type. We don't need this law. We are in a far more positive mind space."