The news in 2015 was unforgettable, historic, often chilling to watch. From the specter of global terrorism to controversial social issues, from the confused state of politics to corporate corruption, important issues played out on the public stage of opinion, augmented by a hyper-connected global community.
The Second Nexus editors culled through the news that made headlines and dominated trending topics over this past year and selected our ten most important stories, in no particular order. We're confident only that many will disagree with our list. So have a look, and have at.
---
Freddie Gray, The Baltimore Protests and #BlackLivesMatter Movement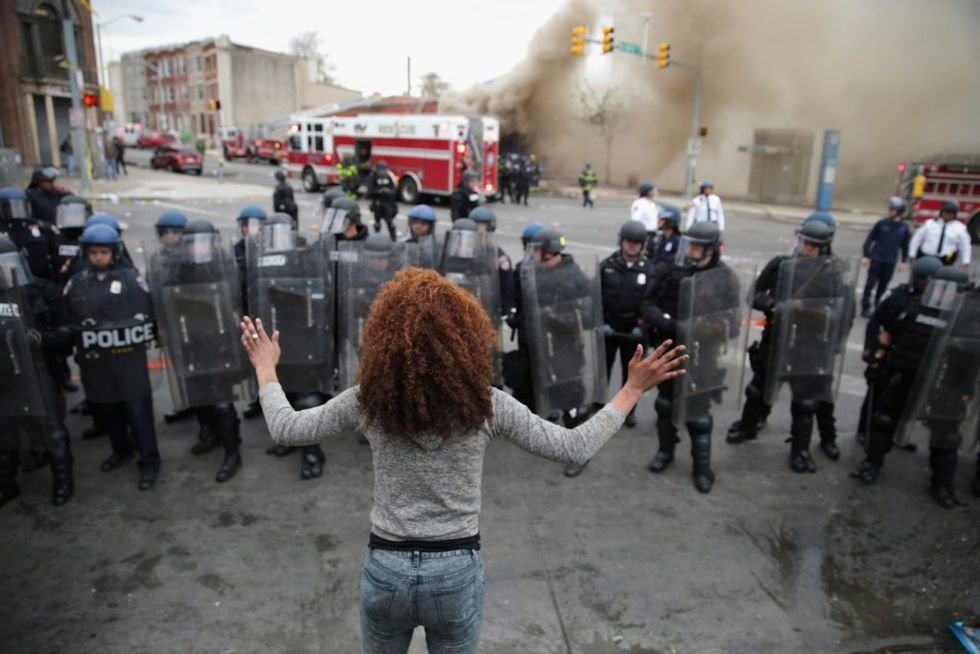 Credit: Source.
On the morning of April 12th, police arrested Freddie Gray, a 25-year-old African American man, in West Baltimore. On April 19th he was pronounced dead. Officials determined the official cause of his death to be a severed spinal cord incurred while in police custody.
The community had many questions. Why was Gray arrested in the first place? How did he receive his fatal injuries? The police promised an internal investigation,but tempers already had risen to an untenable level: Protests began, then escalated to riots in the streets of Baltimore on Friday, April 25th.
The Freddie Gray riots caused damage estimated at upwards of $9 million. But the social costs of the riots' aftermath is tougher to gauge, particularly the loss of trust between the community and law enforcement.
One of the more damning pieces of evidence from the arrest was a video recording where Gray can be heard screaming and asking for medical attention. Video has played a key role in other stories this year regarding interactions between police and African Americans. Some of these went viral: the arrest of Sandra Bland (who was also pronounced dead after being in custody), a female student of color being flipped over in her desk in South Carolina, and, more recently, two L.A. County deputies repeatedly shooting a black man to death in Lynwood, California. The collective sense of injustice, documented by these videos, galvanized many into the Black Lives Matter movement, which has played a key role in disrupting campaigns and keeping pressure on politicians and the police.
T0 read more, continue to the next page. 
New Horizons' Pluto Flyby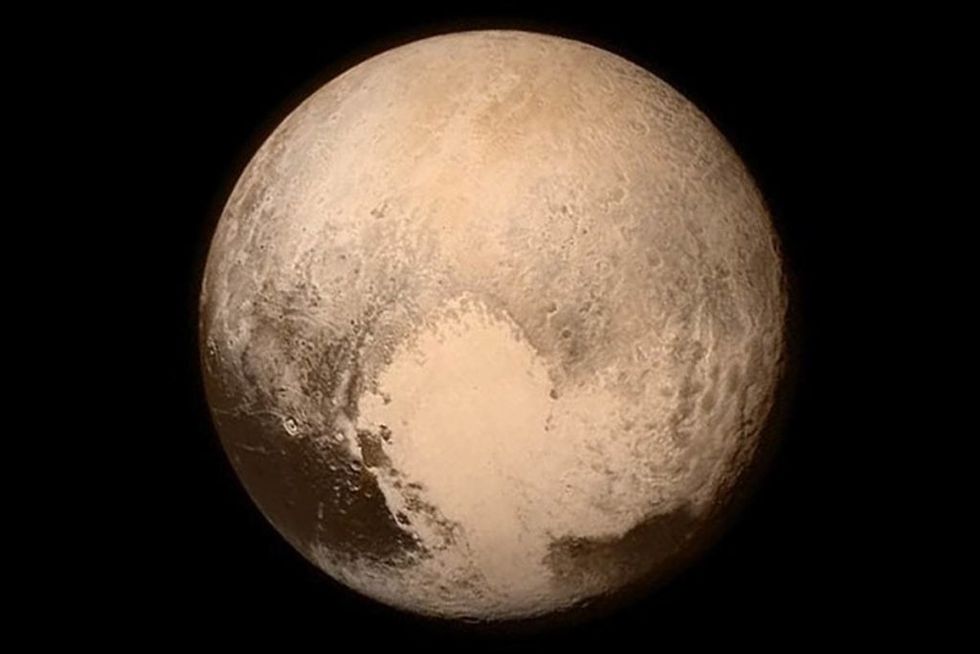 Credit: Source.
If space is "the final frontier," in 2015 we pushed the boundaries of exploration a bit farther. It took nine years and over three billion miles, but in July NASA's New Horizon passed by Pluto for the first time in history. The spacecraft sent back to Earth a plethora of stunning photos and video.
Since then, the event continues to provide discoveries and excitement. "We're much less than halfway through transmitting data about the Pluto system to Earth, but a wide variety of new scientific results are already emerging," said Alan Stern, New Horizon's Principal Investigator.
Despite scientists being only half-way through combing over all that data, the discoveries gleaned so far are plentiful. Among the many mysteries of Pluto, the team is currently investigating and delving into the atmospheric haze that surrounds it, as well as the "Sputnik Planum," which is the informal moniker for the potentially miles-thick layer of solid nitrogen and other volatile ices that spans over 620 miles.
Volkswagen Emissions Scandal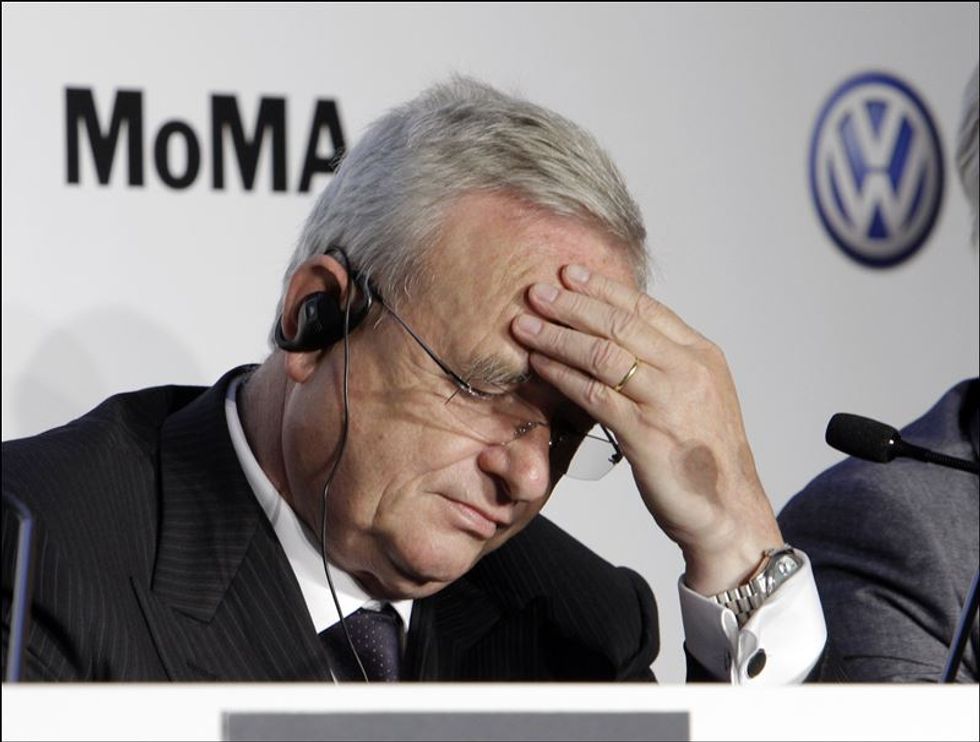 Credit: Source.
It's usually a headline when authorities catch a corporation intentionally misleading the public. But what happens when the deceit was premeditated and technologically enabled? The Volkswagen Emissions Scandal of 2015 reads like a Hollywood script: A European car company installs in its diesel-guzzling vehicles a special system that can detect when it is being tested, and then literally change the performance of the vehicle temporarily to help it pass tests it otherwise would have failed. In this case, Volkswagen equipped its vehicles with a dramatic-sounding "Defeat Device" that artificially produced emissions that met the United States' strict requirements, when the vehicles actually emitted over 40 times the allotted amount of nitrogen oxide pollution when the device was not enabled.
On-road testing by West Virginia University first unearthed issues in May of 2014. The road testers then sent the findings to the California Air Resources Board (CARB), which then began its own investigation. By the time this complex computerized cheating came to light in 2015, Volkswagen had been installing Defeat Devices for at least seven years. Over 11 million vehicles rolled off assembly lines with a Defeat Device over that period, and 500,000 made their way into the United States.
The fallout from the scandal has been swift: Volkswagen CEO Martin Winterkorn resigned in late September, and the company's stock crashed by a dramatic 20% in the same month. Just this month, CARB announced it is extending the time allotted for review of VW's proposal regarding adjusting the vehicles in America. Even Tesla's CEO Elon Musk has thrown his hat in the ring, proposing his own fix to the issue, which would hasten VW's progress on truly zero-emissions vehicle production.
The Unexpected Rise of Donald Trump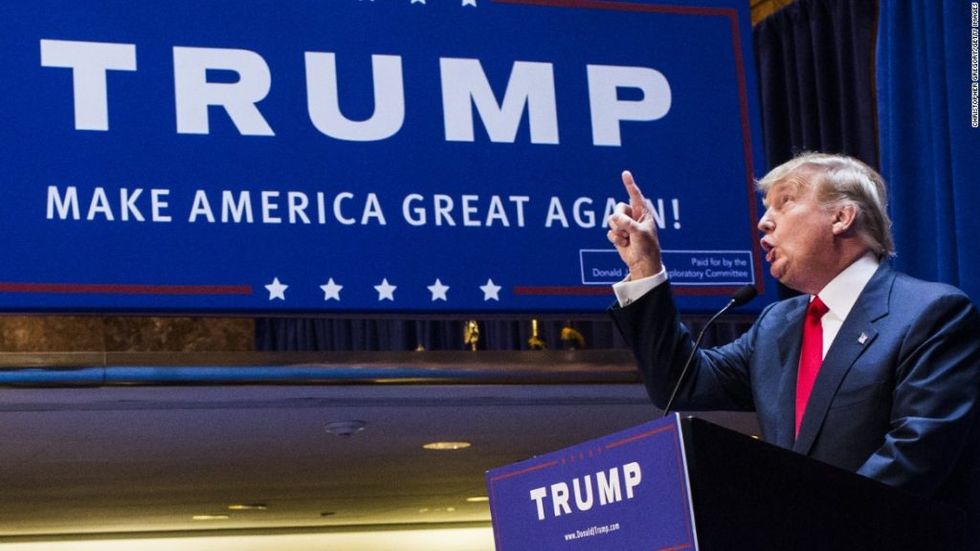 Credit: Source.
On June 16th, real estate mogul and reality television personality Donald Trump announced his presidential bid for the 2016 elections. Since then, Trump has held the national political stage. Over the past few months, Trump repeatedly has made headlines by uttering misogynistic comments (some even leveled at Fox News personalities), calling for the erection of a Southern border wall to be paid for by Mexico, promising to deport 11 million undocumented migrants, labelling the majority of those migrants as "rapists," and endlessly attacking the GOP'sestablishmentcandidateJebBush.
Despite predictions of a quick political demise, Donald Trump has led decisively in polls of likely Republican voters. Trump's lead has caused much hand-wringing within the party, while causing some to wonder if the whole campaign is just some ruse to get Hillary Clinton elected.
The thought of Donald Trump winning the Republican primary still seems absurd to many within the party, despite his poll numbers. The notion that he would defeat Hillary Clinton or Bernie Sanders seems to most voters even more unthinkable, particularly given his high negatives among women voters. No matter how this resolves itself in 2016, the nation can count on more headlines and provocative one-liners in the new year.
U.S. - Cuba Relations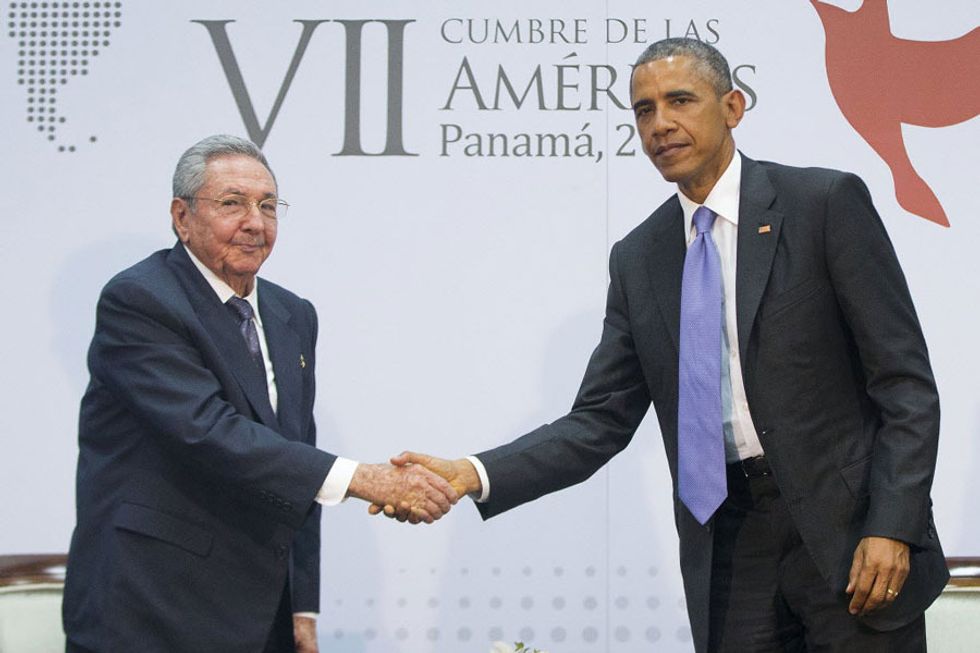 Credit: Source.
The relationship between the United States of America and Cuba since 1959 has been anything but normal. But this began to change on December 17, 2014, when President Obama and Cuban President Raul Castro announced that they would begin normalizing relations. Since then, much progress has been made, following the "new course" set out by the White House.
Through 2015, the countries re-opened their embassies and reached their first accord on protecting the environment. Raul Castro visited the U.N. and gave a speech. Deals were made to resume direct mail and long-distance phone service. U.S. travel to Cuba has increased 50% over the past year, presenting the country with its own host of challenges with the influx of visiting Americans. As recently as this month, Cuba and the U.S. announced that they will be resuming commercial flights between the two countries, and President Obama remarked that he would like to visit the country before the end of his second term.
Despite this progress, Cubans assert that they are not really feeling the benefits of the improved relationship, and that they won't until the U.S. lifts its half-century-long trade embargo. Many Republicans, who owe their political lives to the conservative Cuban vote, oppose such a move. Besides, according to journalist Ann Louise Bardach, lifting the trade embargo may not be so simple: "[It's] unlikely, because of the Republican control of it, the fact that both Rubio and Cruz are on the record for being willing to fight tooth and nail to keep it in place and it's a political season. It's possible after the November election, but I don't see anything moving."
Syrian Refugee Crisis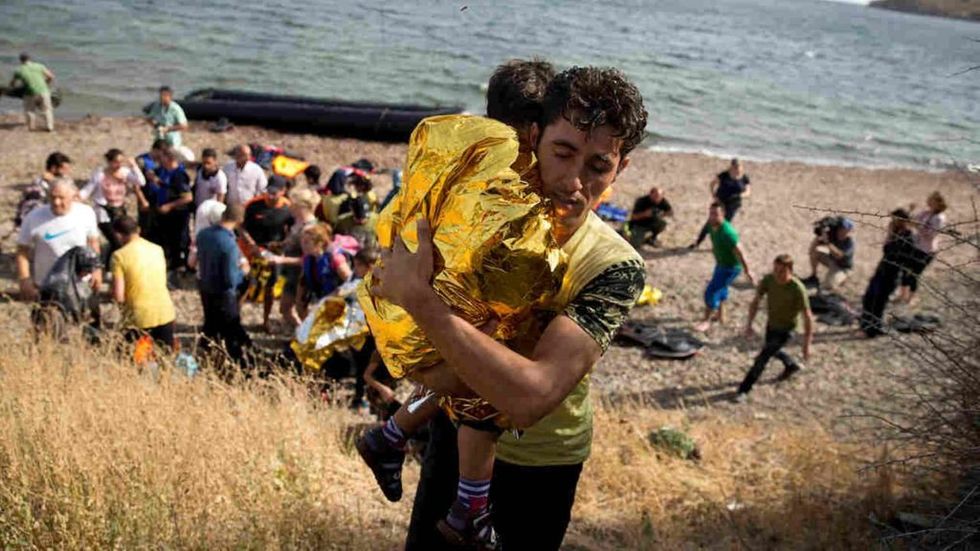 Credit: Source.
Syria's civil war has been raging since 2011, but 2015 saw a historically high number of Syrians leaving not only their home country, but also neighboring countries, for safer lands in Europe and beyond. Over the past four years an estimated four million or more Syrians have sought refuge from the violence in their country. As it stands, the situation in Syria is dire: 13.5 million people inside the country require humanitarian aid, 4.3 million are official refugees, 6.6 million are displaced within the country, and half of that number are children.
In November, more than 24 Republican governors voiced their opposition to welcoming refugees to the U.S., citing security concerns. The 2016 Presidential campaign has led to heightened rhetoric, including leading candidate Donald Trump: "I'm putting people on notice that are coming here from Syria as part of this mass migration, that if I win, they're going back."
As of November, polls show that 53% of U.S. citizens are against welcoming Syrian refugees into the country. With no other options, the U.S. (and, specifically, the State Department) have, to date, responded with aid and support to those in the country:
"The United States remains committed to helping the innocent children, women, and men affected by the ongoing conflict in Syria. Total U.S. humanitarian assistance since the start of the conflict in March 2011 is now more than $4.5 billion. The United States remains the single-largest donor of humanitarian aid for those affected by Syria crisis, which has become the biggest humanitarian emergency of our era."
Russia Flexes Its Military Might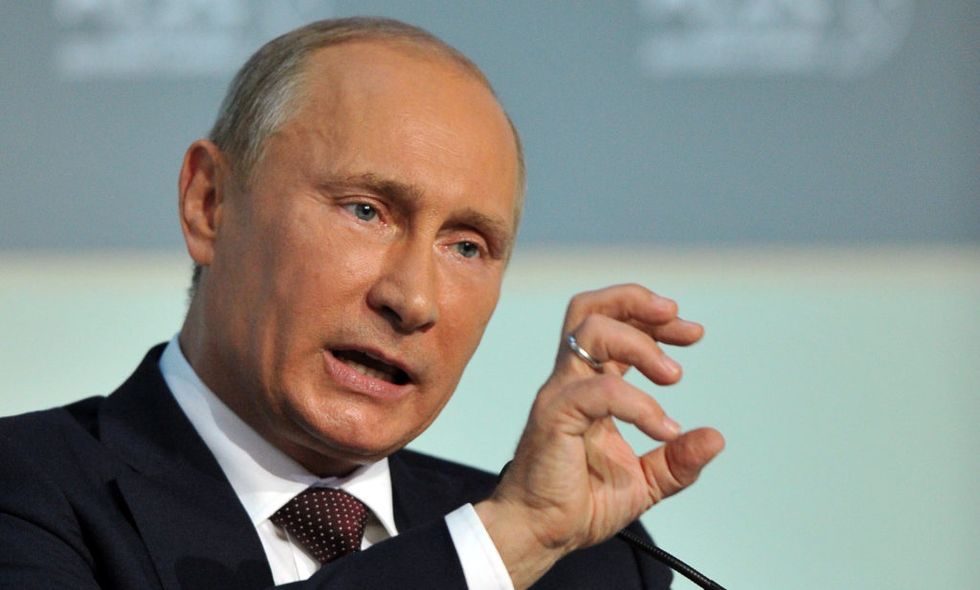 Credit: Source.
While Russian forces first invaded Crimea in 2014, after which its citizens officially voted to become Russians, stories surrounding the annexation remained in the news well through 2015. In March of this year, NATO reacted to a "wide-ranging" build-up of military in the region. In November, much of the Crimean peninsula lost power due to protests that destroyed its main power lines.
Russia has also inserted itself rather precariously into the Syrian crisis. On November 24th, Turkish F-16s shot down a Russian military jet on the Syrian/Turkish border. Russia alleged that Turkey had colluded with the United States in shooting down this plane, and that it had never made it into Turkey's airspace. Meanwhile, Turkey asserted that it had sent numerous warnings to the plane and had acted within its rights. With tensions high, Vladimir Putin announced a package of economic sanctions on Turkey. While Turkey has stated that they are willing to come to the table to discuss the situation with Russia, Putin demurred. As of this month, the sanctions imposed by Russia are set to expand in an effort to further cripple Turkey.
Russia also found itself in the middle of the war on terror when ISIS claimed to have downed a Russian passenger airline. Russian support for embattled Syrian President Assad grew more complicated as it faced not only an insurgency but terrorist expansion by ISIS. Western observers worry that an increased Russian presence in the Middle East could lead to escalating tensions and a new Cold War, or even open hostilities between Russia and the U.S.
Meanwhile, Russia continues dropping bombs on cities in Syria in a purported campaign against "terrorists." Syrians conversely report that Russian warplanes are bombing marketplaces and streets populated by innocent civilians. Just this week, Russia released video of the bombing of what it claimed to be an oil-smuggling campaign across the Turkish border. U.S. intelligence officials state that this ongoing three-month intervention has resulted in minimal losses on the Russian side, and has supported and potentially even stabilized the existing Assad government.
Paris Climate Accord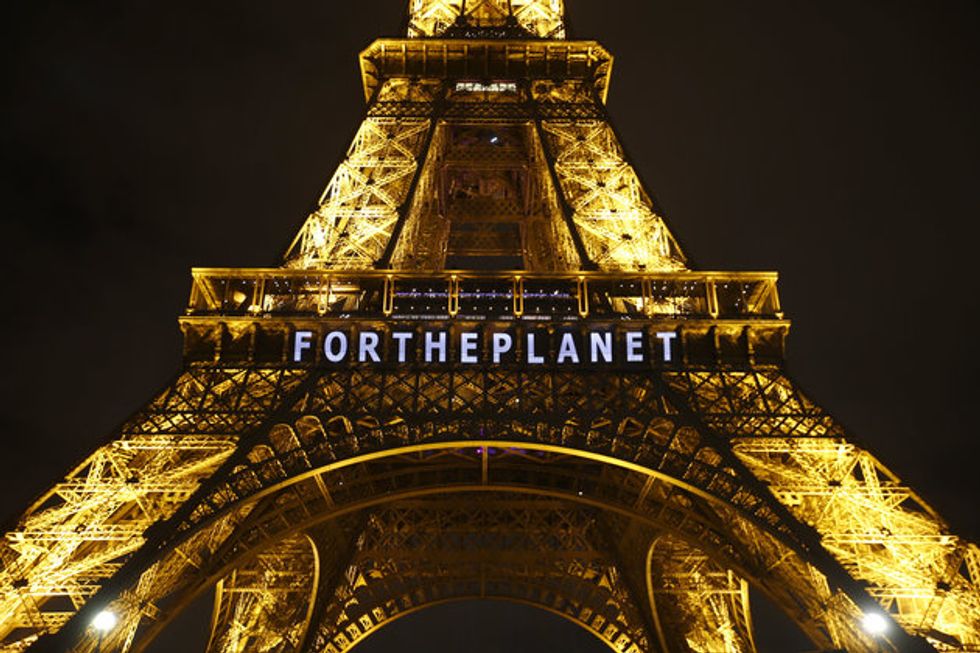 Credit: Source.
Earlier this month, 195 nations reached a landmark accord on climate change, seeking finally to deal with the issue head-on and collectively. According to the Paris Climate Accord, all participating nations would work to lower their emissions in an effort to reduce the continuously rising global average temperature and prevent it from reaching higher than 1.5°C above pre-industrial levels.
But in the U.S. Congress, Jim Inhofe (chairman of the Senate Environment and Public Works Committee) and his colleagues are trying to stop progress on U.S. involvement in the accord, even as they continue to deny the scientific evidence supporting climate change. A Republican victory in 2016 could lead to a U.S. withdrawal from the agreement, though presently none of the candidates is discussing it--probably because two-thirds of Americans are in favor of the United States remaining in this historic pact.
The accord will be open for signatures in the U.N. for one year beginning on April 22, 2016. Once "55 countries that account for at least 55% of global emissions" have ratified the agreement, it will enter into force. From that point, the nations will have agreed to meet once every five years to revisit their commitments, the effects of what they've done to date, and determine if additional action needs to be taken.
The Paris Terrorist Attacks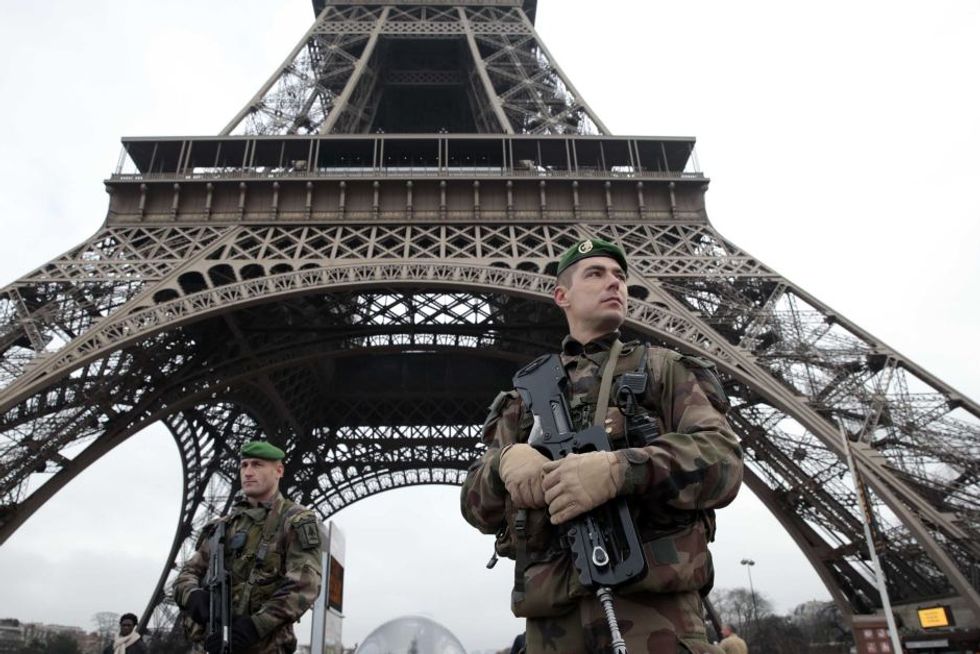 Credit: Source.
At least 120 people lost their lives and many others were injured on Friday the 13th of November during a coordinated attack that utilized bombs and firearms on the streets of numerous neighborhoods in Paris. The first attack occurred at the Stade de France stadium during a soccer game between Germany and France, where President François Hollande was in attendance. From that initial attack, there were then coordinated attacks near the Place de la Republique, Rue de la Fontaine au Roi, Rue de Charonne, and Boulevard Voltaire. The bloodiest of the attacks occurred at the end of the terror spree at the Bataclan concert hall where the rock band Eagles of Death Metal were playing a sold-out show.
ISIS claimed responsibility for the attacks, which were the most violent in Paris since World War II. Investigations led to the discovery of the mastermind behind the plot, Abdelhamid Abaaoud, who was killed in an intense shootout five days after the attacks. Abaaoud allegedly was also affiliated with four of the six attacks in the country prevented over the past year.
France retaliated almost immediately, executing fly-over bombings of ISIS targets in Raqqa, Syria. France's Interior Minister Bernard Cazeneuve issued a statement saying "anybody who attacks the Republic, the Republic will fight back. It is not they who will destroy the Republic. The Republic will destroy them."
Marriage Equality in America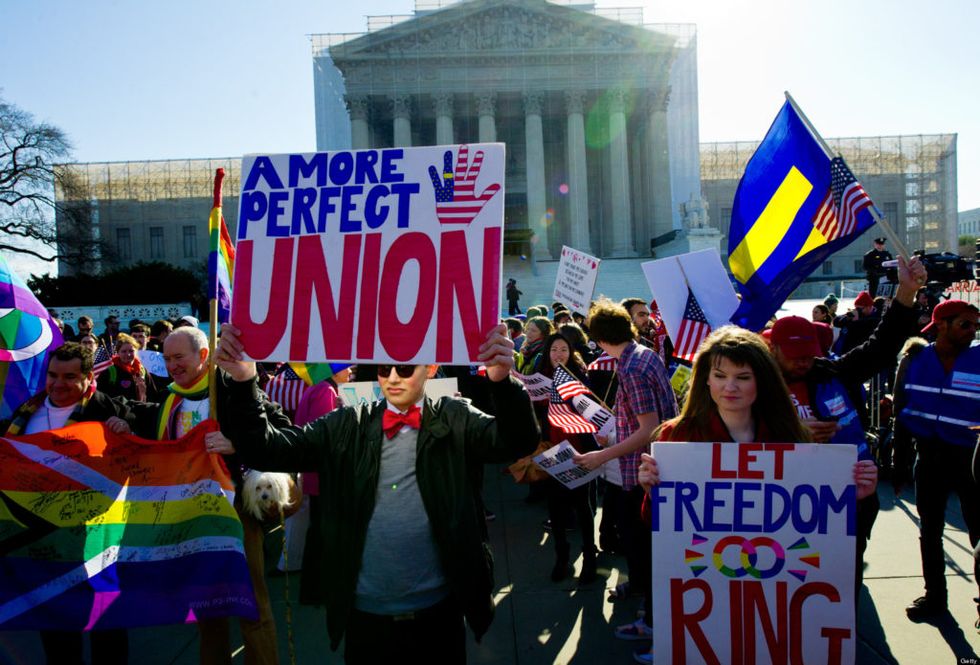 Credit: Source.
The Supreme Court reached an historic 5-4 decision in Obergefell v. Hodge on Friday, June 26, 2015 when it legalized marriage equality across the United States. Prior to this, states were either embracing or denying marriage equality, with 36 of the 50 states legalizing it on their own.
This was not the first time that marriage equality was in the national spotlight. In June of 2013, United States v. Windsorstruck down a key piece of the Defense of Marriage Act, signed into law by Bill Clinton in the mid 1990s. That legal victory led to this year's set of cases, with gay couples who had been married legally in one state finding that their marriages were not recognized in others.
Within hours of the victory, the religious right vowed that the fight was not over, and very soon states and citizens began to resist the decision. Businesses continued to make headlines by denying services to same-sex weddings based on their religious beliefs. A marriage clerk in Rowan, Kentucky named Kim Davis became a hero to the religious right in September when she was jailed for refusing to sign marriage licenses for same-sex couples on the grounds of her religious beliefs.
Conservatives continue to vow to walk-back the decision, including many of 2016's Presidential candidates who have promised that they will make it legal for businesses to refuse service to LGBT individuals.
So there's our round up for 2015. Let us know what you think, and what major stories you would have included in this list.