Everyone seems to agree that immigration policy in the U.S. is ripe for an overhaul, but there is little consensus on how to go about it.
Presidential hopeful Hillary Clinton, for instance, has proposed creating a path to citizenship for immigrants living in the U.S. Few conservatives, on the other hand, are willing to go that far. And though GOP leadership has acknowledged that Republicans  cannot win the White House without rethinking their approach to immigration policy, current GOP front runner, Donald Trump, continues to call for mass deportation; his now infamous inflammatory assertions that Mexican immigrants were criminals and "rapists" may have lost him a clothing line at Macy's, but his overall support base in the party remains strong -- signaling a divide within the Republican party.
---
But while a seemingly endless political battle for control of the immigration-reform-football rages on in Washington, immigration advocates just won a decisive victory for children. On July 24, U.S. District Judge Dolly Gee issued a scathing ruling invalidating the Obama administration's practice of holding entire immigrant families, including young children, in detention centers -- otherwise known as "family detention."
Some argue that "family detention" is just a modern gloss on a particularly dark chapter of American history: the internment of Japanese Americans during World War II. The ACLU recently published an article urging the Obama administration to avoid "Repeating FDR's Worst Mistake," directly comparing the family detention centers to the Japanese American internment camps where thousands of Americans were held against their will and without charges.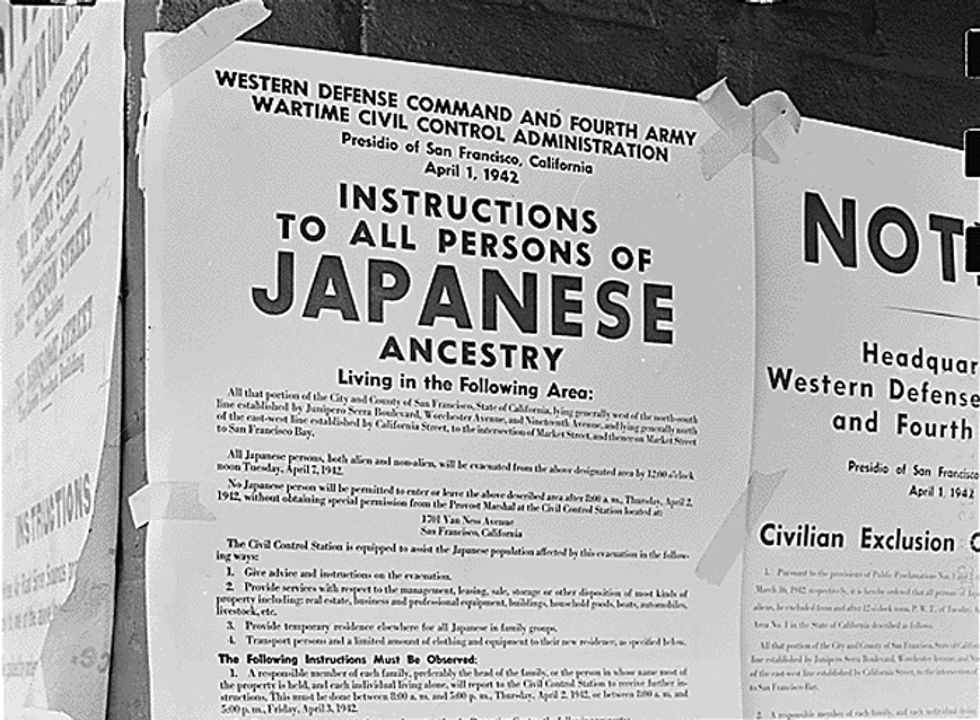 via Wikipedia
Family detention was, in large part, a knee-jerk response of U.S. Immigration & Customs Enforcement to an influx of Central American immigrants hoping to escape violence in 1985. In the recent case, the Obama administration argued that the choice to hold children in these facilities was out of concern that otherwise children might be separated from their parents. Judge Gee, however, soundly rejected that argument.
Judge Gee declared that the Obama administration failed to provide sufficient justification for subjecting immigrant children to what she called "widespread and deplorable conditions" at the detention facilities--conditions that made national headlines almost as soon as the facilities opened last summer. After his visit to one of the Texas detention
centers, for instance, Public Radio International reporter Jason Margolis described "about 40 people … crammed in a small cell, lying body-to-body on a concrete floor with a stench of body odor hanging in the air."
In her opinion, Judge Gee maintained that the private, for-profit facilities were unsuitable for children. According to the New York Times, Judge Gee based her decision on the settlement agreement in a 1997 class action lawsuit called Flores that outlines the minimum standards for treatment of children who are apprehended at the border. Prior to Judge Gee's ruling, the Flores case had applied only to children who were unaccompanied by a parent when apprehended. Judge Gee's interpretation of Flores, however, applies those same minimum standards to children who are accompanied by a parent at the time they are apprehended-- a position advanced by immigration advocates.
As a result of the ruling, the Obama administration has 90 days to release as many as 2,000 mothers and children currently being held under the family detention policy, unless the administration can show it has just cause for holding them; that all 2,000 will be released, however, is not likely.  Molly Hennessey-Fiske of the LA Times reports that "the government could still detain mothers if their children were placed with relatives or other sponsors," meaning that a more likely outcome is that though children will be released, their mothers will remain in detention.
Linda T. Sánchez, Chairwoman of the Congressional Hispanic Caucus issued a statement applauding Judge Gee's ruling, asserting that it "confirms what we've known for a long time now: family detention centers should be closed . . . . It is unconscionable that we are imprisoning mothers and children who pose no risk to our national security."  
Nevertheless, it appears that the Obama administration plans to appeal the ruling.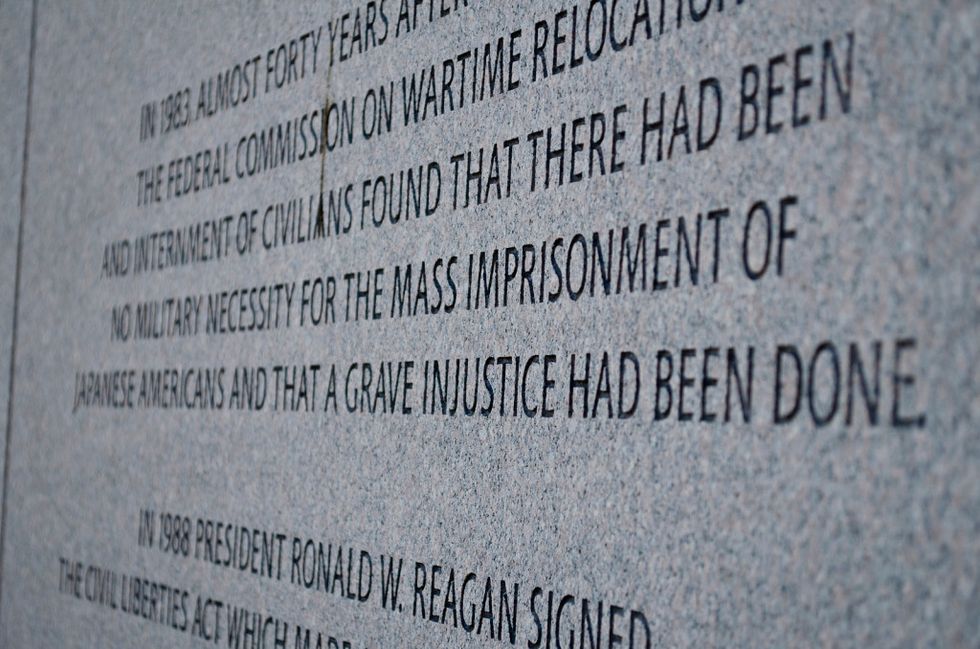 Memorial to Japanese American Patriotism During World War II via Flickr user Tim Evanson
The internment of Japanese Americans is widely regarded as one of America's greatest failures.  It will forever be remembered as a time where xenophobia and fear were used to justify totally unjustifiable government actions against an entire race of people. It's true that unlike those subjected to internment during World War II, the adults detained at our borders have broken our immigration laws; there is almost universal agreement, however, that those laws are themselves broken.