On March 23, 2016, North Carolina governor Pat McCrory signed House Bill 2, the Public Facilities Privacy & Security Act. The new law bans individuals from using public restrooms that do not correspond to the gender assigned to them at birth.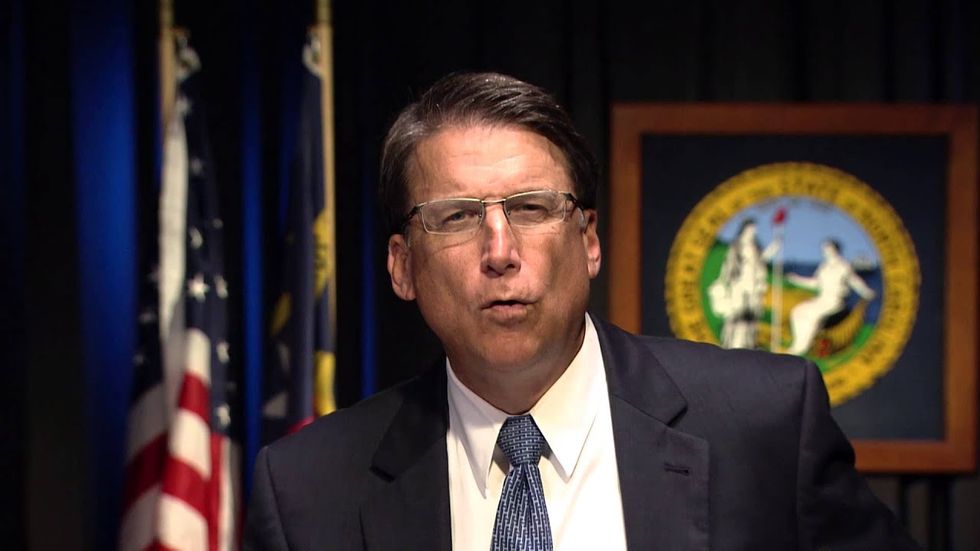 Gov. Pat McCrory. (Credit: Source)
---
The bill also specifies that state laws preempt any local ordinance - including the city of Charlotte's recent nondiscrimination ordinance.
The bill also prohibits cities from raising minimum wage above the state level.
Last month South Dakota Governor Dennis Daugaard vetoed a bill requiring transgender students to use bathrooms and locker rooms that did not match their gender identity. Republican Governor Nathan Deal rejected a similar measure in Georgia, amid heated backlash from his conservative constituents.
MAKING DISCRIMINATION LEGAL
North Carolina legislators gathered for a one-day special session on March 23 to vote on the bill. Many lawmakers had not even seen the bill before its introduction.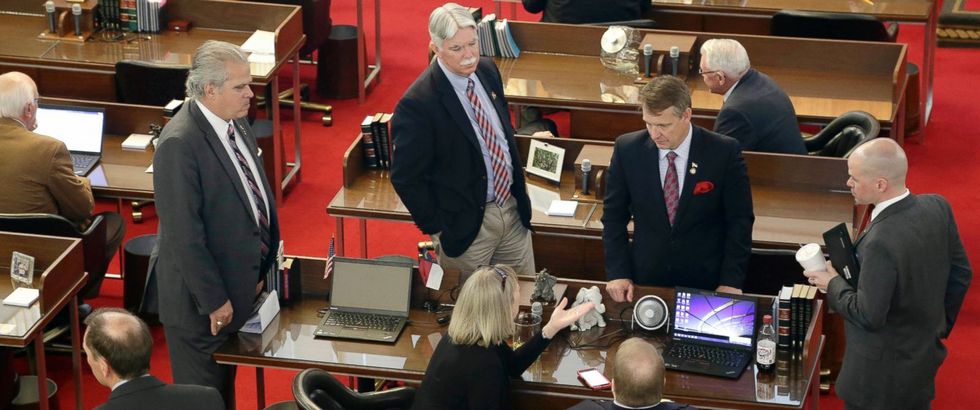 North Carolina lawmakers gathering for their special session. (Credit: Source)
The wide-ranging bill not only proposes banning transgender people from using bathrooms and locker rooms that did not match their gender identity, it also created a statewide
anti-discrimination policy that fails to protect gay and transgender people.
Democratic Senators walked out in protest. "This is a direct affront to equality, civil rights and local autonomy," the Senate Democratic leader, Dan Blue, said in a statement.
Republicans unanimously supported the bill, and it passed 32-0.
On the House floor, Representative Dan Bishop said, "What we are doing is preserving a sense of privacy people have long expected." He called Charlotte's anti-discrimination measure, which protected people based on sexual orientation, gender expression, and gender identity, an "egregious overreach."
"One of the biggest issues was about privacy," North Carolina House Speaker Tim Moore said. "The way the ordinance was written by City Council in Charlotte, it would have allowed a man to go into a bathroom, locker or any changing facility, where women are -- even if he was a man. We were concerned. Obviously there is the security risk of a sexual predator, but there is the issue of privacy."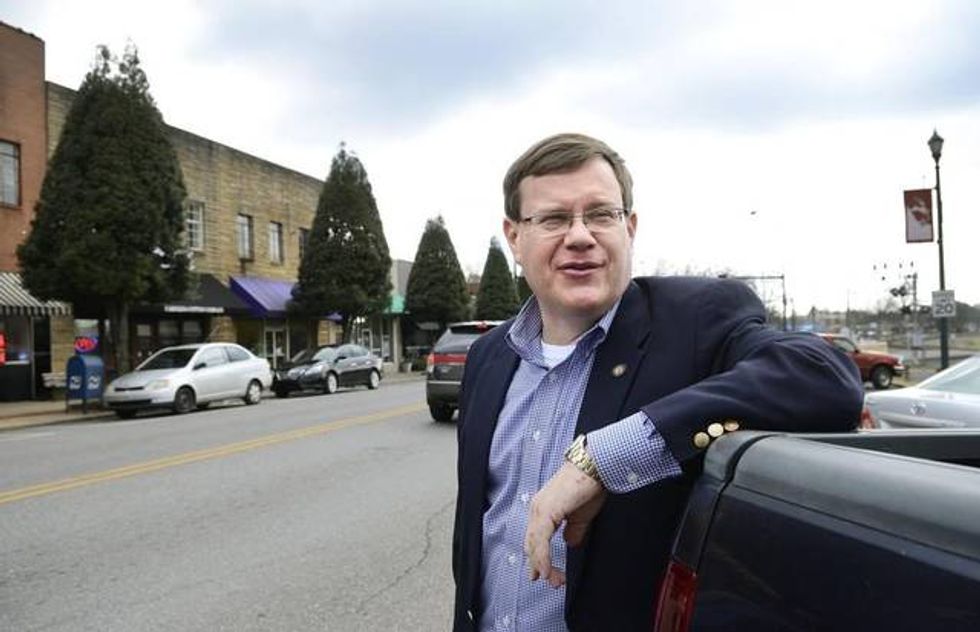 Tim Moore. (Credit: Source)
Attorney General Roy Cooper posted a video on the same day the bill was signed, denouncing the decision. "North Carolina is better than this," he said. "Discrimination is wrong, period. That North Carolina is putting discrimination into the law is shameful. Not only will this hurt North Carolina families, but it hurts our economy as well."
Contrary to Moore's and McCrory's fears, incidents of trans people preying on
bathroom inhabitants are non-existent. There have been no confirmed reports of predators pretending to be transgender in order to gain access to an opposite-sex bathroom or locker room.
So who is at risk under the new law?
Transgender people.
A survey by Williams Institute found that 68% of transgender respondents had experienced verbal harassment in a public restroom - and 9% had experienced physical assault. In 2011, a transgender woman was viciously beaten in a McDonald's bathroom in Maryland. At the end of March, a transgender woman was sexually assaulted in a bathroom at the Stonewall Inn in New York.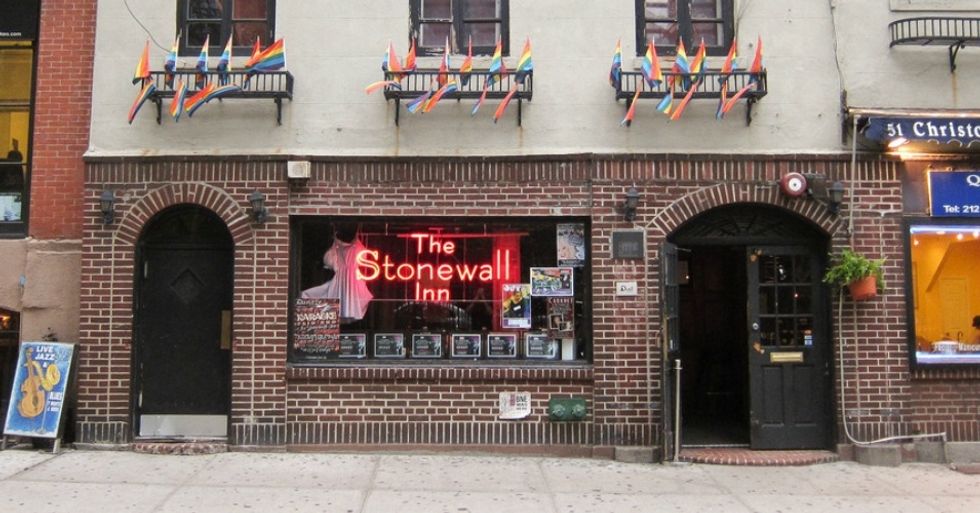 Credit: Source
Charlotte Mayor Jennifer Roberts fears the new law will promote more discrimination. "I've talked to major employers and their concern is that they're very welcoming in their workplace, they have LGBT employees but they're concerned that employees could walk out of their place of business, could go into a restaurant and there could be a sign saying 'gays not welcome here.' That would be perfectly legal under this new law."  
THE LGBT COMMUNITY SPEAKS OUT
Trans people and allies took to Twitter, using the hashtag #wejustneedtopee to illustrate just how uncomfortable the new law was – for everyone.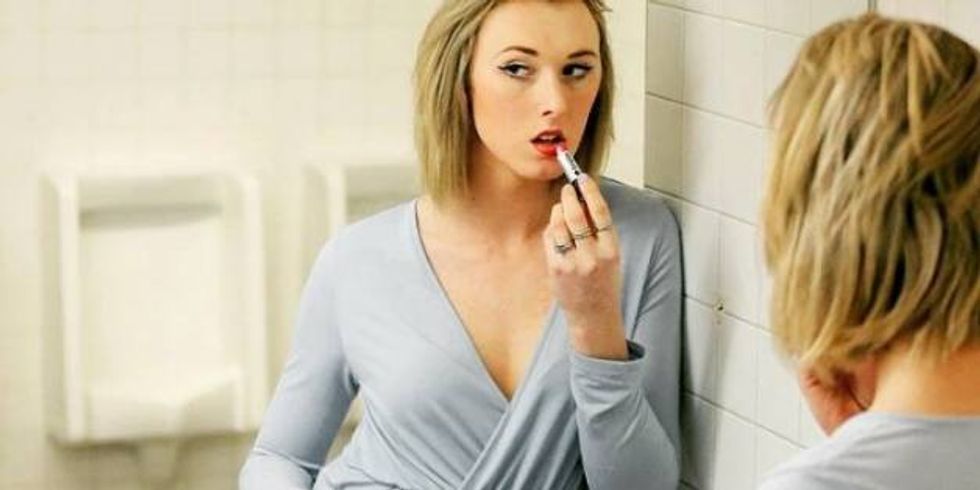 One of the many selfies taken during the #WeJustNeedToPee social media campaign. (Credit: Source)
In addition to using social media to protest the new law, residents are trying to find other ways to cope. Transgender Charlotte resident Charlie Comero printed out cards that read
"I'm following a law that was passed on March 23. I am a transgender man who would rather be using the men's room right now. This is likely uncomfortable for both of us. Please contact your legislature and tell them you oppose HB2."
"Some of us transition physically, some of us don't. Some of us are more feminine or more masculine with no correlation to what gender we are. Some of us identify as nonbinary/gender nonconforming," Comero said in a Facebook post, "and I realize these might be new terms for folks. Look it up. Educate."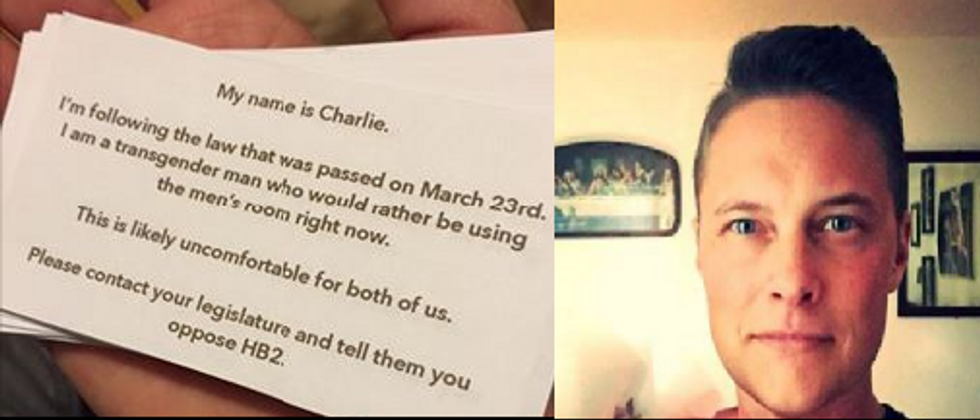 Credit: Source
NATIONWIDE BACKLASH
New York City Governor Andrew M. Cuomo signed an executive order banning all non-essential publicly funded travel to North Carolina. Cuomo had a similar reaction in 2015 when Indiana's state legislature passed a religious freedom measure that allowed discrimination against LGBT individuals. Cuomo lifted the ban after lawmakers worked to amend the measure to prohibit discrimination against LGBT citizens.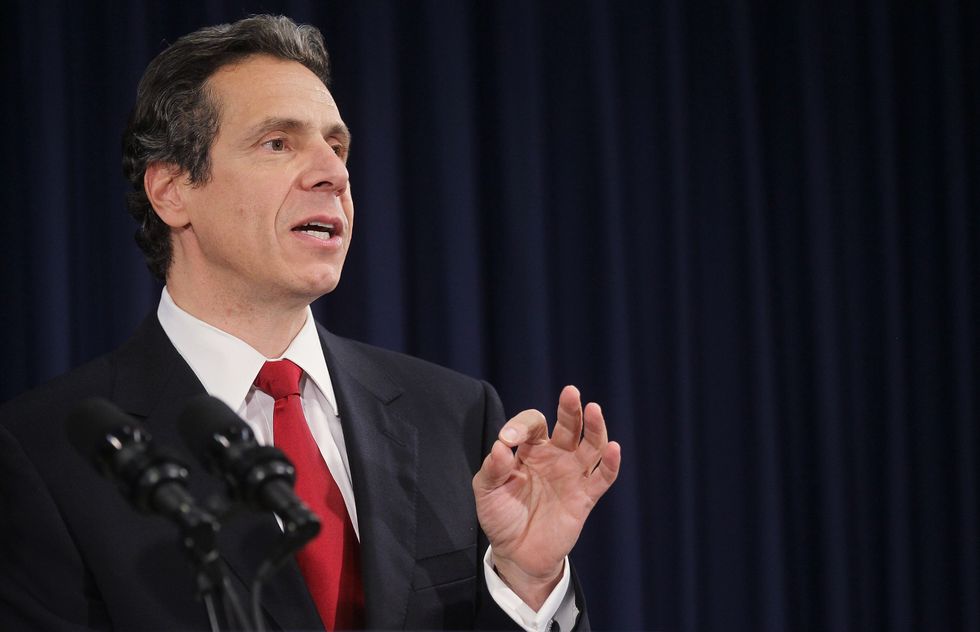 New York Governor Andrew Cuomo. (Credit: Source)
Cuomo's North Carolina travel ban states, in part, "All agencies, departments, boards, authorities and commissions to review all requests for state funded or state sponsored travel to the state of North Carolina so long as there is law in effect there that creates the grounds for discrimination against LGBT citizens."
Many other cities, including San Francisco, Seattle and Portland, have followed Cuomo's example and barred non-essential travel to North Carolina.
The list of companies condemning the controversial legislation is growing, and includes
Apple, Bank of America, Facebook, Dow Chemicals, SalesForce, Yelp, the NFL, PayPal and American Airlines. Many of the companies do business and pay taxes in North Carolina.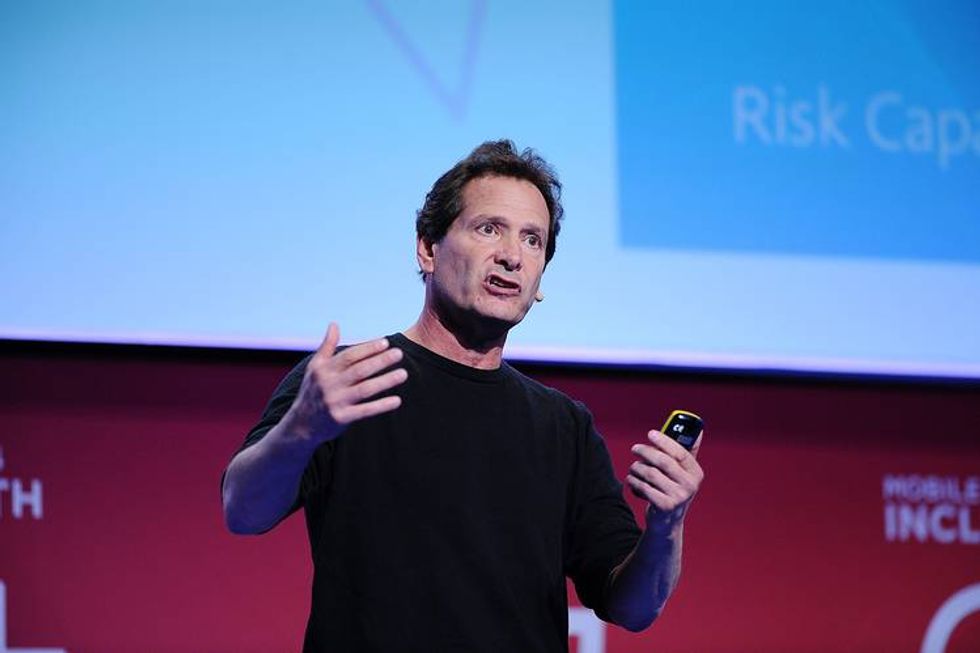 PayPal CEO Dan Schulman announcing the cancellation of the company's Charlotte expansion. (Credit: Source)
Challenging the Law
The ACLU and Lambda Legal were the first to file suit. They asked for an injunction to keep the law from being enforced.
"Lawmakers made no attempt to cloak their actions in a veneer of neutrality," reads the lawsuit, "instead openly and virulently attacking transgender people, who were falsely portrayed as predatory and dangerous to others."
North Carolina Senate leader Phil Berger and House Speaker Tim Moore issued a joint statement in response. "This lawsuit takes this debate out of the hands of voters and instead attempts to argue with a straight face that there is a previously undiscovered 'right' in the U.S. Constitution for men to use women's bathrooms and locker rooms."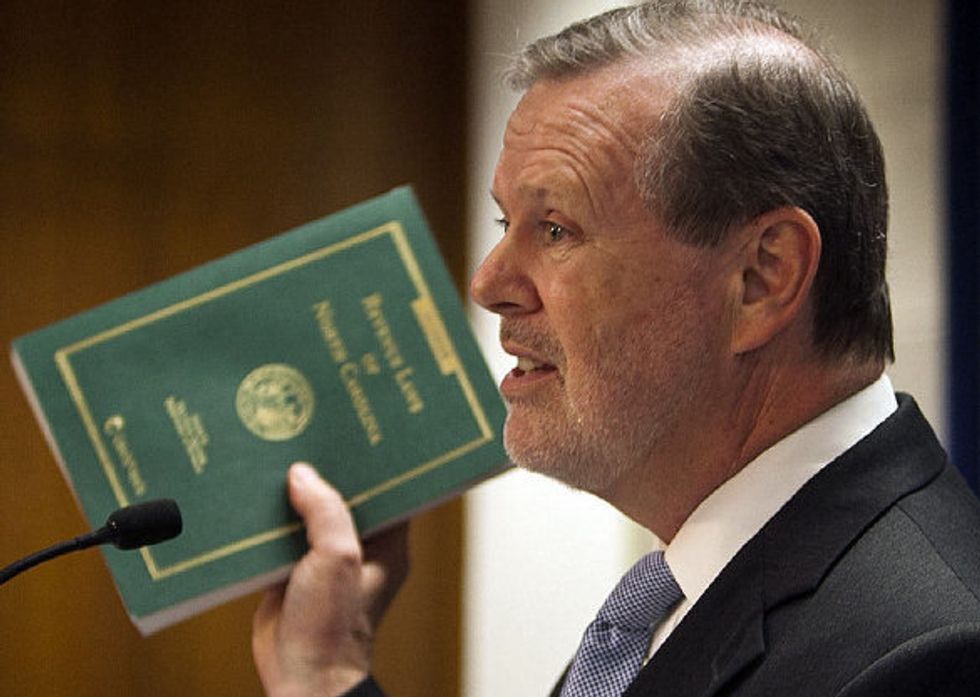 Phil Berger. (Credit: Source)
If it were up to North Carolina's Attorney General Roy Cooper, there wouldn't be a case at all. He refuses to defend the new law in court. "We're talking about discrimination here," Cooper said at a press conference. "Not only is this new law a national embarrassment, it
will set North Carolina's economy back." Cooper is set to run against Pat McCrory in the next election.
Governor McCrory responded with a statement saying Cooper "can't select which laws he will defend and which laws are politically expedient to refuse to defend." Other Republicans echoed the sentiment, with Senate leader Phil Berger accusing Cooper of pandering to left-wing backers as he runs for governor and calling for his resignation as attorney general for failing to defend the law.
"I'm doing my job and will continue to do my job," Cooper said. "Employees who get the job done here should be welcome without fear of discrimination."
Need to find a bathroom in North Carolina? Use this Google Map created by MIT web designer Emily Rae Waggoner to find transgender-friendly bathrooms across the state.