This week, Glamour Magazine published a lengthy profile on President-elect Joe Biden's campaign manager and soon-to-be White House Deputy Chief of Staff Jen O'Malley Dillon.
The piece focused on her challenges navigating the seismic shifts in the 2020 campaign while raising three children during a pandemic and national upheaval.
In one portion of the piece, O'Malley Dillon discusses the challenges ahead in working with Republicans who went all-in for Biden's opponent, outgoing President Donald Trump. Biden has frequently assured the public that his experience in Washington gives him the necessary tools to reach across the aisle.
O'Malley Dillon said:

"In the primary, people would mock [Biden], like, 'You think you can work with Republicans?' I'm not saying they're not a bunch of f***ers. Mitch McConnell is terrible. But this sense that you couldn't wish for that, you couldn't wish for this bipartisan ideal? He rejected that."
Republicans immediately pounced on Dillon's comments, with Senator Marco Rubio (R-FL) insisting her words reflect what Democrats "really think" of Republicans and Axios reporting that even Biden staffers were unsettled by the statement
But MSNBC host and former Republican strategist Nicolle Wallace pushed back against the outrage by reminding Republicans who they've spent the last four years defending.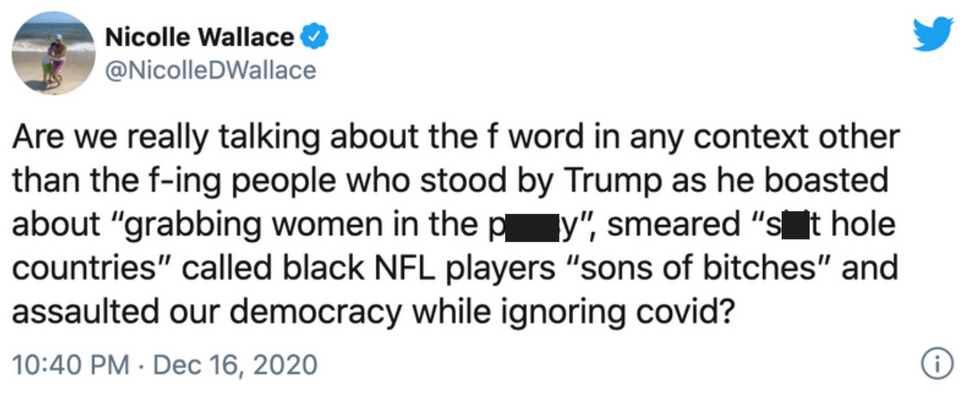 Wallace refreshed their memory on some of Trump's basest remarks, after which Republicans continued to wholeheartedly support them.
Trump infamously bragged about committing sexual assault on a hot mic during a 2005 appearance on Access Hollywood, which leaked in the final weeks of the 2016 campaign. Trump called NFL players who kneeled to protest racism "sons of bitches" and disparaged countries like Haiti as "S***hole countries."
People agreed with Wallace that the Republicans were displaying faux outrage.
Wallace wasn't the only one to decry the outrage as performative and hypocritical in a time of urgent national crisis.
While there's been much focus on whether or not Democrats will be able to work with Republicans after Biden's inauguration, there's been little discussion of whether Republicans are willing to work with Democrats after four years of scorched earth tactics helmed by Donald Trump.