Despite repeated claims by President Donald Trump about his popularity and standing in the world, the 45th President again took a back seat to the 44th. And the FLOTUS fared worse than the POTUS.
YouGov—of the United Kingdom—released their latest poll numbers regarding the most admired woman and man in the world.
---
The results hail from industry, entertainment and politics. The Obamas had a very strong showing with former First Lady Michelle Obama capturing the top spot as most admired woman in the world while her husband, President Barack Obama, garnered second place behind Microsoft founder Bill Gates for most admired man worldwide.
The current residents of 1600 Pennsylvania Avenue did not fare quite as well. Donald Trump came in at number 14 while FLOTUS Melania Trump was 19th.
The men's top 20 was:
Bill Gates
Barack Obama
Jackie Chan
Xi Jinping
Jack Ma
Narendra Modi
Christiano Ronaldo
Dalai Lama
Lionel Messi
Vladimir Putin
Warren Buffett
Amitabh Bachchan
Elon Musk
Donald Trump
Pope Francis
Shah Rukh Khan
Imran Khan
Salman Khan
Recep Tayyip Erdogan
Andy Lau
On the men's side, Trump came behind several other world leaders including Vladimir Putin of Russia and Xi Jinping of China.
In the United States, the Obama's were in first place for both most admired man and woman. Trump moved up to second place at home while Melania Trump came in at number 3 behind Supreme Court Justice Ruth Bader Ginsberg.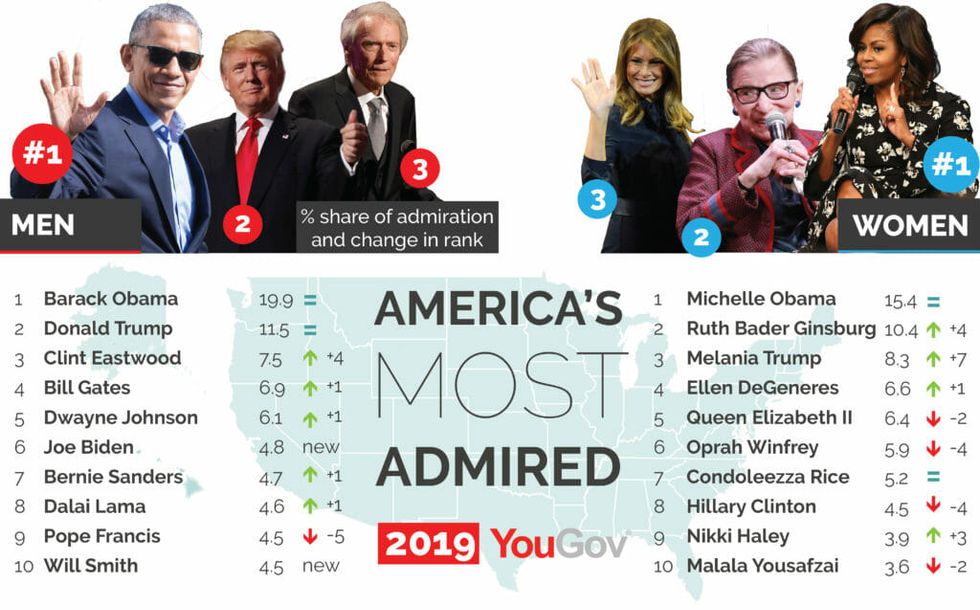 @YouGov/Twitter
Here are the top 20 most admired women in the world:
Michelle Obama
Oprah Winfrey
Angelina Jolie
Queen Elizabeth (II)
Emma Watson
Malala Yousafzai
Peng Liyuan
Hillary Clinton
Tu Youyou
Taylor Swift
Madonna
Angela Merkel
Deepika Padukone
Priyanka Chopra
Ellen Degeneres
Aishwarya Rai
Sushmita Sen
Theresa May
Melania Trump
Yang Mi
Internationally, both Hillary Clinton and Angela Merkel came in higher than either Trump, with Clinton at 8th and Merkel at 12th.
According to a new poll by YouGov, former first lady Michelle Obama sits at the very top of the worldwide popularit… https://t.co/Dmle2ESTv1

— Los Angeles Times (@Los Angeles Times) 1563487503.0
YouGov shared the news on Twitter.
Worlds Most Admired 2019. Our annual series, conducted this year in 41 countries, finds the most admired figures ar… https://t.co/PYYs0TPP0P

— YouGov (@YouGov) 1563437719.0
According to YouGov, even after expanding their survey to include responses from 41 countries, the men's top 5 remained unchanged from the prior year. The men's list gained two new members, both Indian actors.
The women's list saw a shuffle at the top with Michelle Obama moving up and five new women joining the top 20: Chinese leader Xi's wife, singer Peng Liyuan; Ellen DeGeneres; Chinese scientist Tu Youyou; Indian actress Sushmita Sen; and FLOTUS Melania Trump.
Trump joined the list in the lowest spot among the five new female members.
@YouGov who tf admires melania please raise your hand

— tej Inc. (@tej Inc.) 1563476471.0
@YouGov And why is Trump even on this list???

— Dee Holland (@Dee Holland) 1563531788.0
@CTallers @YouGov Sadly, he has his warped supporters. Thankfully, not exactly enough to land him at the top spot.… https://t.co/3o8Mf8Jzem

— Zzzzz (@Zzzzz) 1563486145.0
People noted who placed ahead of Trump on the world stage.
@YouGov When Vladimir Putin is more admired than the current US president.

— Kath-its called stuffing-mandu 🦅 (@Kath-its called stuffing-mandu 🦅) 1563534866.0
@YouGov @adamboultonSKY Well, as long as Jackie Chan is number 3, then we can all sleep well tonight.......

— Mark Thompson (@Mark Thompson) 1563438275.0
I bet it kills @realDonaldTrump to be lower than @MichelleObama, @BarackObama, and @HillaryClinton. Surprised the o… https://t.co/bSh6NTwUQc

— M.J.C. (@M.J.C.) 1563546978.0
No word yet from the President regarding the poll results. But they seem to indicate his claim to have made the United States more admired than Obama did on the international stage false according to the rest of the world.
The bestselling books Becoming by Michelle Obama and Obama: An Intimate Portrait by Barack Obama and Pete Souza are available here and here.