Will 2020 be the year a woman finally makes it to the Oval Office? An exclusive new poll shows President Donald Trump losing in a landslide in 2020 to an array of women considered likely contenders for the nation's highest office.
The poll, conducted by Survey Monkey, shows Trump losing the 2020 election - in landslides - to seven potential women candidates. Axios aired the poll results Sunday night on HBO.
---
Some of the women have never held elected office.
Former First Lady Michelle Obama, though she has explicitly said she is not running, holds a whopping 13-point edge - 55 to 42 percent - over Trump in a hypothetical matchup. Additionally, Obama's favorability is 31 points higher than Trump's.
Oprah Winfrey, who is hitting the campaign stump for Democrats ahead of Tuesday's midterms, bests Trump 53 to 41 percent. In terms of who is more favorable, those surveyed chose Winfrey by 24 percent.
Others, however, are currently in power. And if they run, it could be curtains for the 45th president.
Senators Kamala Harris (D-CA) and Amy Klobuchar (D-MN) hold 10 and nine-point leads over Trump, respectively. They also enjoy higher favorability ratings than Trump, with seven and eight point advantages, respectively.
New York's Kirsten Gillibrand, the successor to Hillary Clinton, edges out Trump by six points. Her favorability is tied with Trump.
Even Hillary Clinton, whose 2016 loss still stings liberals, would defeat the incumbent president 50-45 percent, according to the survey. Clinton's favorability, however, is 25 points less than Trump's the poll indicates. Clinton has said she has no intention of running, however the door remains open. Last week she said she'd "like to be president" and would address the possibility of a third White House bid after the midterms.
Senator Elizabeth Warren (D-MA) would beat Trump by two points, 49-47 percent, the poll says, but her favorable ratings are 16 points lower than Trump's.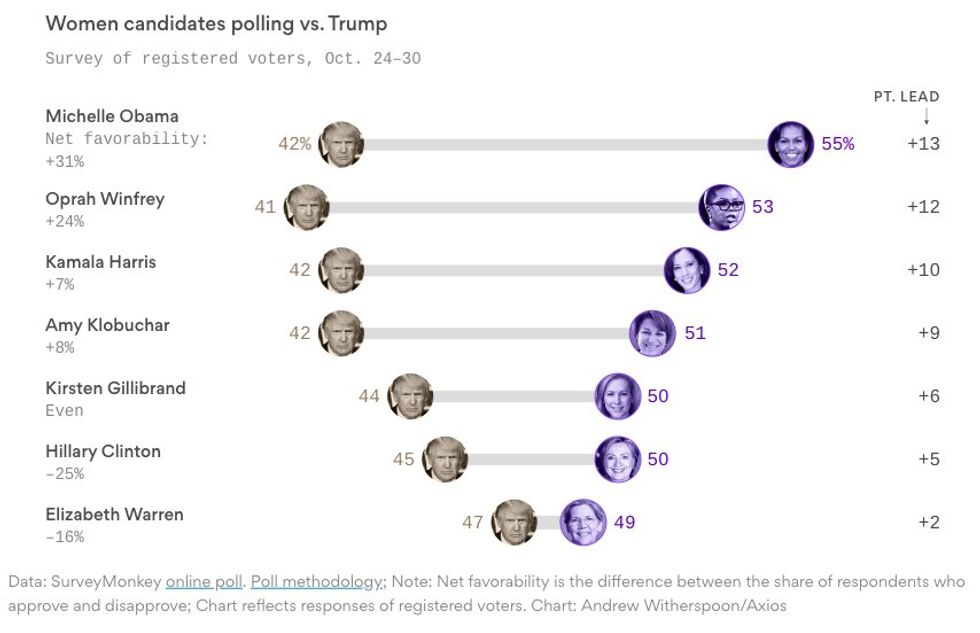 On Twitter, people are cautiously optimistic about 2020, given what happened in 2016.
@PhilippeReines The first three are women of color. Once he sees this, we can just sit back and wait for the racist insults to fly.

— Jess Phoenix 🌋 (@Jess Phoenix 🌋) 1541400427.0
@PhilippeReines @sandibachom Don't be so sure. Clinton lost in 2016. And in 2020 who knows how the GOP will suppres… https://t.co/EuEqDSOndV

— Francois X (@Francois X) 1541391427.0
@PhilippeReines I'll be slow to get my hopes up again. Hillary outpolled him too. And the popular vote was in line… https://t.co/1r9UWj9H8o

— Traveller Sorta (@Traveller Sorta) 1541394386.0
@PhilippeReines If we lose this one in two days I have doubts we ever have real elections again

— Maximus Pigamus (@Maximus Pigamus) 1541392580.0
@PhilippeReines @ManInTheHoody Don't listen to polls. VOTE

— John Dough (@John Dough) 1541392685.0
Some, though, are excited over the prospect of Trump getting trounced by a woman.
@kim @PhilippeReines Kamala would be ideal, in my book. Beto & Kamala would be an amazing ticket.

— Miss Bossy Boots👢👢 (@Miss Bossy Boots👢👢) 1541392268.0
@PhilippeReines @ManInTheHoody Wow. Love that poll.

— Rick_Taylor (@Rick_Taylor) 1541431363.0
@PhilippeReines Philippe...….I want the woman who beat him the last time to beat him again......2020 is coming...……….……...

— ASLEVIN (@ASLEVIN) 1541418674.0
@PhilippeReines This is truly beautiful!!!!!!!!!

— Lainie A (@Lainie A) 1541395669.0
@PhilippeReines That's good.

— Garret Fitzgerald (@Garret Fitzgerald) 1541394235.0
@PhilippeReines @PeggyStuart Let's make it happen

— Coretta ♉ (@Coretta ♉) 1541393908.0
@PhilippeReines Well then, Kamala Harris it is.

— Penelope Levers (@Penelope Levers) 1541393401.0
The survey also shows that Trump is deeply unpopular among women.
"Trump is underwater with women voters (64% of women view him unfavorably)," Axios notes, "and particularly among white suburban women — a group that will be critical in 2020."
Trump's approval rating, the poll shows, has flatlined, with only 40 percent of respondents approving of the job he's doing.
Axios explains why Trump has lost so much support among women.
"Many of Trump's controversial moves — from child-separation policy at the Mexico border to the Supreme Court confirmation of Brett Kavanaugh — have eroded his support among women voters. The #MeToo movement and record number of women running for office this year have also helped to empower women in the political sphere."
Axios adds that the data comes from two separate polls: "The first was conducted October 24-28, 2018 among 3,411 adults, and has a modeled error estimate for the full sample of plus or minus 2.5 percentage points. The second was conducted October 28-30, 2018 among 6,497 adults, and has a modeled error estimate for the full sample is plus or minus 1.5 percentage points. Full cross-tabs available here."