President Donald Trump has retweeted three inflammatory anti-Islam videos from Jayda Fransen, the ultranationalist British party leader of Britain First, who previously faced charges for "religious aggravated harassment."
Britain First was founded in 2011 by former members of the far-right British National Party (BNP). The group has repeatedly railed against "the Islamification of the UK." It has supported candidates who've championed anti-immigration and anti-abortion policies, but has yet to secure any seats in Parliament.
---
The videos supposedly portray Muslims committing acts of violence. They were titled: "Muslim migrant beats up Dutch boy on crutches!" "Muslim Destroys a Statue of Virgin Mary!" and "Islamist mob pushes teenage boy off roof and beats him to death!"
Below is a screenshot of Trump's Twitter feed: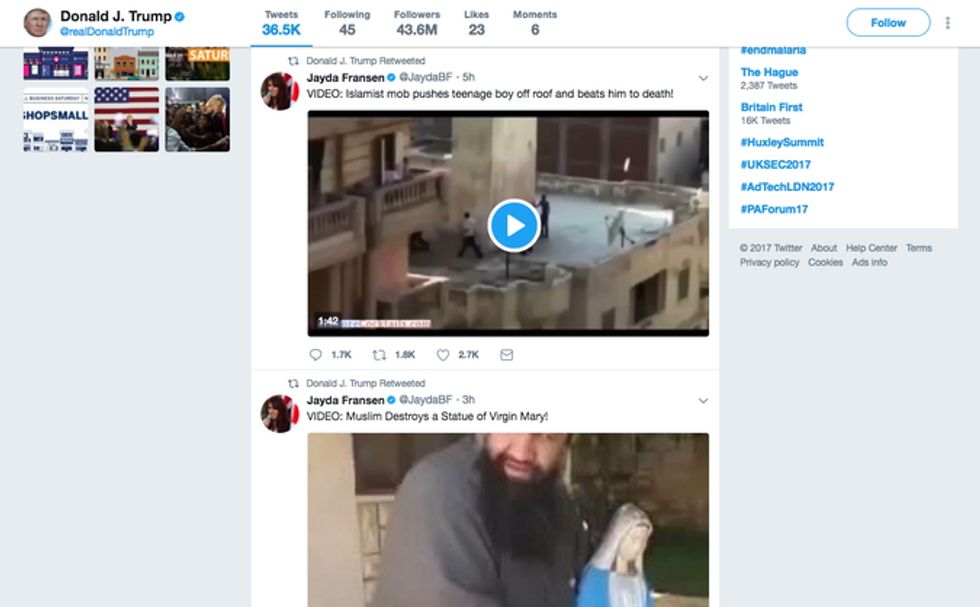 Twitter/@realDonaldTrump
Fransen responded enthusiastically to Trump sharing her tweets. "THE PRESIDENT OF THE UNITED STATES, DONALD TRUMP, HAS RETWEETED THREE OF DEPUTY LEADER JAYDA FRANSEN'S TWITTER VIDEOS! DONALD TRUMP HIMSELF HAS RETWEETED THESE VIDEOS AND HAS AROUND 44 MILLION FOLLOWERS! GOD BLESS YOU TRUMP! GOD BLESS AMERICA!" she wrote.
Fransen has since retweeted several news reports about the president's controversial Twitter shares.
Condemnation rained down on the president.
In response to the president's tweets, the Muslim Council for Britain called for the government to distance itself from his comments. "This is the clearest endorsement yet from the US president of the far-right and their vile anti-Muslim propaganda," a spokeswoman said.
Brendan Cox, the husband of slain British MP Jo Cox, who was murdered by a right-wing extremist who shouted "Britain First" before committing the act, also weighed in.
Trump has legitimised the far right in his own country, now he's trying to do it in ours. Spreading hatred has cons… https://t.co/V6BdewqQtt

— Brendan Cox (@Brendan Cox) 1511957219.0
The White House did not immediately respond to questions about the videos.
Erik Voeten, a Georgetown University professor and the editor of International Organization, a leading peer-reviewed journal on international affairs, pointed out that the video which supposedly depicts a "Muslim migrant" attacking a "Dutch boy on crutches" is, in fact, fake.
That video @realDonaldTrump retweets of a Muslim boy beating up a Dutch boy turns out to be a video of a Dutch boy… https://t.co/TRZ1BTb5RJ

— Erik Voeten (@Erik Voeten) 1511960457.0
The video's original caption, released with the video in May on a Dutch website, mentioned neither race nor religion. A 16-year-old pictured in the video was charged with provoking the fight. Another 16-year-old who shot the video also faced charges.
But the president received some praise for his actions anyway.
David Duke, a white nationalist and former Imperial Wizard of the Ku Klux Klan, expressed his pleasure, praising Trump for sharing the videos.
"Trump retweets video of crippled white kid in Europe being beaten by migrants, and white people being thrown off a roof and then beaten to death," Duke tweeted. "He's condemned for showing us what the fake news media WON'T. Thank God for Trump! That's why we love him!"
Trump retweets video of crippled white kid in Europe being beaten by migrants, and white people being thrown off a… https://t.co/25z5ZmMV9g

— David Duke (@David Duke) 1511965984.0
Conservative commentator Ann Coulter also shared one of the inflammatory tweets, as evidenced by the screenshot below.

It is highly unusual for a president to share this type of content, but it is consistent with sentiments Trump has shared on Islam and its followers in general.
The possibility of a Muslim registry first came up one year ago when Trump released a statement "calling for a total and complete shutdown of Muslims entering the United States until our country's representatives can figure out what is going on" and gave conflicting statements to the media. His suggestion received sharp criticisms from both sides of the aisle. For a time, he appeared to walk back on his stance, saying the proposals were "just a suggestion until we find out what's going on." Other times, he denied he ever suggested the proposal, despite mounting evidence to the contrary.
But throughout an often incendiary campaign,  Trump repeatedly stated he would want a Muslim registry and admonished Muslims for not reporting more terror suspects. In fact, he elaborated on his plans for a Muslim registry during the second presidential debate, suggesting that Hillary Clinton, his Democratic opponent, would threaten the security of the country by allowing Syrian refugees on American soil:
It is called extreme vetting… people are coming into our country like we have an idea of who they are and where they are from and what their feelings about our country is, and she wants 550 percent more. This will be the great Trojan horse of all time.
In January, shortly after Trump's inauguration, spontaneous protests sprang up across the nation's airports as protesters sought to prevent the detention and deportation of a number of persons in response to Trump's executive order barring Muslims from 7 countries from entering the country as well as his permanent ban on refugees from Syria. Crowds at New York's JFK, California's LAX and SFO, Washington's Seattle's Tacoma and Illinois' Chicago-O'Hare were large and boisterous. Protests also sprang up in more conservative areas, including in Atlanta, Georgia, Dallas, Texas and even Boise, Idaho. Meanwhile, large crowds gathered also in public spaces in Boston, New York and Washington, D.C. among many others.
Trump's tweets are only the latest missives in a week that has seen the news cycle dominated by his ad hominem attacks. Earlier this week, Trump questioned the legitimacy of an Access Hollywood tape from 2005 which appears to show him advocating and admitting to sexual assault (despite once admitting that that is, in fact, his voice on the recording). He also mocked NBC's Matt Lauer after the network fired him over a sexual misconduct allegation.