UPDATE 2:16 p.m. EST: According to the Ground Campaign Organizer at Indigenous Environmental Network, Dallas Goldtooth, "the Redhawks announcement is actually an elaborate guerilla counter brand campaign designed and executed by Native activists." An official press release by advocates reads:
"After decades of team owner Dan Snyder refusing to change the name of the Washington football team, Native advocates took to the internet to do it for him. Today, social media exploded with an updated logo and mascot for DC's football team: The WASHINGTON REDHAWKS. The activists behind the online action, Rising Hearts, are hosting an in-person press conference in DC this Thursday December 14th at 2PM at the George Preston Marshall Monument in front of RFK Stadium. Supporters can join also join a rally at FedEx Field this Sunday."
---
"In the first 3 hours of the #GoRedhawks campaign, social media exploded with the hoax, which was called out by The Washington Times and USA Today. Native leader Peggy Flannagan shared on twitter, "Y'all the Washington Football team has not changed their name... Keep that brief moment of joy you had upon reading the news to keep fighting against their racist mascot."
"We created this action to show the NFL and the Washington Football franchise how easy, popular and powerful changing the name could be," says Rebecca Nagle (Cherokee Nation), one of the organizers of the stunt. "What we're asking for changes only four letters. Just four letters! Certainly the harm that the mascot does to Native Americans outweighs the very, very minor changes the franchise would need to make."
"Since 1970, Native Peoples and our allies have eliminated over two-thirds of these racial identifiers in American sports," says renowned Native advocate Suzan Harjo (Cheyenne and Hodulgee Muscogee). "We collectively have eliminated over 2,000 of these so-called Native names, logos, symbols, images, mascots and behaviors from the U.S. sport landscape. We can't rest until all of them are consigned to museums and history books, where they belong."
"We acknowledge the generations of Native people and communities who have come before us in fighting this mascot," states Sebastian Medina-Tayac (Piscataway), on whose ancestral lands the stadium currently stands. "We hope this brief moment inspires our country to imagine a world without racist mascots."
We are sorry for the disappointment and confusion many will feel learning that Snyder has not changed the name yet. The purpose of this action is to show that the need for a new mascot is real and immediate. This online campaign is one of many direct and confrontational tactics that we as Native people have to use to demand our human dignity.
A poll conducted by California State University found that 67% of Native Americans who are enrolled in a tribe find the term "R*dskins" offensive. The name "R*dskins" originated as a term to describe the scalps of Native Americans hunted as bounty throughout colonial times and into the late-19th century, and remains a dictionary-defined racial slur.
Many leaders from Indian Country participated in created Wednesday's online spectacle which was organized by the Rising Hearts Coalition, including Rebecca Nagle (Cherokee Nation), Sebastian Medina-Tayac (Piscataway), Valarie Marie Proctor (Cedarville Band of Piscataway), Jair Carrasco, (Aymara), Lindsay Rodriguez (Cheyenne Arapaho), Jordan Marie Daniel (Kul Wicasa Oyate) and Nick Courtney (Makah). Rising Hearts was joined by hundreds of collaborators for this coordinated digital action, who may reveal themselves at their discretion. Web design by amazing co-conspirator Dan Staples."
Original story below.
This morning, various sites were reporting that Washington Redskins' owner Dan Snyder was honoring Native Americans by changing the team mascot to the Washington Redhawks. Is it true?
It does not appear to be true. The various sites reporting it all appear to be pop-up sites with slightly altered URLs, including espnsports.news. A Twitter account for the "new team" also was only created 14 hours ago, as of noon EST. A tweet on the account claims that the Washington Redhawks are coming in fall 2018.
The story on the fake ESPN site begins:
As 2017 was marked by cities across the U.S. taking down Confederate monuments, Washington D.C. is losing a symbol many have long declared racist, and, no, it is not made of bronze. This morning the Washington football team franchise announced it will be abandoning its controversial name, the "Redskins," and changing it to the "Redhawks". Team owner Dan Snyder adds the Redhawks are "a symbol of everything we stand for: strength, courage, pride, and respect—the same values we know guide Native Americans and which are embedded throughout their rich history as the original Americans.'"

In addition to the brief statement, the team also released images of the new logo and new apparel. Washington football fans will recognize the iconic yellow and maroon colors, as well as the familiar yellow circle.
A fake Washington Post story with the header, "Native Leaders Celebrate a Victory as Washington Football Changes Mascot to the Redhawks," also appeared online. A similar story also showed up on a fake Sports Illustrated site.
A Facebook page has also appeared.
It is unclear who is behind the hoax. The site was registered by a "Dan S." in Paris, France.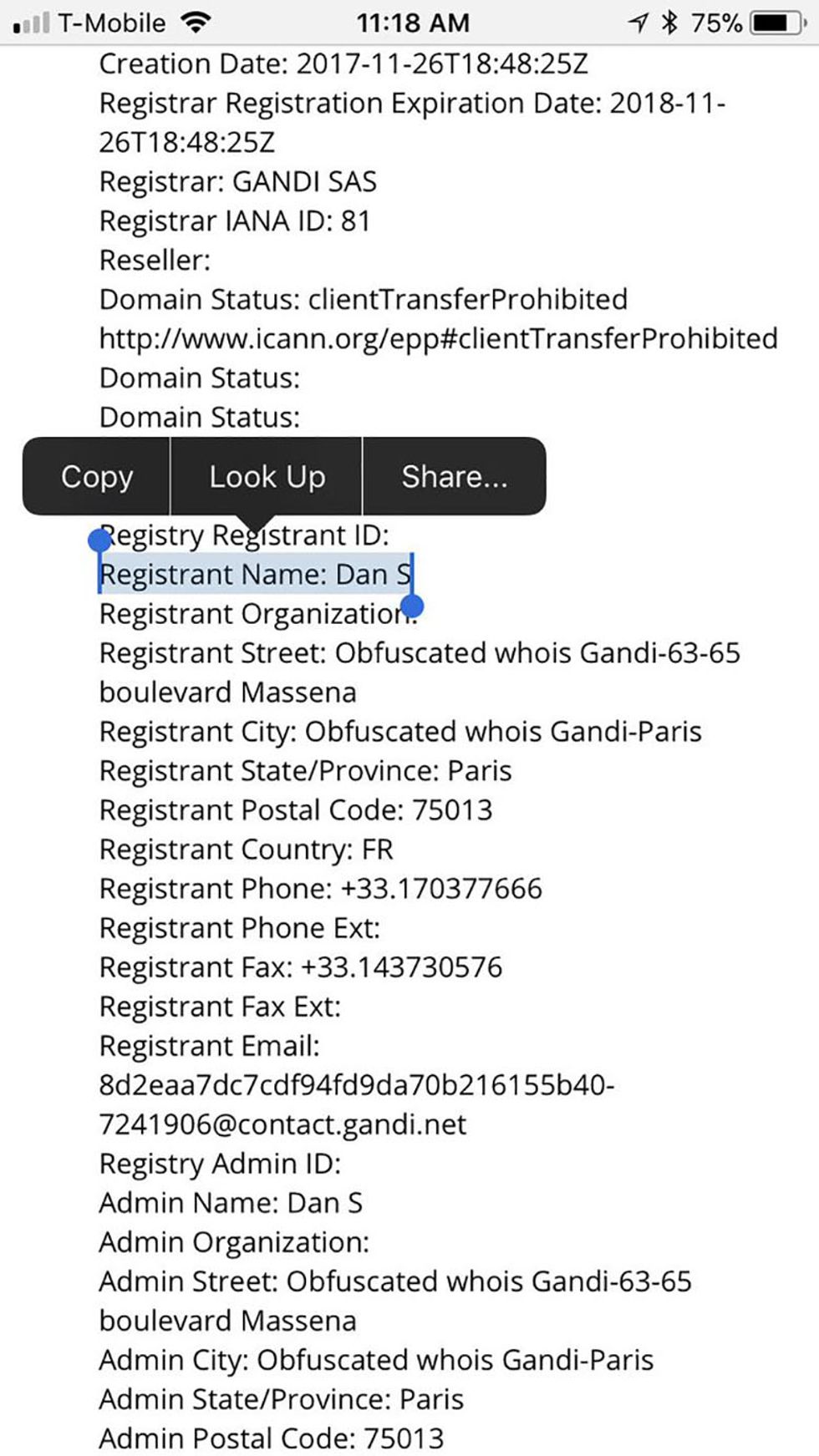 A screenshot showing the domain registrant as "Dan S." (Twitter)
There is a documentary, More Than a Word, that will be released soon that highlights mascots and stereotypes. Speculation is this might be why someone decided to troll right now.
Billionaire Snyder has owned the Redskins since 1999 and has refused to change the derogatory name. In May 2013, in answering a question concerning the teams' Federal Trademark, Snyder told USA Today, "We'll never change the name. It's that simple. NEVER—you can use caps."