In a Thursday blog post, Democratic Senator Elizabeth Warren of Massachusetts outlined a plan to close corporate tax loopholes so multi-billion dollar companies cannot use existing tax law to pay $0 in federal taxes. One of the companies she cited by name was Amazon.
But Amazon had a response for the 2020 Democratic presidential hopeful.
---
The company issued an official statement.
"Amazon pays all the taxes we are required to pay in the U.S. and every country where we operate."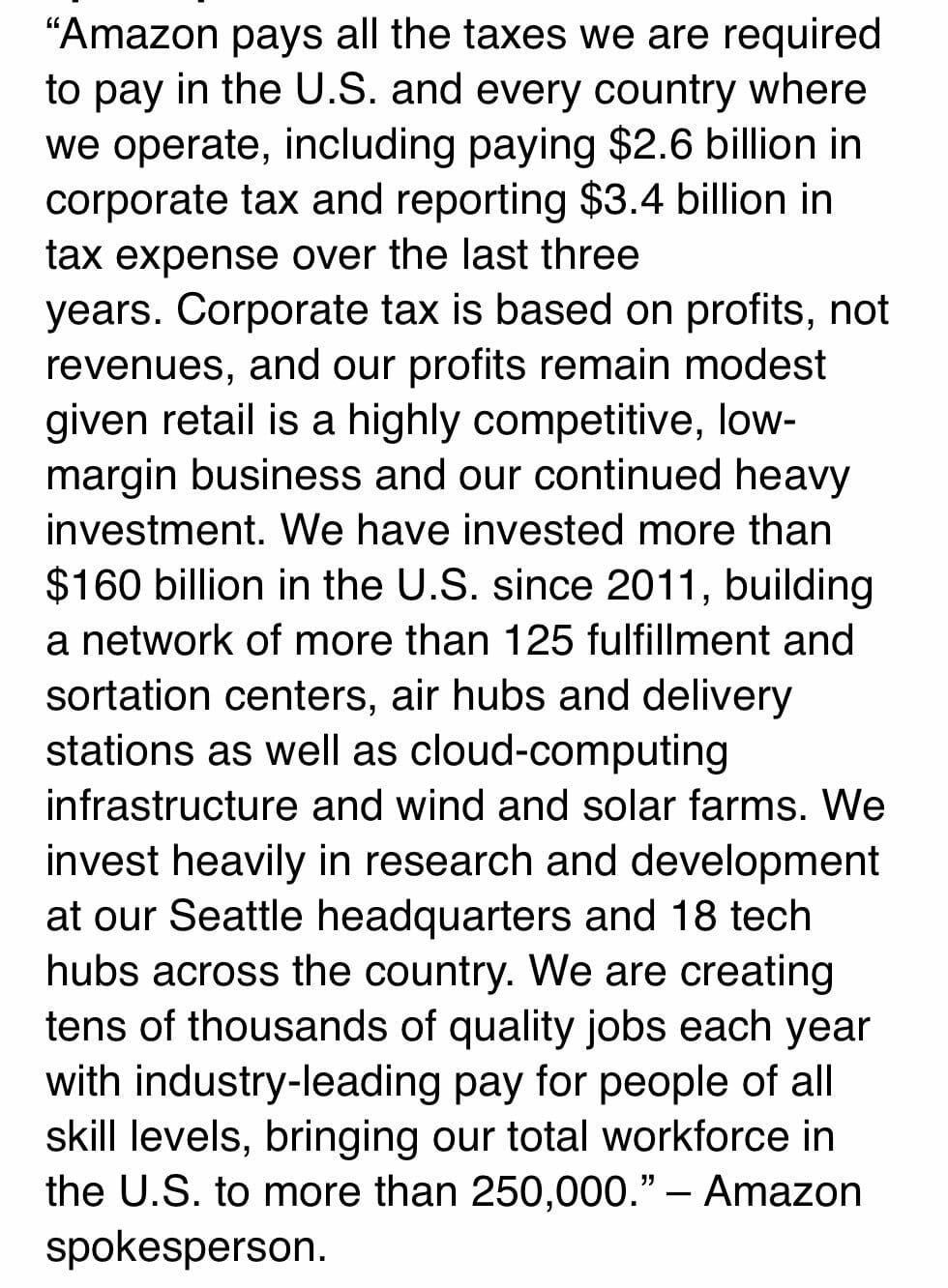 Amazon official statement (@eschor/Twitter)
But Warren also had a response ready.
In her blog, Warren wrote:
"...our corporate tax code is so littered with loopholes that simply raising the regular corporate tax rate alone is not enough."
Of her proposed plan, the Real Corporate Profits Tax, she stated:
"It will make our biggest and most profitable corporations pay more and ensure that none of them can ever make billions and pay zero taxes again."
But how much of a problem is this?
Under President Donald Trump and the GOP's Tax Cuts and Jobs Act, twice as many companies are paying no federal taxes. The number went from 30 to 60, so far, which may seem like a small number.
However the amount of money is not small.
According to the bipartisan, non-profit Center for Public Integrity and the Institute on Taxation and Economic Policy (ITEP):
"[The companies were] able to zero out their federal income taxes on $79 billion in U.S. pretax income."
"Instead of paying $16.4 billion in taxes, as the new 21 percent corporate tax rate requires, these companies enjoyed a net corporate tax rebate of $4.3 billion, blowing a $20.7 billion hole in the federal budget last year."
In addition to dropping the corporate tax rate in their new GOP tax plan—pushed through Congress by former Speaker of the House Paul Ryan and Senate Majority Leader Mitch McConnell while the Republicans still controlled both houses—it also "lowers the bar for the amount of tax avoidance it takes to get you down to zero" per Matthew Gardner, an ITEP senior fellow and lead author of the report.
Gardner added:
"The specter of big corporations avoiding all income taxes on billions in profits sends a strong and corrosive signal to Americans: that the tax system is stacked against them, in favor of corporations and the wealthiest Americans."
And many agreed with his assessment.
Despite GOP claims that such tax breaks for the most profitable corporations and wealthiest individuals in the United States would lead to higher wages and benefits, working people are not seeing it in their paychecks.
But someone asked an important question about Amazon founder Jeff Bezos.
"how do "modest profits" spin out the world's richest person? how much do their low wage workers get subsidized by federal programs? such bunk of a statement......."
Amazon has yet to release another response to Senator Warren.