Desperate times call for desperate measures. Lately no one seems as desperate as the aptly named MAGA minions in Congress.
A cadre of Republican ride or die supporters of President Donald Trump, the MAGA minions tried to pass a measure attacking House Intelligence Committee chair Adam Schiff for following rules enacted by a GOP majority Congress in 2015, made references to Captain Kangaroo regarding the secrecy of hearings that 48 members of the GOP have access to and stormed a Sensitive Compartmented Information Facility (SCIF) with cellphones to disrupt depositions for five hours—depositions 13 of the MAGA minions have access to.
---
While Trump supporters readily repeat their talking points as facts, even Fox News is correcting the misinformation campaign. But the group persists.
The latest group effort involves making public claims about due process and trial procedures. Louisiana Republican Representative Steve Scalise took to Twitter to post:
"In a court of law, this would be declared a mistrial. This impeachment charade has been a tainted process from the start."
"Schiff has spent weeks blocking due process & leaking misleading info to the liberal media to fit his phony narrative."
"Their resolution codifies this sham."
However University of Alabama Law professor and former federal prosecutor with 25 years of experience, Joyce Vance, had a correction for Scalise's post. By contrast, Scalise—a career politician—holds a B.S. in computer science with a minor in political science.
Vance tweeted:
"Mistrials can only happen...during a trial. And the [government] gets to retry its case."
"Pre-trial investigation is usually conducted only by the prosecution. Here, GOP & after Thursday's resolution the White House, will have a remarkable window into that process as well."
Others also had rebuttals for Scalise.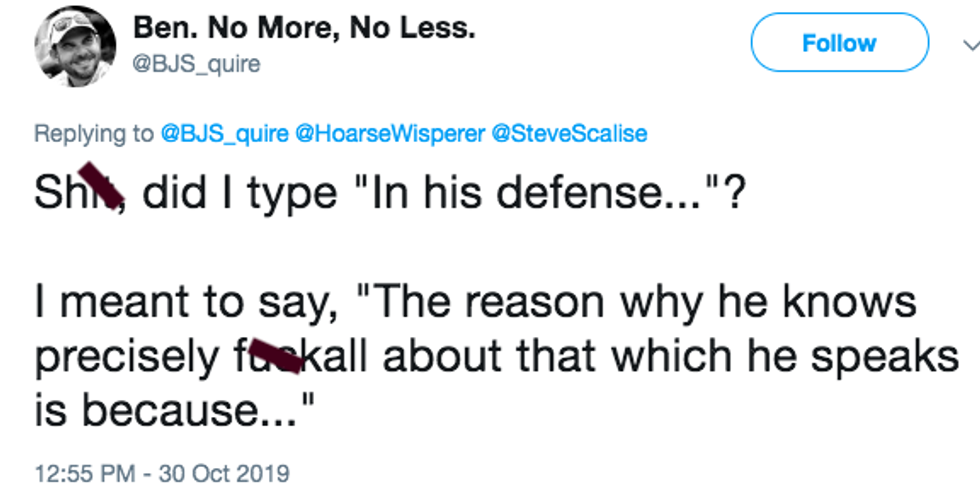 @BJS_quire/Twitter
Many tried to put the impeachment inquiry into terms those with no understanding or the law or the United States Constitution might grasp.
Others asked about the MAGA minions concerted effort to misinform voters.
Others just were weary of the MAGA minions' games.
While @thereapper69 shared a meme that summed up Scalise and the rest of the MAGA minions' remarks.

@thereapper69/Twitter
On Thursday, the House was called to vote on a resolution to support the impeachment inquiry in response to false Republican claims that the inquiry was illegitimate without a resolution vote. After the vote announcement however, GOP members of Congress changed their stance again to try to convince voters that a valid impeachment inquiry in accordance with the rules of the House of Representatives and the U.S. Constitution was not valid.
The book Impeachment: A Citizen's Guide is available here.