[DIGEST: New York Times, Huffington Post]
19-year old swimmer Katie Ledecky shattered her world record for the women's 400-meter freestyle with a time of 3:56:46, winning a gold medal, her first of the Rio Games. She set her previous record of 3:58:37 in 2014.
---
"To see the 56 up there feels really good," Ledecky said, having finished nearly five seconds ahead of her closest competitor and having stayed more than a second ahead of her record for most of the swim. Britain's Jazz Carlin won silver in 4:01:23, while Ledecky's teammate, Leah Smith, won bronze in 4:01:92.
Ledecky, who first garnered attention when she won a gold medal in the women's 800-meter freestyle at the 2012 London Olympics, holds 11 world records. She holds records in 400-meter, 800-meter, and 1500-meter freestyle and has never lost a final in a major international event. If Ledecky wins all three categories––the 200, 400 and 800-meter freestyle––at the Olympics, she'll be one of two women to sweep all three categories in a single Olympic competition, after Debbie Meyer, who did it in 1968. Gary Hall, Jr., a five-time gold medalist in swimming, praised Ledecky, calling her "the greatest athlete in the world today, any sport, either gender" in an interview last week. "Having the top 11 times in the world in an event is just unheard of," he said. "Michael Phelps doesn't have the top 11 times in the world."
But Phelps, the most decorated Olympian of all time, also made history last night. He won the 19th gold medal of his career for helping the United States won the 4x100 relay. Phelps swam the second leg of a race, swimming into the lead after taking over from Caeleb Dressel in second place behind France. Phelps's split time was 47.12, which his coach Bob Bowman called one of his fastest. The U.S. quartet of Dressel, Phelps, Ryan Held and 100 freestyle world champion Nathan Adrian clocked 3:09.92. France took second place, and Australia third.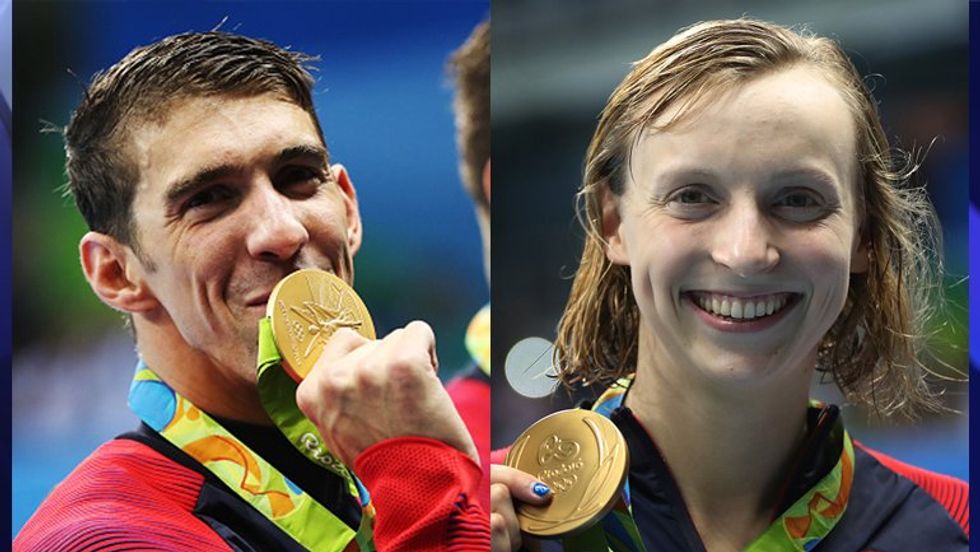 Credit: Source.
"On the block, I thought my heart was going to explode, I was so hyped, so excited," Phelps said afterward. "It was so loud, I don't think I've ever heard something like that." He kissed his medal at the podium and thanked his teammates, who won the first Olympic medals of their respective careers. "I told them, it's OK to cry. It's good to see some emotion as one of the old dudes."
Australian James Magnussen, who swam his team's third leg, praised Phelps. "I think we did our best on the night and are really happy with the bronze medal," he said. "Michael is definitely an inspiration to many of us. To stay on top of the world for that many Olympics is something that most of us couldn't even dream of. It gives us guys who are sort of in the middle period of our careers a lot of inspiration to think we can keep going for another Olympics. It's always great to see a fairy tale like that unfold in a race you are part of."
Americans have medaled in every 4x100 freestyle relay raced at the Games since its inclusion in 1964. The United States ended the second day of the meet with two golds, tying with Australia, who won two on Saturday.