When the unprecedented wildfires swept through eastern Sonoma County, Napa and Mendocino counties in October they devastated hundreds of thousands of lives in mere hours. Reports rolled in over the next week of families who had made it out with minutes to spare, in only the clothes on their bodies, singed by the embers of their homes rising up around them as they dashed to safety in apocalyptic flames.
One group of people has been hit especially hard because they try to fly under the radar on the best of days—California's undocumented immigrant population, who have been heavy targets of the Trump administration since it took office. Trump recentlypromised cities that report undocumented immigrants will receive tens of millions of dollars and additional law enforcement officers.
---
Tallies of the damage of the Northern California fires clocked in at about 5,700 houses and structuresdestroyed, and even more significantly damaged. Somewhere in the ballpark of 100,000 people have been displaced — whether temporarily or permanently remains to be seen.
The Public Policy Institute of California (PPIC) estimates that38,500 undocumented children and adults called Sonoma County home. Many lost their homes and possessions in the Northern California fires, and others have lost jobs as businesses have had to shutter their doors to repair, though it's hard to tally because many of them are skirting law enforcement and disaster relief officials.
A new fund for displaced farm workers is helping those in need after the fires in Northern California… https://t.co/rHkyIK3fO0

— Eater (@Eater) 1511872263.0
Many families were already living in fear since Trump began his crackdown crusade soon after his election, threatening more deportations, as well as the much contestedrollback of theDream Act (DACA), which allowed children of undocumented immigrants a chance to stay in the United States and work legally with permits they had to reapply for every two to five years. In the wake of this natural disaster, when many of those threatened by the fires were able to turn to shelters for safety, undocumented immigrants reportedly fled for other locales, fearful of what might happen to them.
Sonoma County Supervisor Lynda Hopkins heard that many of them headed to the beaches of Bodega Bay, to camp outside rather than risk deportation. She visited the coastal town to see for herself.
"I saw dozens of families," shetoldThe Sacramento Bee. "There are traumatized. They lost homes. It's cold out there. But they are afraid they will be targeted by ICE (federal immigrations officials) if they go to shelters."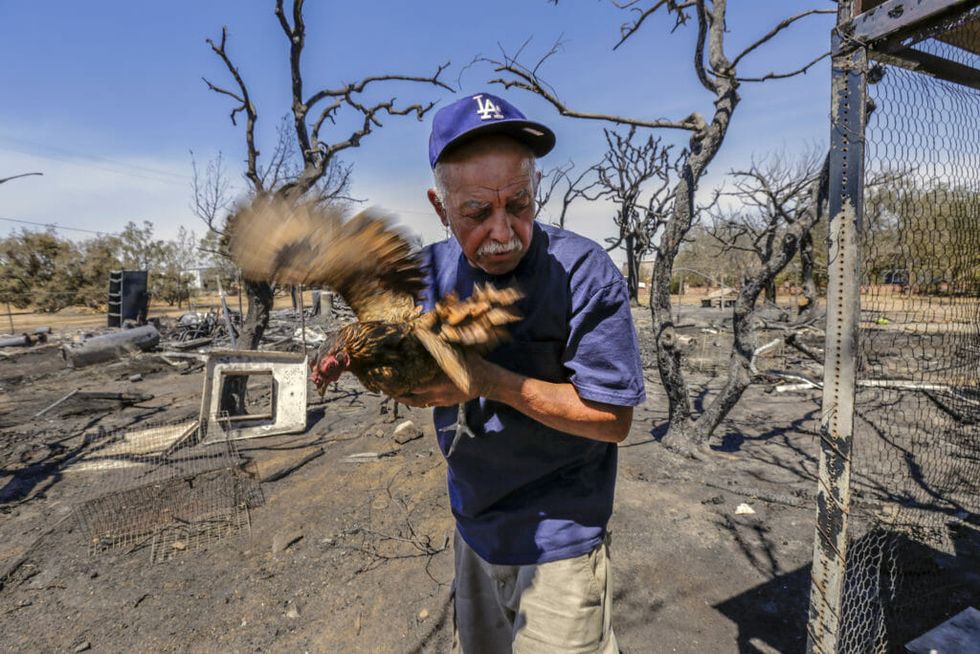 OAK HILLS, CA - AUGUST 19: Miguel Ramos, 73, holds a single chicken that survived devastation caused by Blue Cut Fire that swept through his residence, on 6500 block of Oak Hills Road, burning guest house to grind and killing about 135 animals Oak Hills. (Irfan Khan/Los Angeles Times via Getty Images)
While Sonoma County Sheriff Rob Giordanotried to reassure people that nobody was checking documentation at shelters, the rumors still made their way around, allegedly keeping some people away.
TheLos Angeles Times reports that ICE Acting Director Thomas Homan called Sonoma County out for "sanctuary city" policies that he claimed has "left their community vulnerable to dangerous individuals and preventable crimes."
Sonoma County Sheriff Rob Giordano disputed Homan's statement,saying it was "inaccurate, inflammatory and damages the relationship we have with our community."
In fact, Sonoma County is not an official sanctuary county, for fear of losing federal funds. However, Sonoma Countyand the city of Santa Rosa, where the wildfire did the most damage, did announce formally earlier in the year that they would support undocumented workers and work to protect them from targeted deportation policies.
Giordano pinned blame on ICE for sowing alarm at a time when law enforcement offices were working overtime to save lives and reassure survivors, regardless of their immigration status.
"ICE attacked the Sheriff's Office in the midst of the largest natural disaster this county has ever experienced," Giordano said. "ICE's misleading statement stirs fear in some of our community members who are already exhausted and scared."
Part of the ICE's controversial accusation stemmed from the arrest of a homeless man who had been accused of felony arson. An undocumented immigrant from Mexico, Jesus Fabian Gonzalez, who had already been deported twice to Mexico, admitted to setting a fire in Maxwell Farms Park in Sonoma Valley, to stay warm while he slept. He is being held on $200,000 bail.
Gonzalez's fire had nothing to do with the devastating wildfires, but the inflammatory, far-right website Breitbart got hold of the story and claimed erroneously that Gonzalez had essentially started the wine country wildfires.
Giordanomade clear that story was simply wrong.
"There is a story out there that he's the arsonist in these fires. That's not the case. There's no indication he's related to these fires at all," Giordano said of Gonzalez. "I wanted to kill that speculation right now, so we didn't have things running too far out of control."
Undocumented immigrants also face a tougher road to reconstructing their lives in the face of losing their homes. While they are eligible for some immediate aid from FEMA, which includes "food, water, shelter, medical care, clothing and other non-cash disaster-related supplies" just like any victim of a natural disaster, many of them are too scared to obtain these services. And, according to FEMA, they are not eligible for long-term cash assistance which is often the most necessary to rebuild after the devastation of a disaster of this scale.
To get a preliminary view of risk within the wildfire affected areas, we used FireLine, Verisk's wildfire risk mana… https://t.co/5DJe8J07vH

— ISO Mitigation (@ISO Mitigation) 1511980321.0
Moreover, since English is not always the first language of these immigrants, the FEMA forms can be incredibly daunting, and some people still fear that their information will be shared with immigration agents. These concerns,reports the San Francisco Chronicle, have motivated Representative Jared Huffman, a Democrat whose district is in Marin County, California (just south of Sonoma County) to draft a letter Thursday to Brock Long, the newly appointed administrator of FEMA to ask for FEMA to clarify "the intent of language used in FEMA applications."
"We have heard from constituents who are eligible for aid — U.S. citizens, non-citizen nationals and qualified aliens — but are concerned that applying for FEMA assistance might expose their family members or neighbors to immigration enforcement," says Huffman's letter, which was provided to The Chronicle.
To address this issue, "a coalition of immigrant service providers and advocates"according to SonomaWest Times and News created the "UndocuFund"— fire relief in Sonoma County directly meant to help undocumented Sonoma County residents who were affected by the Northern California fires. They had raised $85,000 as of Oct. 15 and another $50,000 in donations was matched by The California Wellness Foundation.
How farm workers are recovering after the fires in Northern California (story via @CivilEats)… https://t.co/7C5mSotskF

— Eater (@Eater) 1511813076.0
"The fires have been devastating for everyone in Sonoma County,"said Ana Lugo, president of the Sonoma County-based North Bay Organizing Project. "Our undocumented community members and their families are not only dealing with losses of property and income, but from the fear that seeking help will lead to deportation. This fund will help some of the most vulnerable members of our community get back on their feet."
The fate of these immigrants is also intrinsically tied to the Sonoma valley wine industry. "To function, we have to be able to retain the immigrant workers in the area," said Cameron Mauritson, who grows grapes on 350 acres in Sonoma County for 60 wineries. Losing them, he said, would be "catastrophic to our economy."
The New York Timessuggested this unfortunate disaster may force a reckoning in Sonoma County's wine industry.
"Immigrants make up a majority of the 55,000 people employed by the wine industry and are also ubiquitous in the kitchens of farm-to-table restaurants and ritzy resorts that make the region a magnet for affluent tourists," the New York Timesreported.
Rents in Sonoma County are among the more expensive in the San Francisco Bay Area, while the pay for immigrants is inadequate.
"It's extremely expensive to live in Sonoma County, and rents keep going up," said Wei-Ling Huber, president of Local 2850 of Unite Here, a union representing housekeepers in those area. "The fire is only going to exacerbate the housing crisis."
An immigrant who earns $40,000 a year islikely to pay $1,800 a month in rent in Santa Rosa, and that is a low-ball estimate.
One solution may rise out of this mutual need for business to have workers, and workers to have an affordable place to live: employer-sponsored housing.
As the New York Timesreported, one business owner,Duff Bevill, head of Bevill Vineyard Management, which harvests the grapes from not only his vineyards but 30 other growers in Sonoma County, said his company already had a plan in the works to build a dormitory that could house 38 seasonal workers, which they would bring in from Mexico. This program would allow workers to come over on a visa program so long as the employers provide housing.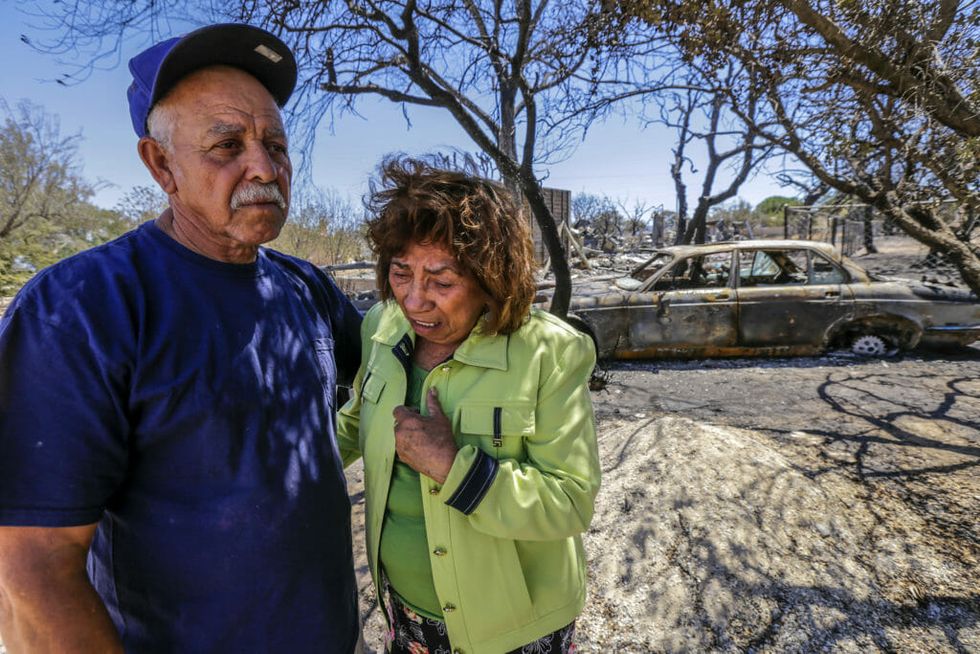 OAK HILLS, CA - AUGUST 19: Miguel and Mabel Ramos, both 73-year-old, are distraught by the devastation caused by Blue Cut Fire that swept through his residence, on 6500 block of Oak Hill Road, burning guest house to grond, burning two cars and killing about 135 animals Oak Hills. (Irfan Khan/Los Angeles Times via Getty Images)
That very rule originally led to farmers and grape growers to skirt the visa program, due to its costs. Instead they hired workers who were largely undocumented so they didn't have to provide housing. But that may be about to change, as wine country may have no choice but to provide housing, regardless of documentation status, because workers will otherwise be unable to stay.
"The first thing that will start happening is, people who work in vineyards, hotels and restaurants will lose access to affordable housing and start leaving," Mr. Bevill said. "At some point, workers are going to say they can't find a place to live, and they're going to leave."
Supervisor Hopkins agrees that it is in everyone's best interest to make them feel safe and taken care of.
"We are going to have to step up locally," Supervisor Hopkins said. "They are the backbone of our economy. They unfortunately are sometimes taken for granted."