Need help getting to the polls on Election Day? Uber's got you covered. The rideshare service unveiled its "Get to the Polls" initiative on Thursday, which through an in-app feature will assist people in finding and getting to their polling stations.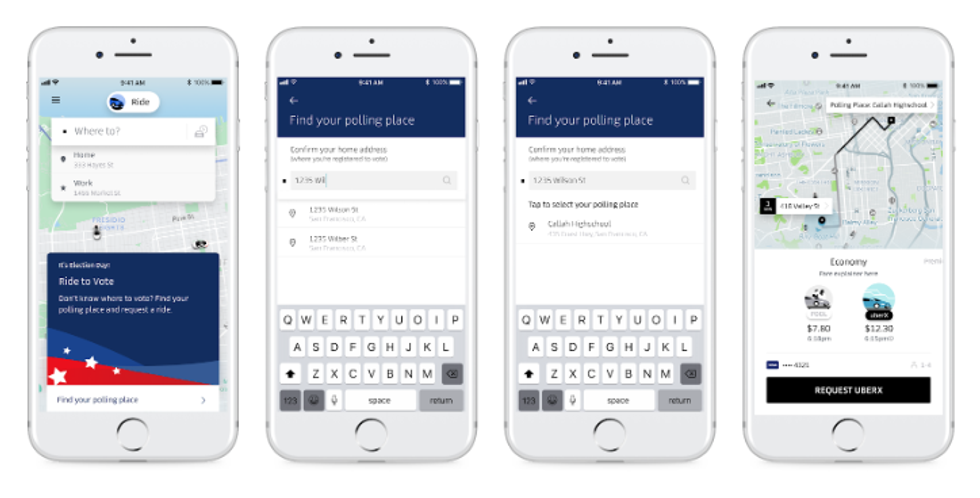 Uber
---
"On Tuesday, November 6, anyone in the U.S. will be able to quickly find their polling place and book a ride to go vote—with just a few taps in the Uber app," Uber said in a statement on their website. Users will be able to locate their polling station by entering their address.
The goal is to make voting simple and accessible to everyone who wishes to participate in the democratic process.
"To help the millions of Americans who cite transportation barriers as the reason they don't vote," Uber wrote, "we'll be partnering with #VoteTogether and Democracy Works to provide free rides to the polls."
You drive the vote, we'll get you to the polls. Learn more about how we're helping people show up on Election Day. https://t.co/ftLaWCEhZ7

— Uber (@Uber) 1538673906.0
People are cheering.
To help get Americans with transportation challenges to the polls on Election Day, @Uber is partnering with… https://t.co/1eih96qtCQ

— nelleeeee p (@nelleeeee p) 1538671990.0
Uber is adding a button to help people find their polling places on election day and will give free rides to people… https://t.co/OdXAotLoEw

— AJ+ (@AJ+) 1538675976.0
We need more of this, especially in more challenging communities. Good for them. https://t.co/QtRXMbXXdf

— BluCollar Guy (@BluCollar Guy) 1538681438.0
https://t.co/p8qchPqxWS Very cool! #Uber #Vote #Election #USA

— Dr. Marion Thorpe (@Dr. Marion Thorpe) 1538680443.0
https://t.co/RDXGXMzPOt Way to go.

— Lonnie Hicks (@Lonnie Hicks) 1538679445.0
Uber is also helping people register to vote by teaming up with When We All Vote "to provide our customers with easy-to-use voter registration tools."
Additionally, Uber says that between now and November 6, the company will be"hosting voter registration drives at more than 125 U.S. Greenlight Hub locations around the country to help register as many eligible voters as possible before their state's deadline."
Uber's announcement follows a similar campaign launched by its biggest competitor Lyft, which in August said it would offer 50 percent off rides to polling places on Election Day, including free rides to  "underserved communities that face significant obstacles to transportation."
Uber's dedication to helping people vote magnifies the importance of a depressing New York Times report about voter participation that was published on Wednesday.
Higher-than-normal voter enthusiasm, the report gleaned, won't necessarily translate into more people showing up to the polls.
"This year's election carries enormous political stakes, but if history is any guide, the vast majority of eligible voters will stay home on Election Day," Sabrina Tavernise wrote. "Slightly more than a third of eligible voters turned out across the country in the last midterm elections, the lowest share since 1942, according to Michael McDonald, a political scientist at the University of Florida, who runs the United States Elections Project that tracks voting data back to 1789."
Voter participation has declined sharply in recent decades, the report noted, "as the power of the party machines declined and voter suppression shut out blacks in the South and many immigrants in the North."
"The rate of voting has never recovered," Tavernise found. "The last time more than half of eligible voters turned out for a midterm election was 1914, said Dr. McDonald."
Uber's plan to assist underprivileged communities underscores one of the most glaring findings of the Times story; that voter turnout is deeply connected to socioeconomic status.
"More than 80 percent of Americans with college degrees vote compared with about 40 percent of Americans without high school degrees, according to Jonathan Nagler, a political scientist at New York University and co-author of a 2014 book, "Who Votes Now.""
Additionally, the Center for Information and Research on Civic Learning and Engagement estimate in August that roughly 15 million people didn't vote in the 2016 election because they lacked access to transportation.
"Transportation is a significant barrier regardless of educational attainment or other demographic differences: 29% of all youth in the survey cited it as a reason why they didn't vote, with 15% calling it a major factor," the organization found. "Relatedly, non-college youth were also more likely to cite the inconvenient hours or location of polling places (32% vs. 15%) and the lines at the polls being too long (27% vs. 19%) as factors that led them not to vote."
By offering free rides in poorer communities, Uber's initiative may help break these trends.