Hillary Clinton received a bump in the polls over Donald Trump one week after the first presidential debate. Two new major national polls show a 4-5 point advantage for Clinton.
---
A CNN/ORC analysis revealed that voters believe Clinton is both prepared and has the right temperament for the presidency. She beats Trump 47 percent to 42 percent among likely voters in a four-way match up, with third party candidates polling in the single digits. The debate appeared to worsen public opinions about Trump, with 59 percent of voters now viewing him unfavorably. By contrast, Clinton's favorability rating held steady. When asked which candidate is the stronger leader, the majority of voters named Clinton with 45 percent to Trump's 43 percent. Trump previously held an 8-point lead on that same question in a September poll.
The first CBS News poll since the presidential debate had similar findings. The results showed that Clinton leads her Republican opponent 45 percent to 41 percent among likely voters in a four-way race. The two candidates were tied before the debate at 42 percent each. Clinton leads Donald Trump 49 percent to 43 percent among likely voters in a two-way matchup where third party candidates are not named explicitly. The poll showed that enthusiasm for Clinton has risen among likely voters, from 39 percent to 46 percent, which now matches the 46 percent of voters enthusiastic about Trump.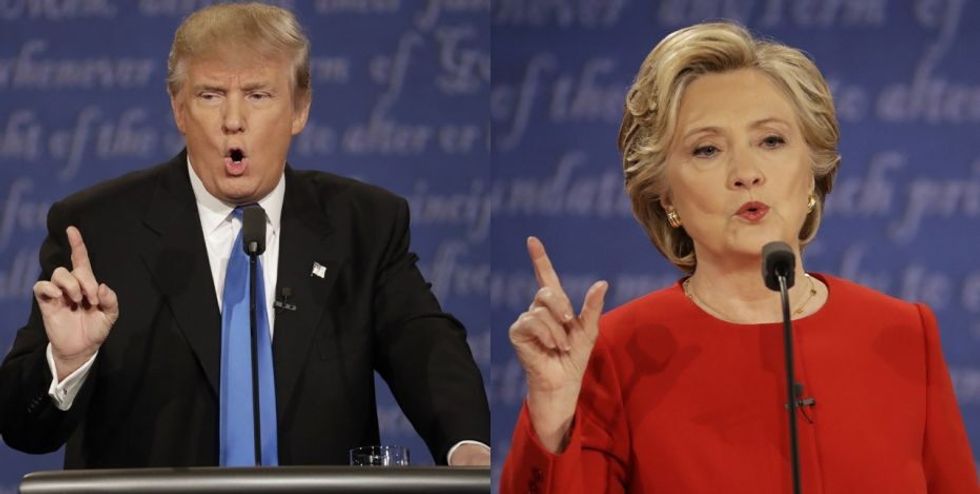 Credit: Source.
According to Public Policy Polling's debate survey, voters nationwide think Hillary Clinton defeated Donald Trump in the debate, 51 percent to 40 percent. The poll reported that Clinton "emerges from the debate with clear advantages over Trump on temperament, preparedness to be President, and whether she can be trusted with nuclear weapons," with 55 percent to 38 percent of voters saying she has the temperament to be president. By contrast, 53 percent of voters say Trump does not have the temperament to hold executive office. These findings lie in stark contrast to Trump's claim toward the end of last Monday's debate that he has "much better judgment" than Clinton while attacking her record while she was the country's Secretary of State. "I think my strongest asset, maybe by far, is my temperament. I have a winning temperament," he said at the time.
Similarly, an ABC News/Washington Post poll found that, while views of both candidates remain negative, more than half of registered voters picked Clinton as the debate winner. The poll also found that Clinton saw a pre-debate gain
in favorability to 45 percent, her best since a poll in August after the Democratic National Convention.
State battleground polls also indicate a shift toward Clinton, indicating that these two national polls are backed by state polling data. According to four surveys conducted after the debate, Clinton leads Trump in the key swing states of Michigan, New Hampshire, Florida and Nevada. A Detroit News/WDIV poll found that Clinton holds a 7-point advantage over Trump (42 percent to 35 percent) in Michigan, and a WBUR poll found she leads by the same margin in New Hampshire. A Mason-Dixon poll in Florida showed that Clinton leads Trump 46 percent to 42 percent. In Nevada, Clinton has widened her lead by 4 points since a mid-August Suffolk University poll. That same poll now finds she holds a 6-point lead (44 percent to 38 percent) in that state.
These findings are a blow to Donald Trump's campaign after a week which began with his highly criticized debate performance, continued with headlines over his growing public feud with a beauty pageant winner over her weight (including now infamous pre-dawn tweets about an apparently non-existent sex tape) and ended with a New York Times report that he might have avoided paying federal income taxes for 18 years after declaring a loss of $916 million on his returns in 1995. "This could be the worst week in presidential history for any candidate," said Rick Tyler, a Republican strategist and former communications director for Texas Senator Ted Cruz's presidential campaign. "I certainly wouldn't know how to top it."
Credit: Source.
The events of the week left prominent Republicans wondering if Trump could possibly recover.
"The hole that Trump has dug for himself is very deep," said Joe Watkins, a former aide to President George W. Bush. "Given the large viewing audience for the first debate and week of big missteps by Trump, it's possible that it could be too late to turn it around."
Republican pollster Frank Luntz, who argued as recently as September 15 that Trump is "capable of winning," called Trump "unmanageable." Trump's campaign staff, he said, "has no control over him whatsoever… It's their responsibility to keep him focused on what it takes to win, and they have lost it."