At 5:24PM ET Sunday afternoon, the USS John S. McCain, a U.S. Navy guided-missile destroyer, collided with a Liberian merchant vessel off the coast of Singapore.
According to a statement by the U.S. Navy, ten sailors on board are still missing, and search and rescue efforts are underway. Five sailors were injured in the collision, four of whom were medically evacuated to a Singapore hospital.
---
While the ship suffered damage to its port side, it was able to sail back to port at Changi Naval Base in Singapore on its own.
When asked about the collision on Sunday, President Trump initially had an oddly muted response, saying only:
"That's too bad."
That didn't go over well.
Some saw it as a staffing failure.
Read more on the next page...
Late Sunday, however, President Trump took to Twitter to offer a more appropriate message from the commander in chief.
Sarah Huckabee Sanders also tweeted from her official @PressSec account Sunday night:
Senator John McCain, whose father and grandfather are the namesakes of the damaged destroyer, offered his family's prayers as the search and rescue mission got underway Sunday evening.
Photos posted online appeared to show a gaping hole in the USS John S. McCain's hull: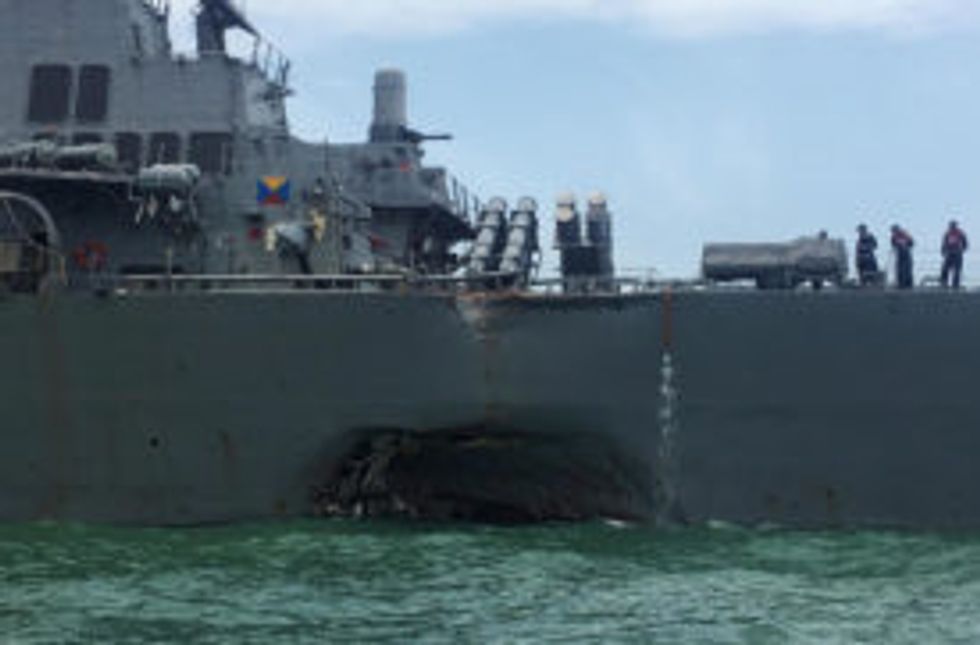 The U.S. Navy guided-missile destroyer USS John S. McCain is seen after a collision, in Singapore waters August 21, 2017. REUTERS/Ahmad Masood - RTS1CLFM
This collision comes just months after seven sailors were killed when the USS Fitzgerald crashed into a Japanese merchant ship this past June.
An investigation into Sunday's collision is underway.