[DIGEST: The Hill, New York Times]
This is a developing story.
---
According to multiple media outlets, Donald Trump has chosen Indiana Governor Mike Pence as his vice presidential pick. Republicans caution, however, that Trump may backtrack on his choice. Paul Manafort, the chairman for the Trump campaign, told reporters that the campaign had not been notified of a final decision on a running mate when reached by phone earlier this afternoon. "We have not been reaching out to Washington to tell them to prepare for any particular candidate," Manafort said, reiterating that Trump will make an official selection on Friday afternoon. 
Trump's advisers said they will make an announcement with Pence, who emerged last week as the favorite for the coveted position. Pence had been on a final shortlist along with House Speaker Newt Gingrich and New Jersey Governor Chris Christie since last week.
Pence would be advantageous for Trump, who has wanted to broaden his support among the GOP base. Pence is a former GOP leader who served in the chamber for more than a decade. Pence fulfills Trump's need for someone who can work closely with the executive branch. Having Pence on the ticket would also help repair and strengthen Trump's relationships with social conservatives and GOP officials, many of whom have been critical of Trump's unconventional and divisive campaign. He has also garnered respect as a proven fundraiser with ties to billionaire Republican donors Charles and David Koch.
Speaker Paul Ryan praised Pence, his former colleague in the House, mere minutes before the news broke. "It's no secret," Ryan told reporters. "I'm a big fan of Mike Pence's. We're very good friends. I have very high regard for him. I hope that he picks a good movement conservative. Clearly Mike is one of those."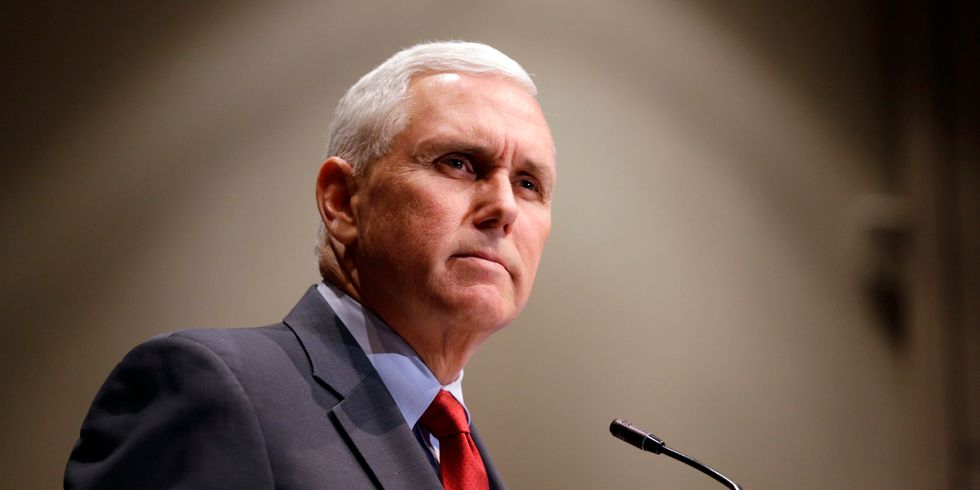 Mike Pence. (Credit: Source.)
Pence is known broadly as a social conservative on abortion and LGBT rights. After Indiana passed a "religious freedom" law that critics claimed discriminated against LGBT persons, a fierce backlash from business and the tourist industry, along with a trending hashtag #BoycottIndiana, forced the governor and state legislatures there to add an amendment clarifying that nothing in the law was intended to permit discrimination.
Pence is up for reelection in Indiana and is in the middle of a race against Democrat John Gregg. To be Trump's running mate, he will have to officially withdraw from the contest before noon Friday.