In October 2015, Lauren Batchelder, a student at St. Anselm College in Manchester, New Hampshire, attended a bipartisan political forum and asked Donald Trump, then merely another presidential candidate, what he would do for American women. Their exchange made headlines around the nation.
"So, maybe I'm wrong, maybe you can prove me wrong. But I don't think you're a friend to women," she said.
---
Trump got defensive. He said he gave women positions of power at his construction sites "many years ago... before anyone would have even thought" to do so. He complimented his wife, his eldest daughter, and his mother, who he said, "was one of the great people of the world." He stressed this even more, saying, "I love women, I respect women, I cherish women." (A year later, Trump would become besieged by accusations from more than a dozen women who would step forward publicly to challenge Trump's statement at the second presidential debate that he did not kiss or grab women as he had boasted on a leaked Access Hollywood tape from 2005.)
Batchelder, noticeably dissatisfied with the now president-elect's response, asked for the microphone again.
BATCHELDER: I want to get paid the same as a man, and I think you understand that, so if you become president, will a woman make the same as a man, and do I get to choose what I do with my body?
TRUMP: You're going to make the same if you do as good of a job, and I happen to be pro-life, okay?
Later that evening, Trump's social media director tweeted out screengrabs of Batchelder's social media accounts. Trump supporters found a resume indicating that Batchelder had worked as an intern for ex-Florida Governor Jeb Bush's presidential campaign. Her Twitter feed contained pro-Bush tweets. Daniel Scavino Jr., a senior adviser to Trump, accused Bush of having "planted" an intern at the event. Conservative websites began running the story.
Dear @JebBush, You should explain your thought process on the intern you planted at the #NoLabels Conference. #Fail http://t.co/7vqdfjklUk

— Dan Scavino (@Dan Scavino) 1444711432.0
But for Batchelder, the trouble began when Trump weighed in the following morning.
The arrogant young woman who questioned me in such a nasty fashion at No Labels yesterday was a Jeb staffer! HOW CAN HE BEAT RUSSIA & CHINA?

— Donald J. Trump (@Donald J. Trump) 1444736392.0
How can Jeb Bush expect to deal with China, Russia + Iran if he gets caught doing a "plant" during my speech yesterday in NH?

— Donald J. Trump (@Donald J. Trump) 1444751522.0
According to Allie Brandenburger, a spokeswoman for Bush's campaign, Batchelder is not a paid staff member; she attended the convention of her volition. "While this question was not sanctioned by the campaign," she wrote in an email the following morning, "we can't help but notice Mr. Trump does seem to be very sensitive about being challenged by women."
Tim Miller, Bush's former spokesman, also weighed in, saying that the campaign had nothing to do with Batchelder asking her question. In fact, Miller said, "If I was going to plant a question, I would have planted a better question."
Batchelder agreed. "Why would they ever send me out to do a pro-choice question? Guys, [Bush] is pro-life, which was one of my biggest problems with the Republican Party. And so I was like: 'Why would they ever send me to do that?'" (Batchelder decided to volunteer for Bush's campaign during her first semester at St. Anselm, and said that she saw volunteering as an opportunity to learn more about the Republican Party; her views, she says, are far more liberal. She listed her intern experience on her online resume, and later decided that she leans more to the left.)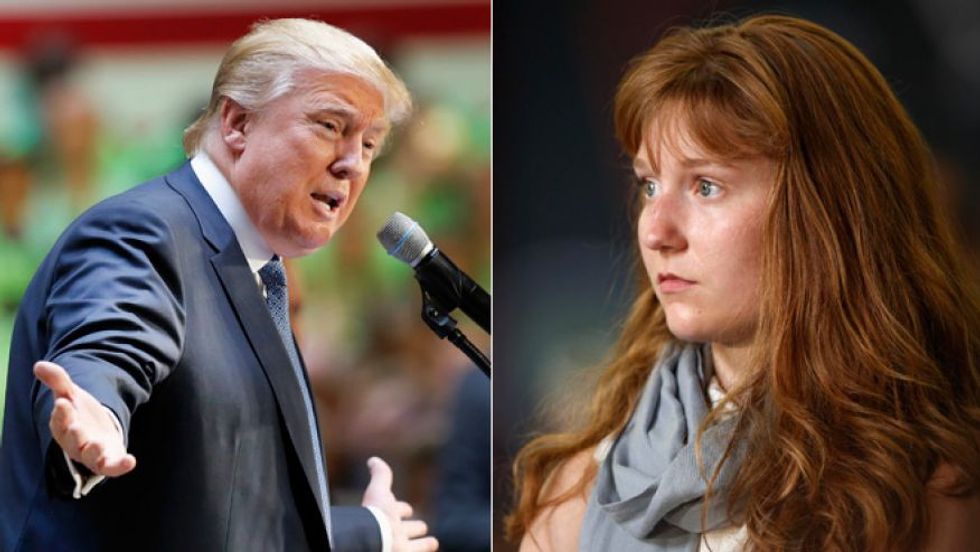 Credit: Source.
Batchelder became the target of online trolls, who shamed and attacked her in numerous ways. Trolls commented on her physical appearance. Others threatened to rape her and subject her to physical violence. A photoshopped picture of her made the rounds online, showing her face covered in semen. The harassment continues more than a year later. Five days before Election Day, Batchelder received a threatening Facebook message:
Wishing I could f---ing punch you in the face. id then proceed to stomp your head on the curb and urinate in your bloodied mouth and i know where you live, so watch your f---ing back punk.
"I didn't really know what anyone was going to do," said Batchelder, now 19, who has never spoken about her experience publicly until now. "He was only going to tweet about it and that was it, but I didn't really know what his supporters were going to do, and that to me was the scariest part... I love social media, but I also saw the terrible side of social media. I definitely tried to focus on something else because when you're seeing your life being played out in front of you and people are judging it and people are making assumptions about you, you kind of just want to stay away."
Batchelder acknowledged that speaking out would likely open her up to more abuse, but said that she thinks
it's important for people to recognize the power of social media. Now that Trump is the president-elect, his tweets are more powerful than ever before––he can sway financial markets and make world leaders worry. But Batchelder hopes that Trump will rein himself in and stop attacking private citizens. "Twitter is such a powerful platform. He can make a difference. He can change the world," she said. "And, using Twitter, I think he should use it for good. I think he should use it to uplift others."
Trump's latest Twitter feud, however, casts doubt on Batchelder's hopes.
This week, the president-elect lashed out at Chuck Jones, the head of the Steelworkers Union local that represents the Indiana Carrier plants where Trump negotiated for roughly 800 jobs stay in the United States. Trump had claimed to have saved 1,100 jobs. Jones called him out on it. (Jones was not wrong: Trump did inflate his victory while speaking at a meeting on December 1.)
Chuck Jones, who is President of United Steelworkers 1999, has done a terrible job representing workers. No wonder companies flee country!

— Donald J. Trump (@Donald J. Trump) 1481157708.0
If United Steelworkers 1999 was any good, they would have kept those jobs in Indiana. Spend more time working-less time talking. Reduce dues

— Donald J. Trump (@Donald J. Trump) 1481162200.0
Shortly after Trump sent out his tweets, Jones's phone began to ring. He received threats against him and his family. He told reporters that one menacing caller told him, "We know what car you drive."
"Setting aside purely personal issues, Trump's attacks on Jones and the Steelworkers were based on several misapprehensions.  When I interviewed Jones several months ago, he told me that he and his union had worked hard to persuade Carrier and its parent company, United Technologies, not to move the roughly 2,100 jobs they had announced would be heading to Mexico...," writes journalist Steven Greenhouse in a Los Angeles Times op-ed. "It was in some ways surprising that Trump attacked the steelworkers union at all because it has for years led the fight on two big issues that Trump campaigned on – opposing trade deals and challenging China's violations of international trade rules, often by illegally subsidizing its industries."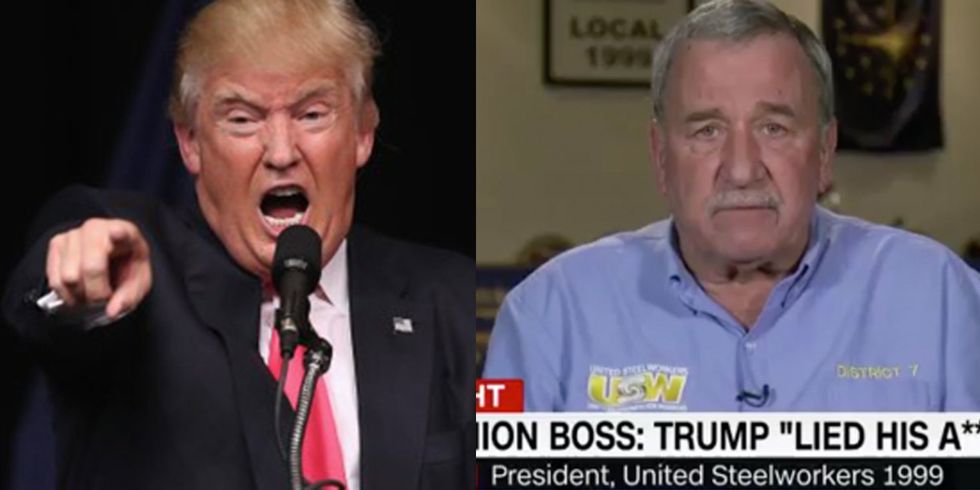 Credit: Source.
Trump created his Twitter account in March 2009, but Trump began using the platform more in 2012 when he seriously began to consider running for president. "He loves it," says Roger Stone, a longtime friend of the president-elect. "This is what got him elected––being outspoken."
In a May interview with Fox News, Trump revealed that he dictates many of his tweets to "one of the young ladies" who works in his office. "So they'll type it out for me, real fast, bring it in — I'll be in a meeting. 'Blah, blah, blah, boom!' Put an exclamation point here, and they'll send it out," Trump said.
But on weekends and during the early morning hours, Trump writes his own tweets. During an April town hall meeting with CNN's Anderson Cooper, Trump's wife, Melania, said that she often has to tell her husband to get off Twitter.
"Anderson, if he would only listen," she said. "I did many times. And I just say: 'Okay, do whatever you want.' He's an adult. He knows the consequences."