As is standard custom for state funerals, the family of former President George H.W. Bush stayed at the Blair House—also known as the President's Guest House—in Washington D.C. while the family patriarch lies in state at the Capitol Rotunda. The Blair House is made up of four separate homes combined into one large guest accomodation for visiting dignitaries.
The Blair house sits kitty corner across the street from the White House, which prompted the United States government to purchase the four houses—Blair House, Lee House, Peter Parker House, and 704 Jackson Place—beginning in 1942 and merge them into one facility in the 1980s.
---
On Tuesday, President Donald Trump and First Lady Melania Trump paid a visit to former President George W. and First Lady Laura Bush at Blair House. But rather than walk the 0.1 mile to the President's Guest House, the Trumps took a stretch limousine as part of an eight vehicle motorcade.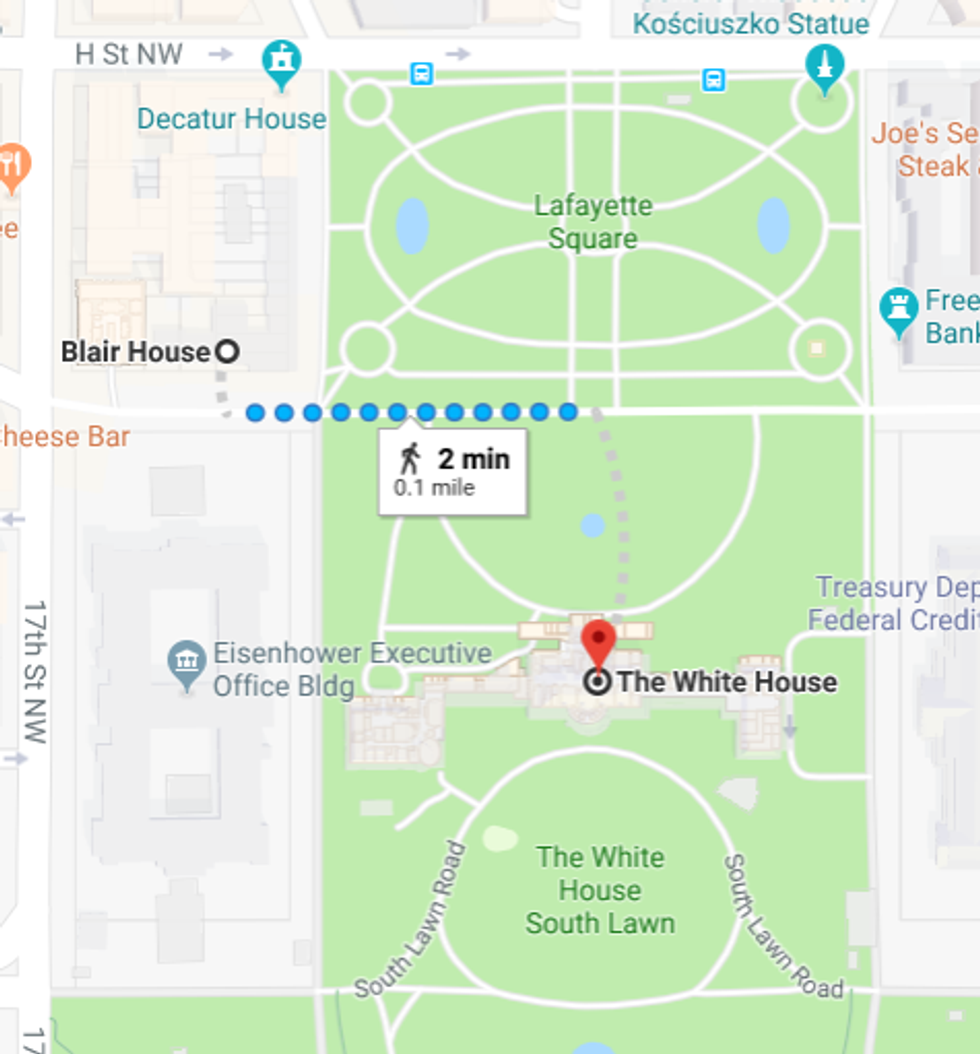 Blair House to White House route. (Google maps)
People took note of the motorcade immediately given the close proximity of the two residences.
But some wondered if other Presidents walked there. It turns out they did and it was the primary reason for having the guest house be so close to the White House.
The choice to not take a 2 minute, 0.1 mile walk raised eyebrows and questions.
People wondered if the aversion to walking indicated poor health.
And this was not a singular event.
At another world gathering, the President skipped a walk to take a golf cart and drew criticism for the decision.
While in France for the 100th anniversary of the end of WWI, the President skipped a symbolic walk down the Champs-Élysées with French President Emmanuel Macron, Canadian Prime Minister Justin Trudeau, British Prime Minister Theresa May and German Chancellor Angela Merkel as well as other world leaders.
That choice also drew anger from people in the United States and around the world.
The expense of the use of a motorcade over walking also drew ire.
One Twitter user offered an alternate means of transportation.
President George H.W. Bush's state funeral is Wednesday at the National Cathedral, followed by a memorial service in Houston before he is laid to rest next to his beloved wife at his presidential library in College Station, Texas.