When President Donald Trump and First Lady Melania Trump visited Dayton, Ohio and El Paso, Texas on Wednesday, the press was told to stay behind on Air Force One because the trip was all about the victims, not a photo op. Since then, slickly produced videos complete with rousing soundtracks and many photos of the POTUS and FLOTUS all taken by official Trump photographers have been shared by the President, his administration, the White House account and FLOTUS to the outrage of many.
One of the photos from El Paso is drawing particular ire.
---
While eight patients still hospitalized in El Paso reportedly refused to meet with President Trump, the Trumps were able to meet and take photos with two previously discharged patients, including a little baby whose parents died saving him in the massacre.
And there on FLOTUS' Twitter feed was the photo of Trump grinning with his thumb up, as they posed with the baby.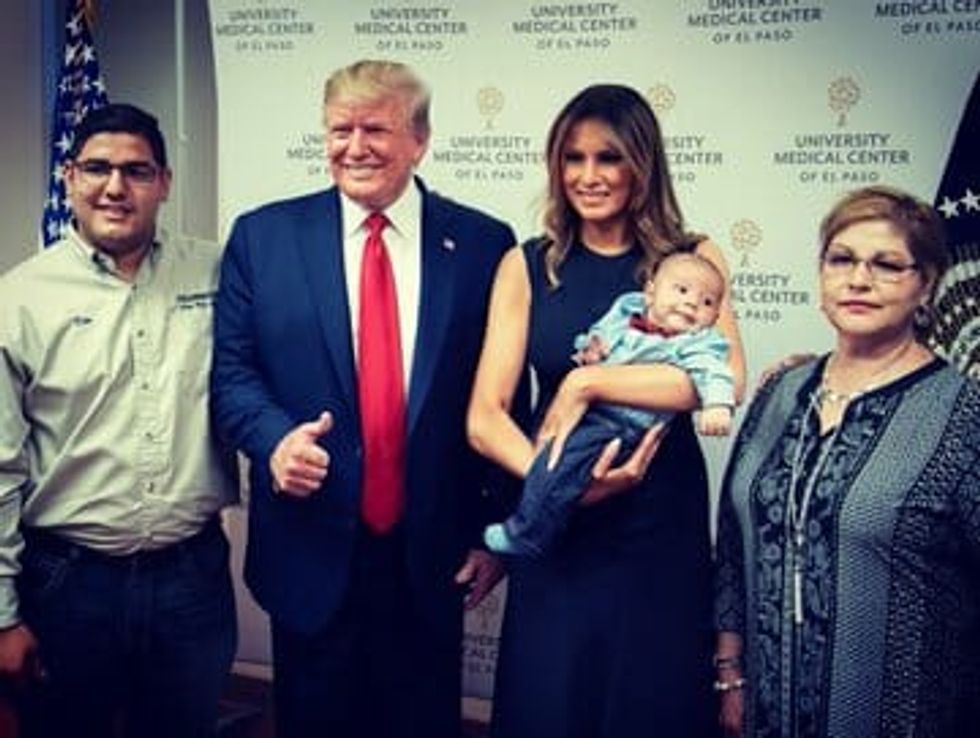 @FLOTUS/Twitter
The baby in the photo has been confirmed to be Paul Anchondo—the 2 month-old child of Jordan and Andre Anchondo, both of whom died trying to shield the baby from the gunman's attack. The child suffered broken bones when his mother's body fell while shielding him.
The photo struck people as in very bad taste, to say the least.
Roseanne Cash made a particularly depressing point:
FLOTUS received criticism for her participation as well.
People thought the entire trip, both the Dayton and El Paso stops, lacked any show of empathy.
While the mass shooting in El Paso was deemed an act of domestic terrorism by a white nationalist, the Dayton shooting is still under investigation. No clear motive was given and the shooter died on scene after murdering his own brother,  Jordan Cofer. Unlike the manifesto and online activity of the El Paso terrorist, the Dayton shooter's online history showed no clear pattern or political affiliation, swinging from one end of the political spectrum to the other.
In addition to baby Paul, the Anchondos leave behind daughters Skylin and Victoria. The GoFundMe page for the family is here.