Ever since Speaker of the House Nancy Pelosi announced the House of Representatives would proceed with an impeachment inquiry into President Donald Trump, the POTUS has used every opportunity to plead his case with the public.
Including interrupting and hijacking the questions for Finnish President Sauli Niinistö during a joint news conference.
---
Earlier in the question and answer session with the press, President Niinistö can be heard laughing at President Trump's avoidance of a question from Reuters Jeff Mason, telling him to not be rude and ask the Finnish President a question.
However when Mason does ask President Niinistö a question...
...Trump interrupts and decides to answer.
Although Finnish President Niinistö tells Trump that Mason's question was intended for him.
Their meeting earlier in the day did not fare much better. As detailed before, President Trump has issues with personal space and putting his hands on other world leaders.
Niinistö appears to dislike this particular habit of Trump's.
At the news conference, President Niinistö got his chance to answer Mason's question just before President Trump launched into another rant that culminated in him abruptly ending the joint press conference, leaving the Finnish President behind. Niinistö pauses after leaving the dais, then eventually follows Trump out.
The entire episode was not the POTUS' finest hour in foreign relations and international diplomacy.
With each passing day, the President seems more and more desperate. Who knows what tomorrow will bring.
President's can inspire people. This shirt is available here.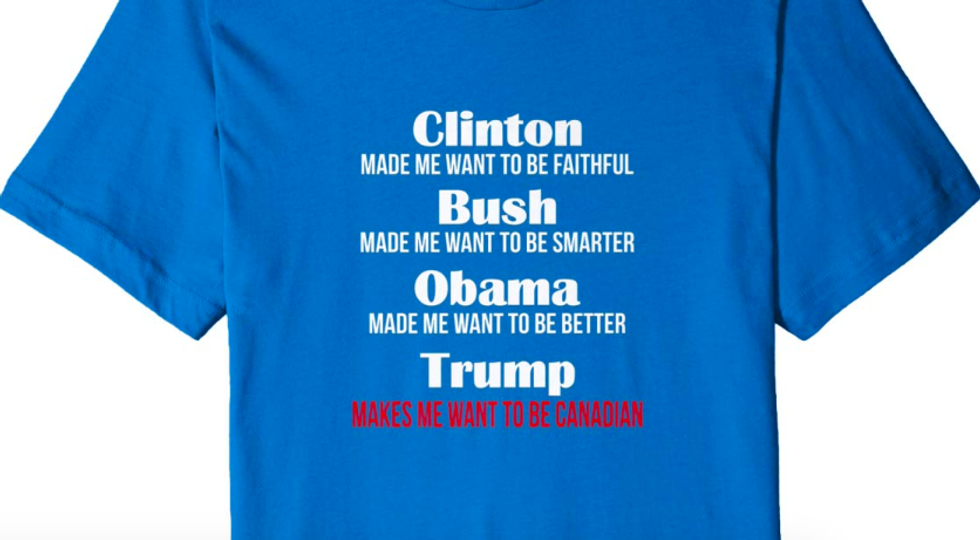 Amazon