The planned military parade President Donald Trump wanted ever since seeing a special Bastille Day parade in Paris, France, in 2017, gives people a few important points to ponder. *see end of article for continuing updates to this story
The foremost issue for many remains the fact that among the most vocally opposed to the parade Trump claims would honor active duty military and veterans, are active duty military and veterans.
---
A February 2018 Army Times poll—seen below—of active duty military personnel showed 89 percent opposed to the parade. The poll asked: "Should there be a parade showcasing troops and military equipment in Washington, D.C.?"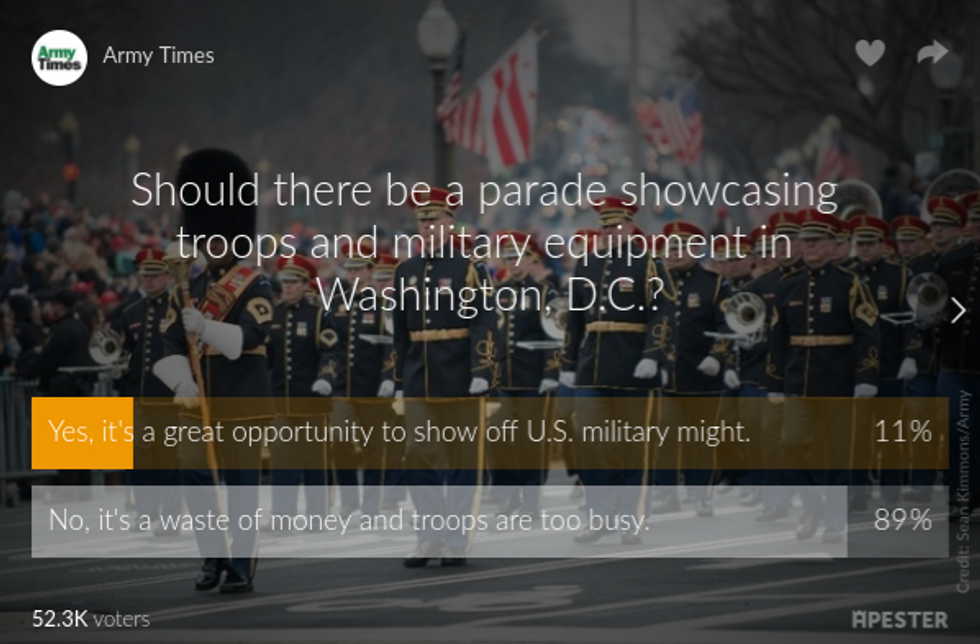 Army Times online poll 2/7/2018 (screen grab)
Recent cuts to veterans services—deemed necessary by congressional Republicans and the Trump administration—provoked strong veteran opposition to the parade as well.
Two headlines, a day apart: "White House: U.S. can't afford veterans' health care without cuts" "Initial cost for… https://t.co/UpFIjGKeXt

— Brandon Friedman (@Brandon Friedman) 1531963906.0
Veterans on social media suggested organizing a veterans march or counter protests in Washington DC on the day of the parade.
Now there is new information for the public to process regarding Trump's parade: the actual cost.
According to a Pentagon report, the unpopular Trump mandated U.S. version of a parade of military strength will feature up to 7,000 servicemembers, 100 vehicles, 50 aircraft and 100 horses. So what is the estimated price tag for Trump's Washington DC display set to rival the military parades of Russia's Vladimir Putin, China's Xi Jinping and North Korea's Kim Jong Un?
The Department of Defense and the interagency partners handling the civilian logistics updated their cost estimate for the parade from the original $12 million to a whopping:
$92,000,000.00
A lot goes in to staging any event. For the type of military display the President ordered the Pentagon to give him there are a multitude of logistical costs.
Logistics refers to the costs needed to transport, house and feed the active duty personnel being required to participate; the same for any non-human participants like horses and dogs; the transportation, fueling, maintenance and storage costs of any equipment to be used in the parade; and the costs of setting up, cleaning up and securing the venue for the parade.
Barricades and fencing as well as grandstands and viewing platforms will need to be set up and if not already in stock, purchased. Security personnel will need to be on hand to handle both spectators and any protesters. Everyone who works to set up, during the parade or after to tear down and clean up will need to be paid.
$92 million reflects an increase of $80 million over the original estimate which only accounted for a portion of the logistics required to mount the parade. If everything required for the parade already sat in Washington DC awaiting the go ahead, it might cost $12 million.
Such an excellent use of 92,000,000 million dollars. https://t.co/otCay7Dx2l

— Molly Jong-Fast (@Molly Jong-Fast) 1534433367.0
It costs another $80 million for the logistics of getting everything to that go point, then restore Washington DC to its pre-parade state afterward. The figure includes $50 million from the Department of Defense (DoD)—who needs to get their equipment and personnel to DC and back to their home bases—out of their fiscal year(FY) 2019 budget and $42 million from the interagency partners—likely including Homeland Security and the National Park Service—FY2019 budgets.
The President recently signed the FY2019 DoD budget appropriations, but the status of the other agencies' FY2019 funding could impact the parade slated for November 10, 2018. Any logistical costs for the parade must come from the fiscal year budget of the year of the event. October 1, 2018 is the beginning of federal fiscal year 2019.
Once news broke of the real cost associated with the parade—that it seems like only the President wants to see—people on Twitter expressed strong feelings about the use of that much money, as shown by the following tweets.
The veterans organization, Vote Vets, remains a strong opponent of the parade.
Congress needs to shut this down now. #CadetBoneSpurs #VetsAgainstTheParade #NoTrumpParade https://t.co/azCbiUzeOd

— VoteVets (@VoteVets) 1534444397.0
Time for Congress to ban funds for this totalitarian-style show of force. NOW. Spend this money to help veterans a… https://t.co/f5FizZWgGa

— VoteVets (@VoteVets) 1534436741.0
Many others expressed the same sentiment.
Do you know how many veterans we could take care of with this money? Come on. https://t.co/0kUT2UrLXU

— Chelsea Handler (@Chelsea Handler) 1534442405.0
$92million for the biggest ego trip/parade in American history. https://t.co/JzaI9hs1NH

— Ruben Gallego (@Ruben Gallego) 1534436627.0
Our 72-year-old President with an approval rating well below 50% is throwing a military parade for himself, but ple… https://t.co/JYQGvwiDL8

— The Volatile Mermaid (@The Volatile Mermaid) 1534445666.0
Screw a military parade to just feed Trump's ego. It's a waste of money. Spend the $92 million on our veterans inst… https://t.co/tGRQHsm5Tt

— Joe Walsh (@Joe Walsh) 1534437546.0
$92 million for a military parade but democrats are supposed to explain where every penny for medicare for all will come from. nah.

— Oliver Willis (@Oliver Willis) 1534435203.0
$92M for a military parade just to feed the megalomaniac inhabiting the White House. Reprehensible!

— JOMAMAOFMAX (@JOMAMAOFMAX) 1534451401.0
The draft dodger loser @realDonaldTrump wants to waste taxpayer money on a MILITARY parade (like other dictators do… https://t.co/KQRRXHGnql

— Wendy 🇨🇦 (@Wendy 🇨🇦) 1534451412.0
Trump's military parade will cost $92 million. There are 40,000 homeless veterans in America. That $92 million co… https://t.co/azTnSW7kMg

— Pé Resists (@Pé Resists) 1534442570.0
One must ask again, if those this parade contends to honor—active duty and military veterans—are among the most vocally opposed to it, why is it going forward?
If you plan a parade for someone and they do not want it, who or what is it really for?
Thursday evening, the Pentagon announced they agreed to postpone the parade.
"The Department of Defense and White House have been planning a parade to honor America's military veterans and commemorate the centennial of World War I," Defense Department spokesman Colonel Rob Manning said in a statement. "We originally targeted November 10, 2018 for this event but have now agreed to explore opportunities in 2019."
However Friday morning, President Donald Trump claimed he chose to cancel the parade, blaming Washington DC for the actual costs his administration gave him, but added "Maybe we will do something next year in D.C. when the cost comes WAY DOWN."
The local politicians who run Washington, D.C. (poorly) know a windfall when they see it. When asked to give us a p… https://t.co/1AyrZT9CEd

— Donald J. Trump (@Donald J. Trump) 1534507076.0
....attend the big parade already scheduled at Andrews Air Force Base on a different date, & go to the Paris parade… https://t.co/75YwMLArvE

— Donald J. Trump (@Donald J. Trump) 1534507805.0
The Washington DC mayor's response can be read here. And Vote Vets is already getting ready to block any November 2019 parade plans.
FYI: VoteVets has submitted a Letter of Intent, with DC, to do a 5K around the National Mall, for Veterans Day 2019… https://t.co/SREt30hCoL

— VoteVets (@VoteVets) 1534466926.0