President Donald Trump yesterday named Army Lt. Gen. H.R. McMaster as his new Natiomal Security Advisor and replacement for Michael Flynn, whose tenure ended recently amid reports he had misled senior White House officials about his conversations with the Russian ambassador to the United States. Trump introduced McMaster to reporters at his Mar-a-Lago estate in Florida before returning to Washington, calling him "a man of tremendous talent and tremendous experience."
Trump also told the press that John Bolton, a former United Nations ambassador who he had considered for the same position, would be asked "to work with us in a somewhat different capacity."
---
---
McMaster said it would be "a privilege" to serve the nation in his new role. "I look forward to joining the national security team and doing everything that I can to advance and protect the interests of the American people," he said.
McMaster, a widely respected military strategist, will assume his new role at a time of significant security challenges, including Russian interference in last year's presidential election and North Korea's ballistic missile test earlier this month. The choice has received praise across the board, including from Peter Feaver, a scholar on civil-military ties at Duke University, who says he expects McMaster will take a skeptical approach to Russia, which he views as a threat to national security. McMaster will likely approach Iran in a similar manner, he says, citing the nation's support of proxy groups across the Middle East.
According to David Barno, a retired lieutenant general who knows McMaster rather well, McMaster "also brings a deep personal understanding of what it means to go to war, and be at war for a very long time." He suggested McMaster would become an instrumental figure in the new administration with the power to coordinate, rather than dictating policy. "I don't see H.R. as director of an orchestra; I see him as someone who is getting all the instruments to play together," he said.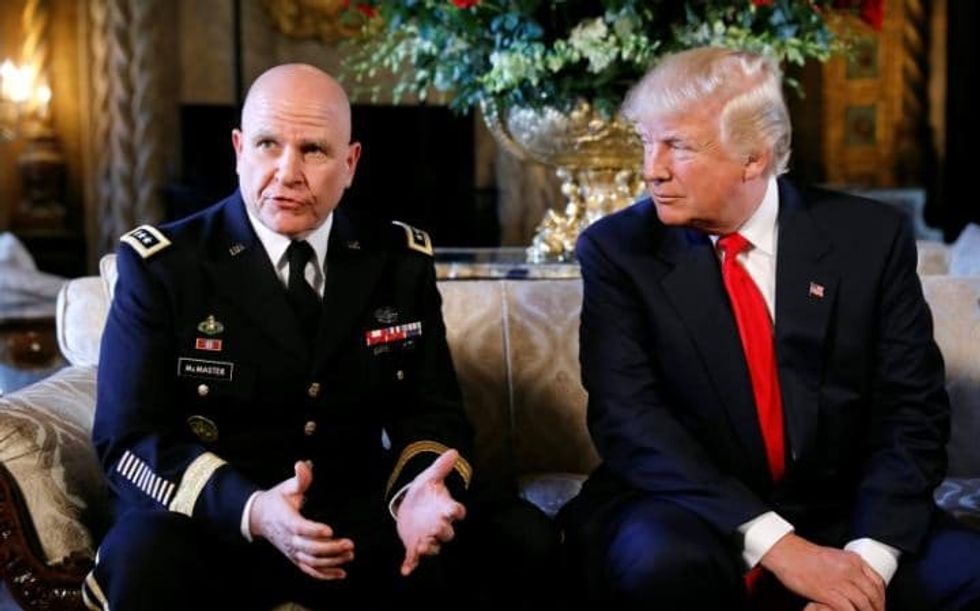 Credit: Source.
McMaster earned a Silver Star for his valor during the Gulf War. At the Battle of 73 Easting, he destroyed a much larger Iraqi formation in 23 minutes without losing a single tank. He commanded a 3,500-soldier brigade during the Iraq War and was one of the first US commanders to employ counterinsurgency tactics. He is largely credited with influencing the Bush administration's official strategy at the time to train Iraqi forces so American soldiers could return home. Instead, McMaster pushed his troops into the city of Tal Afar, focused on stopping killing in the city, and replaced the mayor and security forces.
"It's unclear to me how a higher degree of passivity would advance our mission," he told his critics at the time. Others, like General David Petraeus, used McMaster's strategies to stabilize Iraq in 2007 and 2008.
In between both conflicts, McMaster earned his Ph.D. in American history from the University of North Carolina at Chapel Hill. He wrote a bestselling book, Dereliction of Duty: Lyndon Johnson, Robert McNamara, The Joint Chiefs of Staff, and the Lies that Led to Vietnam, as part of his dissertation. The book, widely read in Pentagon circles, was not without controversy.  In his book, McMaster criticized high-ranking officers of that era, arguing that their poorly disciplined national security protocol and weak approach to Defense Secretary Robert McNamara and President Lyndon Johnson on their Vietnam strategy further destabilized the region. McMaster's outspokenness often put him at odds with his superiors, and he was twice passed over for promotions to general.
The new job is going to drive McMaster "crazy," writes Andrew Exum, a contributing editor for The Atlantic,"because he does not suffer fools gladly. Unless he has been given some assurances about both staffing and process, he will struggle in a competition to influence the president—to be the last man in the room when the president makes a key decision... I fear this president and his known weaknesses will be too much for even as great a public servant as McMaster. But—and again, this is not hyperbole—I will tuck my sons into bed tonight feeling a little better about the country in which I am raising them."
Speaking to reporters, White House spokeswoman Sarah Huckabee Sanders said Trump "gave full authority for McMaster to hire whatever staff he sees fit."
---