A New York Times report yesterday revealed that President Donald Trump asked former FBI Director James Comey to halt the criminal investigation into ex-national security adviser Michael Flynn, who provided false information about his communications with the Russian government.
"I hope you can see your way clear to letting this go, to letting Flynn go," Trump told Comey, according to a memo Comey wrote immediately after the meeting, which took place the day after Flynn resigned. "He is a good guy. I hope you can let this go."
---
Comey wrote the memo detailing his conversation with Trump as part of a paper trail documenting the president's "improper" efforts to impede the continuing investigation, which is part of a larger probe into whether Trump and his associates colluded with Russian operatives to win last year's presidential election.
The news has rocked Trump's Republican supporters in Congress, who, in the wake of the report, have broken away from him and issued calls for the memos.
House Oversight and Government Reform Committee Chairman Jason Chaffetz (R-UT) demanded that FBI officials turn over "memoranda, notes, summaries and recordings" of discussions between Trump and Comey. Chaffetz's letter to the bureau requests for all records to be turned over to his panel by May 24. These documents, Chaffetz wrote, would "raise questions as to whether the president attempted to influence or impede" the FBI's investigation.
.@jasoninthehouse requests any and all communications between Former FBI Director Comey and President Trump. 📄⇩ https://t.co/mOBXjEHUSQ

— Oversight Committee Republicans (@Oversight Committee Republicans) 1494981281.0
AshLee Strong, a spokeswoman for House Speaker Paul Ryan, echoed Chaffetz's demands.
"We need to have all the facts, and it is appropriate for the House Oversight Committee to request this memo," she said.
Representative Carlos Curbelo (R-FL) also weighed in.
"If these allegations are true, it's deeply troubling and it certainly opens up a new chapter that all of us have to consider very carefully," he said. "We need to get to the truth as soon as possible. This weekly scandal, this weekly controversy is unhealthy for the country. It's a major distraction for the country and it's just bad for the psyche of every American."
More Republicans have openly discussed the possibility of appointing a special prosecutor to look into the Trump administration's Russian ties.
"It is important to get to the bottom of it," said Rep. Mark Meadows (R-NC), who chairs the Freedom Caucus. "We've got one standard, and we need to make sure that applies to everybody." Meadows told reporters that he met with Kellyanne Conway, counselor to the president, yesterday evening, but insisted that they did not discuss the Comey memo. He added that, through his role on the Oversight Committee, he expects cooperation from the White House.
"I don't think we can just shrug our shoulders and walk away from this one," said a top House Republican, who spoke on condition of anonymity and noted that the president's scandals could overwhelm the GOP's legislative efforts. "I don't know where this goes."
Senator Lindsey Graham (R-SC) said yesterday––even before the story broke––that he has invited Comey to testify publicly at a Senate Judiciary Committee hearing to "tell his side of the story."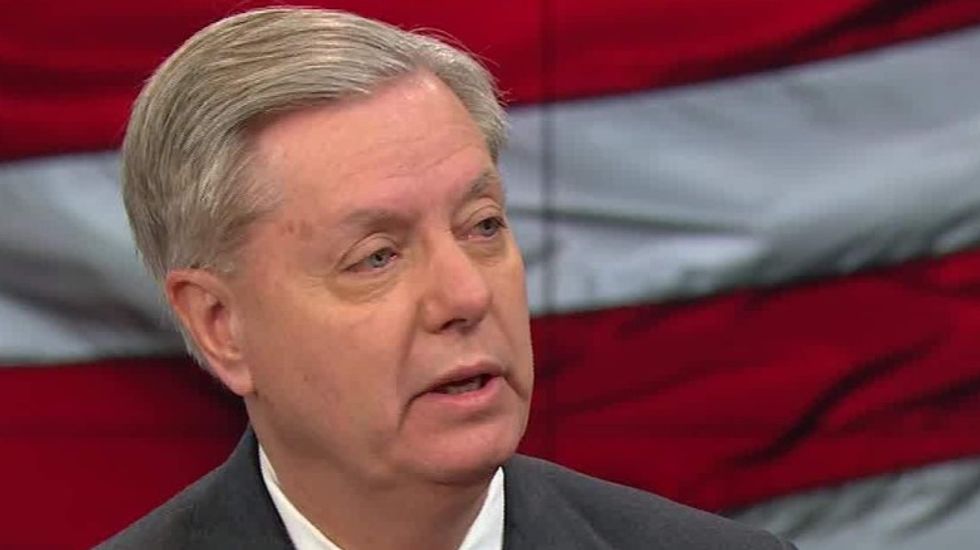 Senator Lindsey Graham. (Credit: Source.)
"I hope Director Comey testifies before Congress as soon as possible," said Rep. Leonard Lance (R-NJ), who earlier broke with both the administration and his colleagues over health care reform.
Responding to the reports, Senator John McCain (R-Arizona), compared Trump's scandals to the Watergate scandal which eventually culminated in the resignation of former President Richard Nixon.
"I think we've seen this movie before. I think it appears at a point where it's of Watergate size and scale… the shoes continue to drop, and every couple days there's a new aspect," McCain told Bob Schieffer, the retired former host of CBS' Face the Nation.
Trump would be better equipped to handle the controversies, McCain said, if he followed the advice Schieffer gave Nixon, "which he didn't do… get it all out… it's not going to be over until every aspect of it is thoroughly examined and the American people make a judgment. And the longer you delay, the longer it's going to last."