European nations reacted with shock and defiance at President-elect Donald Trump's skepticism of the European Union–he suggested that the 28-nation alliance will eventually break up–and his claim that NATO is "obsolete."
"I said a long time ago that NATO had problems," Trump said in a joint interview with the Times of London and the German publication Bild. "Number one it was obsolete, because it was designed many, many years ago. Number two the countries weren't paying what they're supposed to be paying."
---
In a statement, NATO spokesperson Oana Lungescu rejected the president-elect's comments: "A strong NATO is good for the United States, just as it is for Europe."
---
Dmitry Peskov, the press spokesman for Russian President Vladimir Putin, agreed with Trump's assessment of NATO and accused the organization of making "confrontation" its "systemic goal." (Frank-Walter Steinmeier, the German Foreign Minister, points out that Trump's position contradicts that of James Mattis, his newly appointed Defense Secretary.)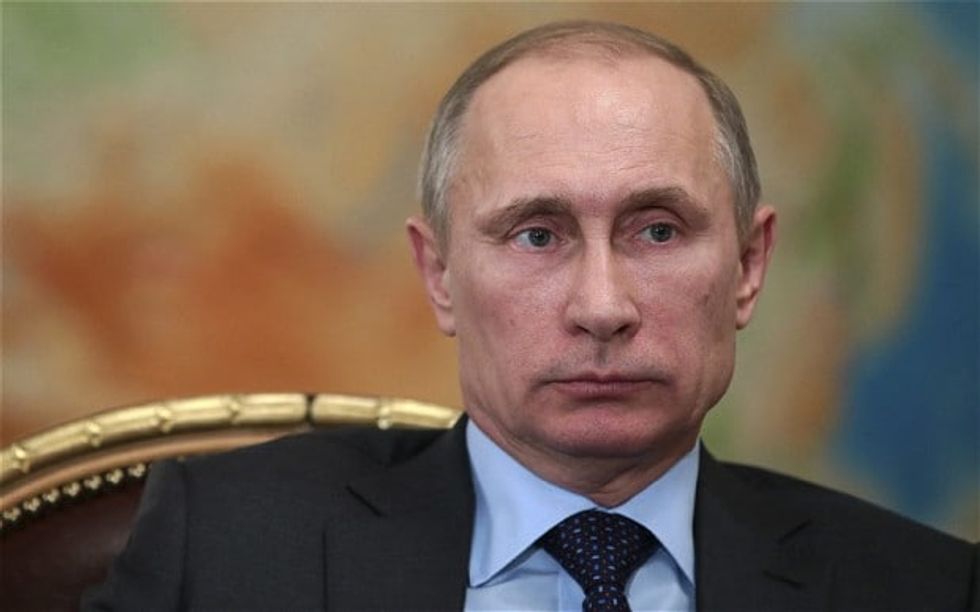 Vladimir Putin. (Credit: Source.)
Trump also praised Britain's impending exit from the EU, calling it a potentially "great thing." When asked why he believed the "Brexit" campaign was such a success, Trump blamed lax border security and concerns about the effects of immigration, which themselves were among the cornerstones of his often incendiary campaign. "Countries want their own identity," he said. "The UK wanted its own identity. I do believe this, if they hadn't been forced to take in all of the refugees so many, with all the problems that entails, you wouldn't have a Brexit... it probably could've worked out."
Trump signaled that he will take action to tighten US immigration restrictions as soon as he's sworn into office Friday. "This country we're going to go very strong borders," he said. "From the day I get in. One of the first orders I'm going to sign. Day one." He also issued another call for "extreme vetting" of Muslims, according to a Bild transcript which CNN translated into English: "There will be extreme security vetting, it won't be like it is now. We don't have any proper security controls for people entering our country, they don't really exist at the moment, like it has been the case in your country at least in the past."
The president-elect did not commit, however, when asked if he would impose similar restrictions on Muslim immigrants coming from Europe. "That could happen," he said. "But we will see."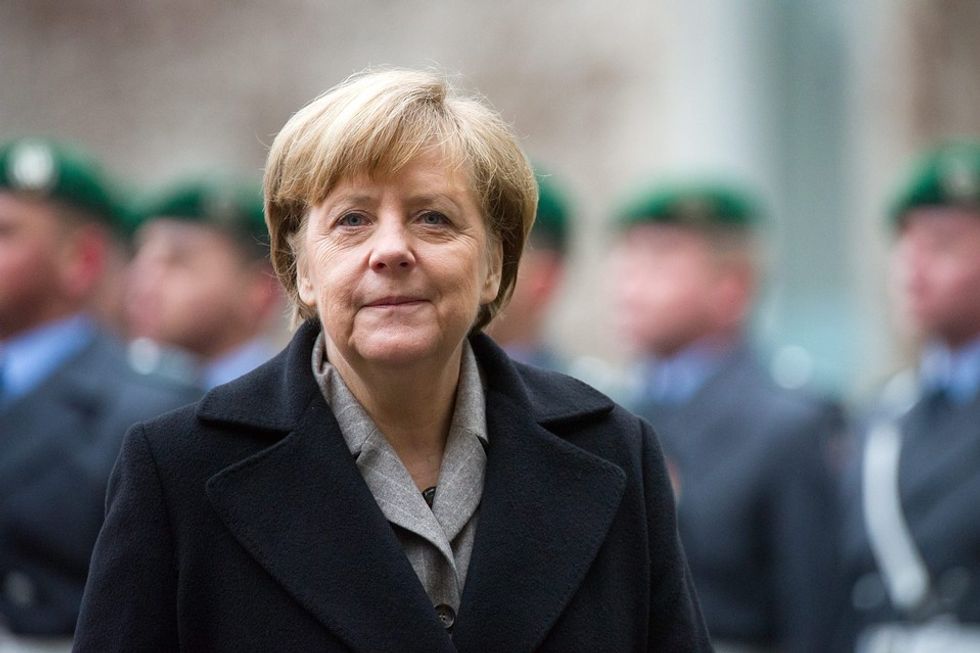 Angela Merkel. (Credit: Source.)
To emphasize his hardline stance on immigration, Trump pointed to a recent attack on a Christmas market in Berlin by a Tunisian man as one example of German Chancellor Angela Merkel's "catastrophic" immigration policies. "I have great respect for her, I felt she was a great leader, I think she made one very catastrophic mistake and that was taking all these illegals and taking all these people where ever they come from and nobody really knows where they come from," Trump said.
Merkel, who will run for a fourth term in elections this year, says Germany will continue to accept all asylum seekers found to be legitimate refugees. "We have known what his position is for some time, and my position is also known... We will cooperate with him on all levels, of course," Merkel told reporters in Berlin. But, she added, Europeans must take responsibility for themselves. "We Europeans have our destiny in our own hands."
But Trump continued to rattle European nations when he did not credit them for being longstanding allies of the United States, saying that he would trust Chancellor Merkel and Vladimir Putin equally at the outset of his presidency––until proven otherwise. "I start off trusting both," he said. "But let's see how long that lasts. It may not last long at all."
---
In the same interview, Trump suggested that sanctions imposed by the US and the European Union on Russia
for its invasion of Crimea in 2014 (and which were extended in 2016) could be eased in return for a nuclear weapons deal.
"They have sanctions against Russia – let's see if we can strike a few good deals with Russia," Trump
said
. "I think there should be less nuclear weapons and they have to be reduced significantly, that's part of it. But there are these sanctions and Russia is suffering lots from it. But I think there are things, which lots of people can profit from."
In a response to Trump's comments yesterday, the Kremlin said that "sanctions are not a question on our agenda, neither internally, nor in discussions with our international partners."
---
Elsewhere, Trump heaped praise on his son-in-law, Jared Kushner, who he appointed as senior adviser to the president, suggesting that he would become a peacemaker in his plans for the Middle East. "Do you know what? Jared is such a good guy; he will conclude an Israel agreement that no one else can do. You know, he is a natural talent, he is amazing, he is a natural talent," Trump said, according to Bild.
Jared Kushner. (Credit: Source.)
Trump's comments represent an unprecedented breach in transatlantic relations, coming at a time when Europe faces several new elections this year in which hardline anti-immigrant Euroskeptics could gain power. The consequences of a potential breakdown are extensive: Guarantees from the US are vital to European security and the US and EU are each other's most valuable trade partners. On matters of war, peace, and wealth, the US and EU are interlinked.
Some of the EU's leaders, notably foreign policy chief Federica Mogherini, do not believe the future of European interests depends on attitudes from the White House; Mogherini told reporters that while the EU prefers to be "in good company" with the US, "we determine policy by ourselves."
Other analysts worry that Trump's unpredictable shifts in policy and increased global instability could place more stress on an already rattled EU. According to Stefan Lehne, a former Austrian diplomat, the US has "played a huge stabilizing role" in the last few decades, and, should it fall away as a result of "transactional deals," the impending fallout would "implicate European interests."
For his part, Trump has given no indication that he will moderate his positions once he takes office––and intends to keep his personal Twitter account: "I thought I'd do less of it, but I'm covered so dishonestly by the press––so dishonestly––that I can put out Twitter–and it's not 140, it's now 280–I can go bing bing bing . . . and they put it on and as soon as I tweet it out–this morning on television, Fox–'Donald Trump, we have breaking news.'"
---