[DIGEST: Politico, Wall Street Journal]
Donald Trump, who has made border security and immigration reform the centerpieces of his campaign, flew to Mexico City to meet with President Enrique Peña Nieto. After their conference, Trump told a reporter that they discussed the border wall Trump has promised to build on the southern border of the United States. However, President Nieto disputed Trump's assertion that they did not discuss Trump's plan for Mexico to pay for the wall outright.
---
In a Twitter post, Nieto said that at the start of his conversation with Trump, he "made it clear" that Mexico would not pay for the wall.
John Podesta, Hillary Clinton's campaign chair,  did not mince words. "It turns out Trump didn't just choke, he got beat in the room and lied about it," he said. "Donald Trump has made his outlandish policy of forcing Mexico to pay for his giant wall the centerpiece of his campaign. But at the first opportunity to make good on his offensive campaign promises, Trump choked. What we saw today from a man who claims to be the ultimate 'deal maker' is that he doesn't have the courage to advocate for his campaign promises when he's not in front of a friendly crowd."
Jason Miller, Trump's senior communications adviser, immediately came to Trump's defense, calling the meeting "the first part of the discussion and a relationship builder" between the two men. "It was not a negotiation, and that would have been inappropriate," Miller said in a statement. "It is unsurprising that they hold two different views on this issue, and we look forward to continuing the conversation."
For his part, President Nieto has reiterated his version of events. In an interview with CNN affiliate Televisa, he said that Trump's policies are "a threat to Mexico" and that Trump has made "assertions that regrettably had hurt and have affected Mexicans." Nieto, who once compared Trump to Adolf Hitler, emphasized
that Mexicans "have felt hurt by the comments that have been made. But I am sure that his genuine interest is to build a relationship that will give both of our societies better welfare."
The speech Trump gave Wednesday night outlined his plans for controlling the Mexican border, deporting illegal immigrants and placing more restrictions on legal immigration. Trump promised that construction of the proposed border wall would, should he win the election, begin immediately. "On day one, we will begin working on an impenetrable physical wall on the southern border," he said. "We will use the best technology, including above-and-below-ground sensors, towers, aerial surveillance and manpower to supplement the wall, find and dislocate tunnels, and keep out the criminal cartels, and Mexico will pay for the wall."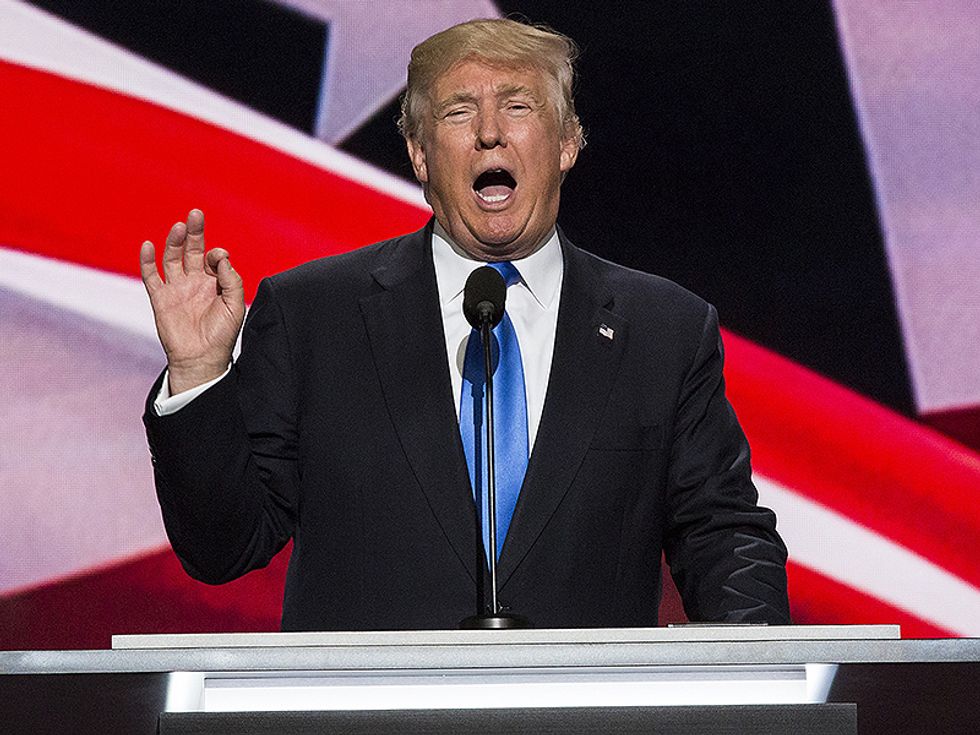 Credit: Source.
Trump stressed that anyone who crosses the border illegally would "be detained until they are removed from our country" and confirmed there will be a zero tolerance policy for "criminal illegal immigrants who have fled or evaded justice." He also said that he would work to "terminate President Obama's two illegal executive amnesties, in which he defied federal law and the constitution to give amnesty to approximately five million illegal immigrants." In a Trump administration, he said, "all immigration laws will be enforced."
After highlighting the stories of some Americans who've died at the hands of illegal immigrants––including the case of a San Francisco woman killed last summer by a Mexican man who'd been previously deported five times to his home country––Trump pledged, as always, to put America first. "To all the politicians, donors, and special interests, hear these words from me and all of you today: There is only one core issue in the immigration debate, and that issue is the well-being of the American people," he said. "Nothing even comes a close second."